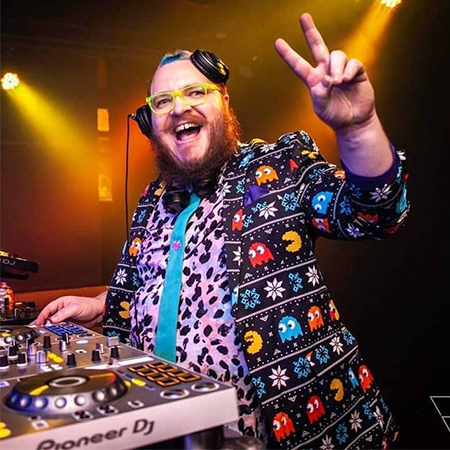 Retro DJ
Versatile New York DJ well-known for his electrifying playlists, steampunk attire and signature moustache
Happy to adapt his style and costuming to different themes
Playlists and mixes blend different styles ranging from Jazz Age to cutting edge house music
Popular entertainer for private parties, nightclubs, themed events, corporate parties, festivals, etc
This Retro DJ is based in New York and available for bookings wo
If you're looking for a DJ that can fully adapt to any brief and theme, then look no further. This sensational Retro DJ will be happy to customise his attire and playlists to fit your theme! 
From Jazz Age to cutting edge house music
A unique and creative artist, this themed DJ loves exploring new sounds and blending different genres. Ranging from Jazz Age to cutting edge house, his playlists and mixes encompass various styles from dubstep to techno music with a tapestry of swing and EDM. 
This electro-swing fusion is popular among people of all ages, which makes him suitable for either swanky Manhattan VIP rooftop clubs or the poshest night-club in Las Vegas!
Steampunk and other themes for your event 
Well-known in the Big Apple, crowds instantly recognise this New York DJ by his electrifying performances, steampunk accessories and signature bow tie and moustache!
An in-demand steampunk DJ, his vintage goggles and distinctive attire make him one our the most popular themed entertainers in New York. Happy to adapt his costuming to different themes, our New York DJ's various costumes, clothing and accessories are definitely one of his many identity signs!
Top Tip:
Happy to share the limelight with other themed performers such as vintage burlesque dancers, live jazz bands or swing dancers!
DJs for hire in New York 
Would you like to request a quote for this Retro DJ? Contact us today: we'll reply within 24h!