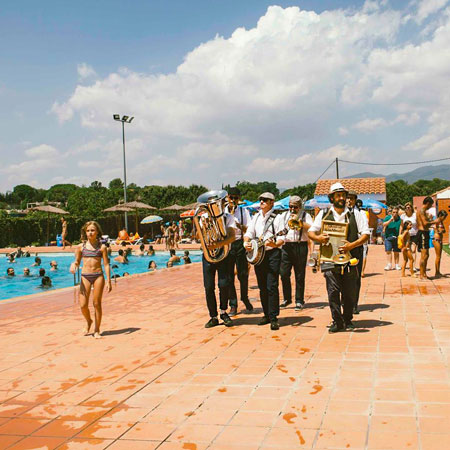 Roaming Dixieland Band Spain
This fabulous marching band brings interactive fun and joy through the effervescent sounds Dixieland jazz
They create a joyful immersive atmosphere as they parade around your event, continuously playing their upbeat jazz
Being fully acoustic, this Dixieland marching band requires no amplification and plays at a comfortable volume
They are a popular choice of walkabout wedding band that can perform at different parts of the big day
With a vast repertoire of Dixieland and acoustic jazz, they can also play your favourite song but in their own style
Roaming Dixieland Band Spain PHOTOS
Barcelona-based mobile acoustic jazz band
This collective of seasoned musicians from Barcelona, Maresme and Vallès perform as an exciting Dixieland marching band. They play this classic, old-style jazz as authentically as they can. Using traditional instruments like the banjo, washboard percussion, sousaphone, trumpet and trombone, they are able to perform as a fully acoustic jazz band. 
They require not amplification and are therefore able to freely move from one place to another and continuously play as they walk around. This also makes them a very popular choice of walkabout wedding band 
The perfect walkabout wedding band for celebrations in Spain
Breaking the mould of traditional weddings where you have a live band in the evening and possibly something quieter during your drinks reception, this walkabout wedding band will mix and mingle amongst the guests. They create a fun immersive atmosphere and their stylish vintage clothing never looks out of place in wedding photos. From the first dance to drinks receptions, the ceremony to the bride and groom reveal, they will provide a brilliant soundtrack. 
Hire the Dixieland marching band for your event
The acoustic jazz band has a wide repertoire of Dixieland and Dixieland-style songs but also able to play some pop, rock and funk. Our Roaming Dixieland Band Spain will even learn your favourite song with a bit of notice. 
Contact us directly if you would like to book this brilliant Dixieland marching band for your event or looking for the best walkabout wedding band in Spain.