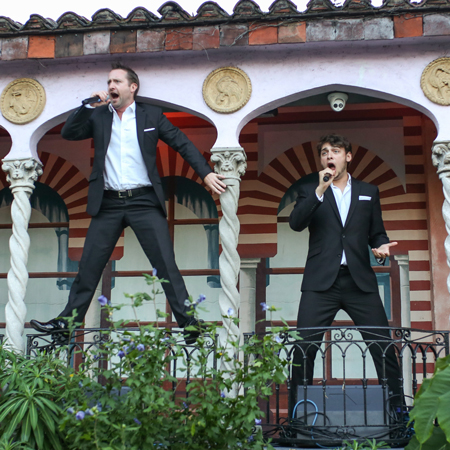 Roaming Opera Singers
Incredible opera singers will dazzle audiences with their knockout voices and powerful performances
Roaming opera singers perfect for serenading guests individually as they roam through your event or party
Surprise opera singers can perform amazing impromptu performances to create an exciting atmosphere at your event
Opera stage show perfect for dinner parties and corporate events will wow any audience
Sensational vocal group based in London and available throughout the UK
Roaming Opera Singers VIDEOS
Roaming Opera Singers PHOTOS
Book our fantastic opera singers for a magnificent performance that will leave audiences at any event stunned. Our vocal group are some of the most talented singers in the UK and their rich, powerful voices create a thrilling and beautiful sound that's matched by their dynamic, dazzling stage performances. These roaming opera singers specialise in turning any event or venue into a stage, bringing personal performances to guests at dinner parties, corporate events and private functions.
Their mobile, stylish performances always go down a storm at events and for an added thrill our surprise opera singers can perform impromptu concerts to astonish guests with a spontaneous song or two to liven up any event. Our singers are just as comfortable delivering a more traditional opera stage show and their powerhouse voices and commanding stage presence mean that their performances are not to be missed.
Our brilliant opera singers are talented and versatile performers who have worked with some of the biggest opera houses in the world. Their trademark roaming opera singers act is perfect for serenading guests individually at meet and greet receptions, cocktail parties and a whole range of events where you want to make an impressive personal statement to your guests.
Our fabulous surprise opera singers are great for dazzling the bride and groom at weddings, for giving your special someone a romantic serenade at restaurants, or just for having a bit of fun and hearing some top quality opera singers at events around the country.
Our vocal group are a charismatic and stylish group who know how to build rapport with the audiences during their impromptu performances and generate plenty of laughs in between songs. Their knockout voices and dazzling performances are also perfect for opera stage shows in theatres, cabaret nights and corporate parties.
Scarlett Entertainment offers you a great range of classical vocalists and groups for shows around the world.
Contact our team to arrange booking.