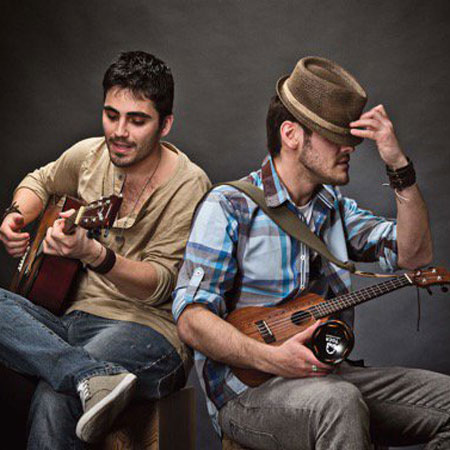 Rome Acoustic Duo
Young and stylish Italian acoustic duo with a very unique style of live music
Perform a range of well known acoustic covers in both English and Italian
Well suited to weddings, intimate private parties, festivals and other outdoor events
Repertoire includes a range of pop, soul and folk as well as their own compositions
Based in Rome and available to book all over the world
Based in Rome, this top notch Italian acoustic duo has been making waves across the nation with their acoustic covers and live music. The recognition of their talent demonstrates that our Rome Acoustic Duo will thrill audiences of all kinds, whatever the event might be. They have a charming stage presence and a friendly persona. 
The stylish young duo performs a range of well known acoustic covers in both English and Italian, which they rearrange into their own unique style. They are a great choice of live music, for young and older audiences, as their repertoire spans a range of pop, soul and folk as well as their own compositions. Guests can expect to hear classics songs by the likes of Stevie Wonder, Michael Sembello and Massive Attack amongst many other well known tunes.
Our brilliant Rome Acoustic Duo is formed by a pair of extremely talented musicians. Both members sing and play a range of acoustic guitar, ukulele and percussion. The paring of these two musicians has created a unique bond and ability to arrange brilliant acoustic covers which has brought them a lot of deserved praises and even comparisons to music icons Simon & Garfunkel. 
Our Italian acoustic duo can be booked to provide elegant and fun acoustic live music for a wide variety of events in and around Rome, throughout Italy and around Europe. Their acoustic covers are extremely well suited to intimate parties, weddings, festivals and other outdoor events. 
Speak to our team at Scarlett Entertainment to book the Rome Acoustic Duo for your event or party. 
A.Keys – No One
A.Lee - Better Days
A.Lee - El Camino
A.Lee - Keep It Loose Keep It Tight
A.Parson Project – Eye in the sky
A.Rabagliati – Baciami Piccina
Alcazar - Cryin At The Discoteque
Alex Britti – Oggi Sono Io
B.B.king – Caldonia
B.Dylan - Blowin In The Wind
B.Harper - Diamonds On The Inside
B.Harper - Excuse Me Mr.
B.Harper - She's Only Happy In The Sun
B.Joel – Just the Way you are
B.Marley - I Shot The Sheriff
B.Marley - Redemption Songs
B.Whiters – Ain't no sunshine
Beatles - Across The Universe
Beatles - Come Together
Beatles - Get Back
Beatles - Something
Beatles - We Can Work It Out
Beatles – Hey Jude
Ben E. King - Stand By Me
Blues Brothers - Everybody Needs Somebody
Blues Brothers - Sweet Home Chicago
Blur – Tender
Bob Marley – I Shot The Sheriff
Bob Marley – Three Little Birds
Bobby McFerrin – Don't Worry Be Happy
Bon Jovi – Thank You For Loving Me
Brian Adams – Everything I Do
C.Berry - Johnny Be Good
C.C.Revival - Have You Ever seen The Rain
C.Chaplin - Smile
C.Stevens - Father And Son
C.Stevens - Moonshadow
C.Stevens - Wild World
Carosone - Tu Vuo Fa L'Americano
Carosone - U Guaglione
ColdPlay – Trouble
ColdPlay – Up And Up
Coldplay – Something Just Like This
D.Modugno – Nel Blu Dipinto Di Blu
D.Modugno – Piove
D.Rice – Blower's Daughter
D.Summer – Hot Stuff
Daft Punk - Get Lucky
Daft Punk – I Feel It Coming
Dean Martin – That's Amore
Doobie Brothers - Long Train Running
E.Bennato - L'Isola Che Non C'è
E.Clapton – Layla
E.John - Sorry Seems To Be The Hardest Word
E.John – Crocodile Rock
E.Presley - All Shook Up
E.Presley - Blue Suede Shoes
E.Presley - Can't Help Fallin' In Love
E.Presley - Tutti i Frutti
E.Presley – That's Alright Mama
E.Sheeran – Thinkin out Loud
E.Vedder - Society
E.clapton – Wonderful Tonight
Eagles – Hotel California
Ed Sheeran – Shape Of You
Elvis Costello – She
Extreme – More Than Words
F.Battiato – La Cura
F.Mercury – Living On My Own
F.Sinatra - Fly Me To The Moon
G.Benson - On Broadway
G.Michael – Faith
Giuliano Palma – Che Cosa C'è
Giuliano Palma – Wonderful Life
Gnarls Barkley - Crazy
H.Belafonte - Jamaica Farewell
H.Nillson – Everybody's Talking
Haddaway - What Is Love
Harry Belafonte – Angelina
Harry Belafonte – Matilda
Harry Nilsson – Everybody's Talking
I.Kamakawiwo'ole - Over The Rainbow
J. Bay – Move Together
J.Bay – Hold Back The River
J.Bay – Let it Go
J.Blunt – You're Beautiful
J.Brown - I Feel Good
J.Cullum - Mind Trick
J.Johnson - The News
J.Johnson - Upside Down
J.Johnson – Bubble Toes
J.Lennon – Real Love
J.Mayer - Free Fallin
J.Mayer - Stop This Train
J.Morrison – I Won't Let You Go
J.Morrison – You Give Me Something
J.Mraz - I'm Yours
J.Reed - Big Boss Man
A.Keys – If I ain't got you
J.Reed - You Don't Have To Go
J.Taylor - Fire And Rain
J.Taylor - You Got A Friend
J.Timberlake – Can't Stop The Feeling
James Brown – Good Good Lovin
James Taylor – Slap Leather
John Legend – All Of Me
Keith Urban – Memories Of Us
L.Armstrong - All Of Me
L.Armstrong - What A Wonderful World
L.Battisti - Il Tempo Di Morire
L.Cohen - Hallelujah
L.Dalla – La Casa In Riva Al Mare
L.Richie - All Night Long
L.Richie - Easy
Lighthouse Family - High
Little Walter - Blues With A Feelin'
Little Walter - My Babe
Los Locos – La bamba
Lynyrd Skynyrd – Sweet home Alabama
M.Bolton – To Love Somebody
M.Bolton – When a Man Loves a Woman
M.Buble Vers – Sway
M.Buble – Home
M.Gaye - Sexual Healing
M.Jackson - Billie Jean
M.Jackson - Dirty Diana
M.Jackson - Human Nature
M.Jackson - Liberian Girl
M.Jackson - Man In The Mirror
M.Jackson – Thriller
M.Sembello - Maniac
Mario Biondi – Rio De Janeiro Blues
Massive Attack - Teardrop
Muddy Waters - Rock Me
Muddy Waters – Got My Mojo Working
Mumford And Sons – I Will Wait For You
Mungo Jerry – In The Summertime
N.K.Cole - Dream A Little Dream Of Me
N.K.Cole – Route 66
O.Redding – Sittin on the dock of the bay
P. Daniele – Quando
P.Collins - Another Day In Paradise
P.F.M. - Impressioni Di Settembre
P.Nutini - New Shoes
P.Young – Every Time you go Away
Paul Anka – Diana
Pink Floyd – Wish you Were Here
Piovani – Beautiful That Way
Prince - Kiss
Queen – Crazy Little Thing Called love
R.Charles - You Don't Know Me
R.Charles – Lonely Avenue
R.Charles – Outskirts Of Town
R.E.M. – Losing My Religion
R.Gaetano – A Mano a Mano
R.Keating – When You Say Nothing At All
R.Williams - Angels
Rag And Bone Man – Human
S.Cooke – A Change is Gonna Come
S.Esmeralda – Don't let me be misunderstood
S.Wonder - As If You Read My Mind
S.Wonder - Don't You Worry About a Thing
S.Wonder - Ebony Eyes
S.Wonder - Higher Ground
S.Wonder - Living For The City
S.Wonder – For Once In My Life
S.Wonder – I Just Call to Say I Love You
S.Wonder – Ribbon in the sky
S.Wonder – Superstition
Sam Smith – Stay With Me
Seal - Kiss From A Rose
Simon&Garfunkel - The Sound Of Silence
Simply Red – Holding Back the years
Stereophonics – Maybe tomorrow
Sting - Englishman In New York
Sting - Fields Of Gold
Sting - Fragile
Sting&C.David - Rise And Fall
Superman Lovers - Starlight
T.Chapman - Fast Car
T.Chapman – Baby can I hold you
T.Chapman – Talkin about revolution
Tears For Fears - Mad World
The Coasters - Yakety Yak
The Connels - 74/75
The Drifters - Under The Boardwalk
The Drifters – Save the Last dance for me
The Eagles – I can't tell you why
The Police – Every Breathe You Take The
The Police – Roxanne (G Michael Vers)
The Ronettes - Be My Baby
The Temptation – My Girl
The commitments – Mustang sally
The police – Message in a bottle
Tom Jones – Sex bomb
Toploader – Dancing In The Moonlight
Toto - Africa
Train – Marry Me
Travis – Sing
U2 – Beautiful Day
U2 – One
Van Morrison – Moondance
Verve - The Drugs Don't Work
Zucchero – Diamante
J.Reed - I Ain't Got You