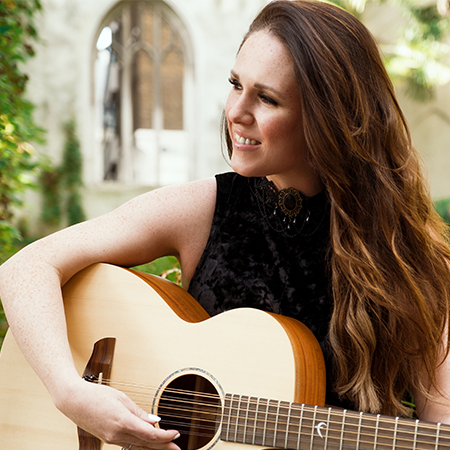 Sandi Thom
Scottish singer and songwriter Sandi Thom is best known for her No.1 hit 'I Wish I Was A Punk Rocker'
Has collaborated with big names and legendary musicians such as Joe Bonamassa or Rich Robinson
Extensive repertoire includes her own compositions and acoustic versions of her songs
This multi talented musician can perform at VIP parties, ceremonies, galas, and many more
Sandi Thom is currently based in Bahrain and available for bookings worldwide
Sandi Thom is Scottish singer and songwriter best known for her No.1 debut single 'I Wish I Was A Punk Rocker (With Flowers In My Hair)'. This multi talented musician has released six studio albums and toured around the world singing and playing the guitar.
Throughout her successful career, Sandi has collaborated with numerous big names in the industry such as legendary guitarists like Joe Bonamassa or Rich Robinson. Some of this female singer and guitarist major achievements include a nomination for best British Album at the British Blues Awards as well as Best Jazz/Blues Recording of the Year and Artist of the Year at the Scottish Music Awards.
Sandi is a multi talented musician and a versatile artist who can adjust her performances to different events and situations and adapt her style and sound to an ever-changing industry. Our female singer and guitarist can delight audiences with both her wonderful voice and her talent as a guitar player. Sandi is a multi talented musician who can also play the piano, so she can offer shows and concerts during which she can sing, play an instrument or do both together.
This well-known Scottish singer and songwriter can perform at numerous events including VIP parties, award ceremonies, galas and many other special occasions. She can adapt her performance and repertoire to your specific needs and requirements and play any of her songs upon request. She can perform accompanied by other musicians and also play acoustic concerts. 
This versatile female live singer is currently based in Bahrain and is very interested in bringing her music to the Middle East, which makes her especially suitable for events in the area. She's also available for bookings in the UK and all over the world.
At Scarlett Entertainment we pride ourselves on providing high-end entertainment for events and occasions in the Middle East and all over the world.
If you're interested in booking Sandi Thom for your upcoming event, check her availability by contacting us today. Our in-house team of Entertainment Specialists will be delighted to provide further details on this sensational Scottish singer and songwriter and assist you in the booking process.