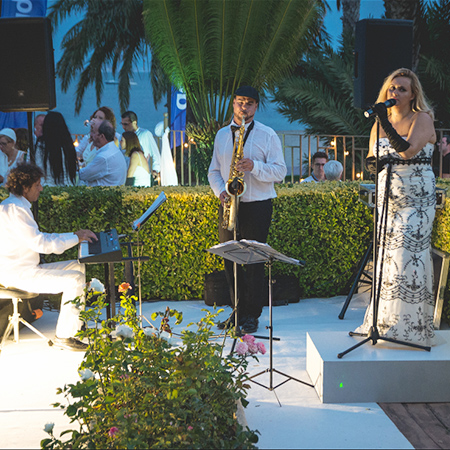 Sax, Piano & Vocal Trio
Talented sax player, pianist and female singer offer soothing background music for a variety of occasions
Varied repertoire ranges from music from the 20s to chart-topping tunes by Ed Sheeran and Bruno Mars
Set list is fully customisable and performances can be adapted to different performance spaces
Perfect live music entertainment option for drinks receptions, cocktail lounges, dinners, etc.
This Sax, Piano and Vocal Trio is based in Valencia and available for bookings across Spain and overseas
Sax, Piano & Vocal Trio PHOTOS
Create the perfect atmosphere at your reception or dinner by hiring this Sax, Piano and Vocal Trio, three experienced musicians who perform soothing background music for occasions of all sorts. Passionate about music in general and jazz in particular, this live jazz trio always makes any event an unforgettable occasion through lyrics and sax and piano melodies.
Strongly influenced by big names such as Billie Holiday, Tonny Bennet, or Frank Sinatra, this live jazz trio performs covers by these and other artists. Specialists in versions of music from the 20s, 30s, 40s and 50s, our sax player, pianist and singer always add their own unique sound and personal style to each of their performances. They also offer an Amy Winehouse Tribute that is especially requested by the soul diva fans. 
Their extensive repertoire ranges from jazz standards to current chart-topping tunes by artists like Ed Sheeran and Bruno Mars, which makes them the ideal live music entertainment for audiences of all ages. Their set list can be adapted to suit your event's specific requirements and satisfy the different tastes of your guests. On top of that, our sax player, pianist and singer always welcome the opportunity to share the stage with other musicians and travel to any destination to entertain international audiences.
Suitable for a variety of occasions, this live jazz trio regularly delights listeners with soothing background music at resorts, cruise ships, drinks receptions, dinners, galas, cocktail lounges, and many more. Whatever the event, they always dress appropriately for the occasion. They have also performed at VIP parties, weddings, fashion shows, exhibitions and vintage themed parties.
Scarlett Entertainment offers a wide range of live music entertainment for occasions in Valencia, Spain and all over the world.
If you would like to book this Sax, Piano and Vocal Trio, contact us today and ask to speak to one of our Entertainment Experts. They will be more than happy to answer all the questions you may have about this live music entertainment option and guide you through the booking process.