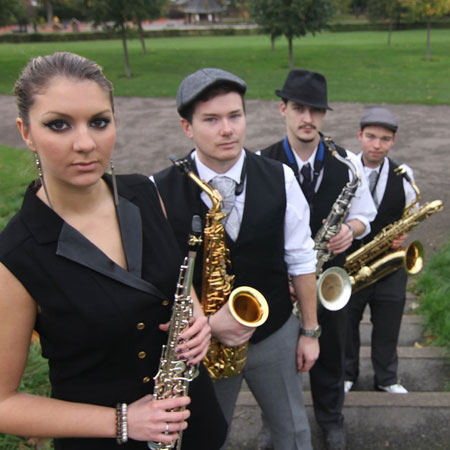 Saxophone Quartet
An exciting conglomeration of some of the most prolific musicians
They are able to arrange music to tailor themselves for an event
Have performed at the World's biggest indoor jazz festival in Amsterdam
Have played alongside renowned performers Jamie Cullum & Adele
Based in London and available to play at events worldwide
The Saxophone Quartet is an exciting conglomeration of some of the most prolific and pioneering young musicians on the scene. This collective caters to all occasions and scenarios with a wide ranging programme of tailored music from new takes on pop classics to swing era dance tunes and delicate interpretations of the classical greats.
Their carefully constructed arrangements combine power and energy with subtlety and musicianship making for a unique and thrilling live music experience liable to uplift and envigor any audience in any scenario. The Saxophone Quartet have performed in venues across Europe from the Royal Albert Hall in London, La Madeleine in Paris to the world's biggest indoor jazz festival in Amsterdam, alongside world-renowned performers such as Jamie Cullum and Adele.
The Quartet's music experience is extensive, that they are able to write or arrange specific music so that they can tailor themselves to the clients needs. They are professional, highly experienced and can guarantee satisfaction and enjoyment whatever the occasion.