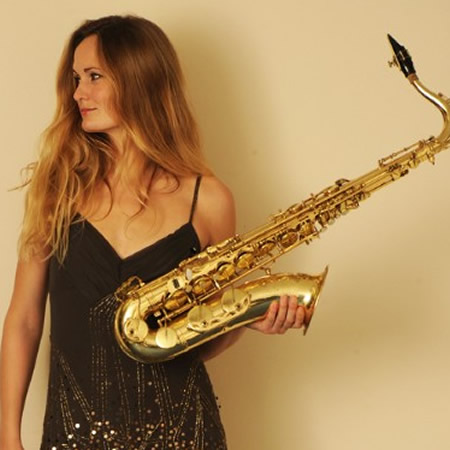 Saxophonist: Heather
Favourite with high end corporate clients and celebrity parties
6ft blonde stunning saxophone player will WOW guests
Cafe del Mar style Chill Out set- with Sax/ DJ or add extra musicians
Also available with jazz band or electric violinist
Based in the UK & UAE, available to perform Internationally
Saxophonist: Heather VIDEOS
Saxophonist: Heather PHOTOS
This artist is one of the most in demand saxophonists internationally.  A favourite with celebrity parties and corporate events she has performed for a long list of high profile clients including Richard Branson, David Beckham, Daniel Craig, Gwyneth Paltrow and many more. 
She is available to perform freestyle/walk around sax with a DJ performing funky house, lounge, latin and jazz.  She is also available with her jazz band or with female percussionist and electric violinist to add wow factor to your event.
Heather has shared the stage with Madness, Michael Franti, Marcus Printup, the Ronnie Scott's All stars, Nigel Kennedy, The Drifters and Lou Reed. She has played support for Maceo Parker, Jarvis Cocker, The Feeling and Leona Lewis.  Her demand has spread to celebrity parties. David and Victoria Beckham, Al Pacino, Ralph Finnes, Robbie Coltrane, Daniel Craig, Ian Hislop, Nicole Kidman, Gwyneth Paltrow, Stella MacCartney, David Walliams and that other Hornblower, Ioan Gruffudd, have all enjoyed her performances.
The future king of England hit the dance-floor with a pink feather bower to some of her funky sax riffs at a spectacular birthday party.   She was resident sax player for Hedkandi at parties in Athens and club nights around the Uk.  This artist has performed at parties during the Cannes film festival with Norman Jay, at the Monaco Grand Prix on Armani's yacht and at Robert Cavelli's retro-futuristic mansion.  With her band, The Index, she entertained VIP's at a UEFA cup final in Athens, mixing afro-beat and nu-jazz with funk and hip-hop grooves.  Recently she recorded for Laylo and Bushwaker and hip-hop maestros Boarder Crossing.  She also played on the sound track for the new Tony Kaye movie, yet to be released.
In Adu Dhabi Heather performed at the Grand Prix for Exxon Mobil for an audience of sponsors and VIPs including Lewis Hamilton.  She has played at Kensington Palace for Cartier and the Polo Gold Cup for Veuve Clicquot.  Other corporate clients include Porsche, Bentley, Mac, De Beers, Boodles, Fortnum and Mason, Tiffany, Louis Vuitton, Mercedez Benz and Virgin, where she performed at events in Shanghi, Sydney and Brisbane.
 
In London, Heather has performed regularly at well known venues including the Gherkin, the Natural History Museum, the Science Museum, the Tate Modern, the Tate Britain, the Imperial War Museum, One Marylebone, Madam Tussauds, the London Aquarium, Tower Bridge Walkways, Somerset House, The Dorchester, the National Portrait Gallery, The Savoy, The Landmark, The Langham Hotel, Browns Hotel, The Four Seasons Hotel, The London Eye, The Royal Opera House, The Coliseum, and The Old Vic for Peter O'Toole and Kevin Spacey.  In Ibiza she played for the legendary sunset sessions at Cafe Del Mar, Pacha for Ministry of Sound and Cafe Mambo.  She recorded a solo electro-jazz project for Universal (Island records), in Brazil.
Bossa Nova
Latin Jazz
Cuban Jazz
Chill-Out
Apple
Boodles
Mercedes-Benz
Virgin
Ronnie Scotts
Exxon Mobile
Porsche
De Veers
Fortnum & Mason
Verve Clicquot
UEFA Cup Final
Monaco Grand Prix
Bentley
" She dazzles the audience every time. A fantastic performer, everyone deserves great sax. "

Sir Richard Branson
" You're just wonderful! "

Kim Cattrall