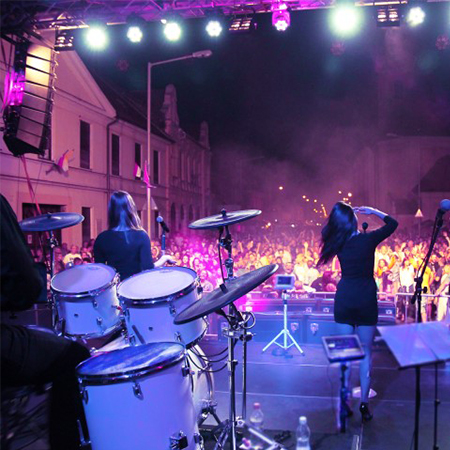 Showband Hungary
Dynamic party cover band with an extremely varied repertoire in various languages
Led by two female vocalists who can sing in either English, Spanish, Portuguese, German and Hungarian
Extensive repertoire includes pop, funk, jazz, swing, Latin, rock and disco music and much more
Ideal live music entertainment for weddings, private parties, festivals, proms, birthdays, etc.
This Showband from Hungary is based in Budapest and available for bookings all around the world
If you're looking for a party cover band that play music for all sorts of audiences, this Showband from Hungary is the live music entertainment option for you. Led by two female vocalists, this band can also offer DJ services for your evening or after party.
Their repertoire is extremely varied. Songs in English, Spanish, Portuguese, German and Hungarian, our versatile party musicians can perform different genres and styles such as pop, funk, jazz, swing, Latin, rock and disco music and much more, and customise their set list in order to satisfy the tastes of all your party guests.
Some of the famous live party music our band can play includes songs like 'Ai Se Eu Te Pego' by Michael Telo, 'La Camisa Negra' by Juanes, 'Moves Like Jagger' by Maroon 5 and songs by Hungarian artists like Koncz Zsuzsa, Szucs Judith or Fenyo Miklos. You can see their full set list by clicking the tab above.
An in-demand live wedding band, our singers and musicians regularly perform at weddings and ensure all guests enjoy a night of good music and dancing until early hours in the morning.
This live wedding band is also suitable for other events and occasions such as private parties, festivals, corporate events, proms, birthdays and many more. Our party cover band has made various appearances in the media and is very popular within Bupdates and Hungary and beyond its borders. A live party band that promise to leave lasting memories, by booking this sensational showband you will guarantee your party is an occasion to be remembered.
Scarlett Entertainment offers a variety of party Cover Bands for events and occasions in Hungary and all over the world.
Would you like to book this multigenre Showband from Hungary? Then contact us today and ask to speak to one of our Entertainment Coordinators. They will be happy to give further details on this live wedding band and assist you in the booking process.
Agadu (Zaragoza Band)
Ai Se Eu Te Pego (Michel Telo)
Alice (Smokie)
Apuveddmeg (Well Hello)
Balaton Fever (4F Club)
Bend the carpet (Fenyő Miklós)
Besame Mucho (Frank Sinatra)
Boney M Medley I (Rivers Of Babylon Ma Baker Gotta Go Home)
Boney M Medley II. (Rasputin Bahama Mama)
Brazil (Vengaboys)
Brown Girl in the Ring (Boney M)
Can not Take My Eyes Off You (Hermes House Band)
Careless Whisper (George Michael)
Casino Twist (Hungary)
Chirpy chirpy Cheep Cheep (Middle of the Road)
Ciao Marina (R-Go (USA)
Coco Jumbo (Mr. President)
Come come Juli (Hungary)
Come crazy (Edda)
Come take me roses small (Cserháti Zsuzsa)
Comment ça va (The Shorts / Balázs Klári Gyorgy Korda)
Counting Stars (OneRepublic)
Cuba (Gibson Brothers)
Daddy Cool (Boney M)
Dream Boat (Carpe Diem)
El porompompero (Manolo Escobar)
Exist (R-Go)
Feeling (Edda)
Gimme Hope Jo'Anna (Eddy Grant)
Gimme gimme (Abba)
Give me your heart tonight (Shakin Stevens)
Goes down
Happy (Pharrell Williams)
Have you ever seen the rain (Creedence)
Hazafelé (Coral)
Heartache (BONNIE TYLER)
Hero (Enrique Iglesias)
Hey Baby (DJ Ötzi)
Hit The Road Jack (Ray Charles)
Hot n Cold (Katy Perry)
Hotel Menthol (Hungary)
Hound dog (Elvis Presley)
I Feel Good (James Brown)
I Just Called (Stevie Wonder)
I Kissed A Girl (Katy Perry)
I Love Rock 'n Roll (Joan Jett & the Blackhearts)
I Will Survive (Hermes House Band)
I wait for you (Hip Hop Boyz
I wanna dance with somebody (Whitney)
If Fa Nana (Afric Simone)
If the sun (Orsi)
If you were here with me (Republic)
In the red where red (Mary Nótár)
Istanbul (Hungary)
It's Now Or Never (Elvis Presley)
Just a Gigolo (David Lee Roth)
Kisser (Hungary)
La Bamba (Ritchie Valens)
La Isla Bonita (Madonna)
Lambada (KAOM)
Let's Twist Again (Chubby Checker)
Life Is Life (Opus)
Living on the Prayer (Bon Jovi)
Long Train Running (Doobie Brothers)
Love Is In The Air (John Paul Young)
Love Me Forever (Themba)
Mamma Maria (Korda György Balázs and Susan)
Mamma Mia (Abba)
Marina (Sergio Mauri)
Maybe the sky is green  (Varga Viktor)
MedleyBack Home (Fritz Kalkbrenner)
MedleyBeautiful Sunday (Daniel Boone)
Moves Like Jagger (Maroon 5)
Movin 'Cruisin' (The Fantastic Oceans)
Mr Saxobeat (Alexandra Stan)
My Way (Elvis Presley)
Nika se perimenopausal (Gjon Delhusa)
No ROXA J (Count of Jolly & Small)
One Moment In Time (Whitney Houston) Brandy Dal (Magna Cum Laude) Kerosene lamps (Omega)
One Way Ticket (Boney M)
Proud Mary (Tina Turner)
Quixote (Neoton)
Smooth Operator (Sade)
Someone Like You (Adele)
Stupid Cupid (Connie Francis)
Summer is (Neoton)
Sunshine ice (Fenyő Miklós)
Surprising and amusing (Szatmári Orsi)
The biggest hero (Honeybeast)
The circuit (edda)
The viewing of the gait (Jolly's processing)
Those happy beautiful days (Beatrice)
Viva Espana (Sylvia)
What a Woman (Sonia Lion & Bebe)
Who will take home (Bikini)
Without You (Mariah Carey) I want to break free (Queen)
You can easily (Republic)
You never can tell (Chuck Berry)
Africa (Ltd.)
Alvaro Soler - Sofia
Balaton summer - Well Hello / Pixa / Dead Money
Be my lover - La Bouche
Beat it - Michael Jackson
Beautiful Life - Ace of Base (girls)
Before finally leaving (Bikini)
Brandy sunrise - Geszti Péter and Gringo Star
Bruno Mars - 24K magic
Come and dance - Well Hello
Cotton Eye Joe (Rednex)
Dance yet! (Szűcs Judit)
Danza Kuduro (Don Omar)
Die that if you look at me (Hungary)
Eternal Flame (Bangles)
Fly the Whale (Republic)
Good for me - Ocho Macho
Grease medley - You're hurt the one i want Greased Lightnin Summer Nights
Greatest love of all - Whitney Houston
Gustavo Lima - Balada
Hot Stuff - Donna Summer
I love the way I am stupid - Kowalsky meg a Vega
I remember in Sopron - Well Hello
I've been away for a long time - Happy Gang
IKO IKO (Captain Jack)
If required rollicking 90-minute csárdás
Imany - Do not be so shy
Jojo Action (Mr.President)
Kind of America (Bon-Bon)
La Camisa Negra - Juanes
Leave aloud of (Soltész Rezső)
Leave town - Edda
Lets get loud - Jennifer Lopez
Likes or dislikes (Neoton)
Limbo coach - Hungary
Listen to your heart (Roxette)
Locked out of Heaven - Bruno Mars
Love (Rúzsa Magdi)
Love - Ruzsa Magdi - LOTFI Begin MIX
Love Bomb (Back II Black)
Love is not well (R-Go)
Love someone for something (Republic)
Madcon - dont worry
Nah Neh Nah (Vaya Con Dios)
Over the weekend then we go up into the mountains - Hip Hop boyz
Quando Quando Quando
Que Sera Mi Vida (Gibson Brothers)
Que si que No (El Simbol)
Rather Be (Clean Bandit feat Jess Glynne)
Red-colored clothes (Mary Nótár)
Rock & Roll Party (Hungary)
Rolling In The Deep - Adele
Rural sanzon (Magna Cum Laude)
Santa Maria (Neoton)
Saragossa Band Medley (Agadu Guantanamera ...)
Saragossa Band Medley (Quantanamera ... ..)
Secret message - TNT
Sex Bomb (Tom Jones)
She (Elvis Costello)
Shines in my heart (Mohamed Fatima)
Simple the best (Tina Turner)
Sing hallelujah - Dr. Alban
Smooth (Santana)
Something is in the air (Dead Money)
Something is in the air mix - Dead Money
Somewhere a girl (Koncz Zsuzsa)
Still In Love With You (No Angels)
Stumblin 'In (Chris Norman & Suzi Quatro)
Sun Oil - UFO
Sunshine Day (Osibisa)
Sway (Michael Buble)
Sweet Dreams (Eurythmics)
Temptation (Arash)
Tequila (The Champs)
The Loner (Gary Moore)
The city's eyes - Well Hello
The morning is too far away (Beast)
Those Were the Days (Hermes House Band)
Thrice - Edda
Tomorrow dawn - Neoton Familia
Try to relax (Hof)
Twist and Shout (The Beatles)
Uptown Funk - Bruno Mars
Voulez-Vous (Abba)
Waka Waka (This Time for Africa) (Shakira)
Waterloo (Abba)
We Found Love (Rihanna)
What a Wonderful World (Louis Armstrong)
What a feeling - Flashdance
Without you - Familiar Faces
YMCA (Village People)
You Can Leave Your Hat On (Joe Cocker)
You broke my heart into pieces - Dead Money
You shook me all night long - Celene Dion & Anastacia
You're My Heart You're My Soul (Modern Talking)
You're The One (Grease)
You're a Woman (Bad Boys Blue)
Young love - Happy gang
Zoltán Erika Medley (I was born for Love Hermit Girl Casanova)
Zorba The Greek
Above 220 - Neoton familia
IDEA ARTICLES RELATED TO Showband Hungary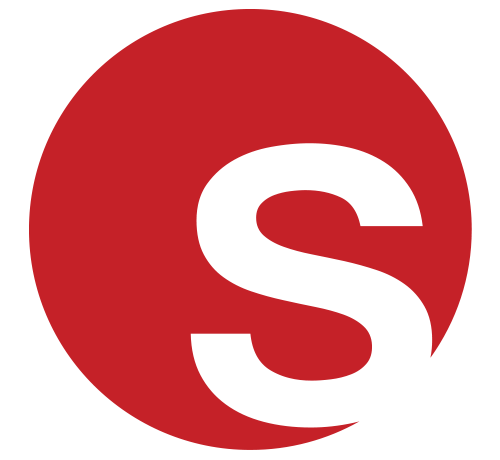 Top UK Bands & Live Music To Book This Summer
Top UK Bands & Live Music Ideas for Summer Events
Grace Henley
|
11/05/2021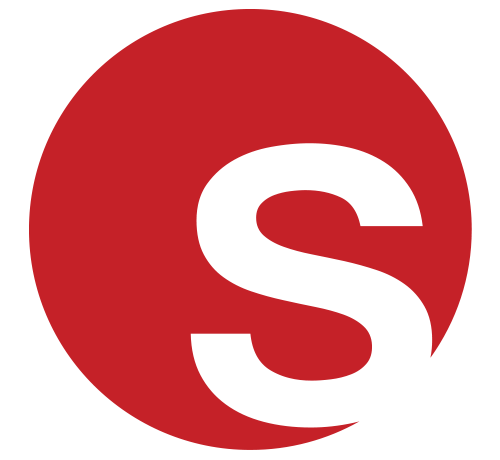 How to Surprise Millennials and Draw Social Influencers to Your Event Using Experiences
How to Surprise Millennials and Draw Social Influencers to Your Event Using Experiences
Grace Henley
|
12/10/2018