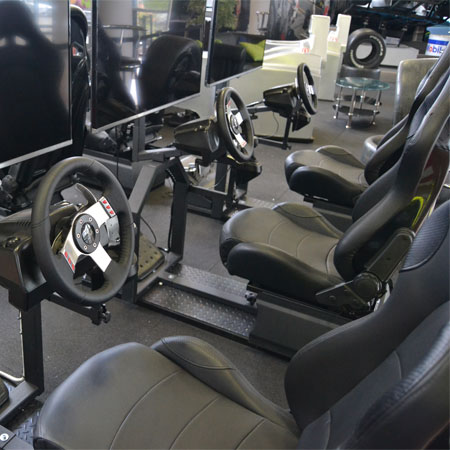 Simulator Experience Berlin
Our Simulator Experience Berlin is an innovative & fun activity, the perfect team building solution for your team incentive trip.
Simulators are equipped with the latest technology & software to find the best programme for your group entertainment Berlin.
A group simulator experience that is exciting & challenging; test your teams skills at working together towards a goal.
Offer your team a memorable corporate team activity with our Formula 1 Simulator - the closest thing to being on the race track!
Unique event location; our motorsport complex combines an impressive backdrop with high-tech functional workshops.
Simulator Experience Berlin PHOTOS
Scarlett Entertainment & Events organise Team Building activities and incentive programmes for corporate groups and VIPs to Berlin and Germany, delivering experiences and activities that are unique to the region.  
Offer your team an exhilarating corporate rewards activity day with our exclusive Simulator Experience, the perfect team building event for your company away days and incentive trips.
Our simulators are equipped with the latest technology and software to find the best solution for your team building event. We offer the versatility of multiple options for your company to choose from, ranging from Formula 1 simulators, with a high level of realism to full motion replicas of race cars containing a unique visual system which separates the driver from the outside world. Our software is completely customisable, ideal for your corporate group, depending on your company goal or project. Our Formula 1 Simulator Experience will offer your team the perception of being on the race track!
We have created a unique event location for your workshop to take place in, our unique motorsport complex combines years of automotive tradition with the current successes in Formula 1. Various event modules can be used for your project, integrated into the impressive backdrop at Salzufer. Our incredible racing car engine sports complex has multiple facilities including riding and racing simulators along with a unique motorsport exhibition. Home to a stylish ambience that will refine your event, making it a memorable experience for your guests. 
We offer solutions for any given event, combining all possibilities of the site with the theme of your project. Whether it be a product presentation, company launch, or team incentive day. 
Your Simulator Workshop can be combined with a seminar and/or theoretical instructions, offering a diverse training day for your fun corporate team event. 
Practical tips 
We have 10 simulators that can be used at once 
All Simulations can be customised in duration, tour and branding, depending on the size of the group
All simulators are stored in their own event location though can also be transported to a venue of your chosen location
For events we have capacity for up to 30 people as we can split the groups (for example; one having the simulator experience, one having theoretical instructions and one taking part in a seminar.
Our Scarlett Event team can arrange luxury coaches, executive fleets, VIP coaches, mini buses or limousine services to pick your guests up from their hotel and take them to our exclusive Simulator Workshop.
Not yet booked your group hotel? Our Scarlett Event team are here to help!  We work with the very best in luxury hotel group accommodation in Berlin, from Boutique hotels to large hotel facilities. 
Holding a corporate incentive party, gala dinner or corporate event in Berlin?  Let our Events team help organise your event - we work with the very best event venues in Berlin from unique event spaces to traditional German venues, large meeting spaces to VIP luxury party venues available to hire in Germany.  Our Berlin DMC events team can organise amazing locally based entertainment, catering, decor and transport.  
Contact us at Scarlett today to talk about booking our Simulator Experience Berlin for your corporate team day or personalised event.