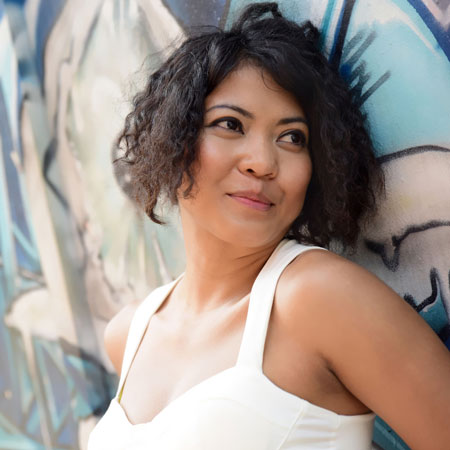 Singapore Diva Hits Singer
Fantastic and versatile female singer
Covers all the diva hits from across all the decades
Over two decades of live music experience
Perfect for weddings, parties and corporate events large or small
Based in Singapore and available for international events
Our Singapore diva hits singer is an outstanding female vocalist delivering diverse and high energy live performances to all audience types. Armed with just a microphone, she dominates the stage and captivates the crowds attention with her powerful and resonant set of cover songs. this female singer is a true entertainer who really knows her audience and makes any occasion one to remember. 
The Singapore diva hits singer is one of the few female vocalists covering the Diva hits from all the decades including Gloria Gaynor, Whitney Houston, Adele Lady Gag and Rihanna to name but a few. This female singer has a huge repertoire featuring cover songs of famous female vocalists from throughout the last few decades, upbeat party tunes and chart toppers as well as romantic cosy ballads. Aside from diva classics, our female singer's repertoire boasts the likes of Bruno Mars, Michael Buble, Maroon 5 and Pharrell Williams.
With over twenty years experience of live performance, our Singapore diva hits singer has been entertaining crowds with her brilliant vocal talents all over South East Asia and has even given performances for the Royal Families of Brunei, Malaysia and Indonesia. She has also performed for major charity fundraisers and  events attended by the Prime Minister and President of Singapore. 
Speak to our team at Scarlett entertainment if you would like to book the Singapore diva hits singer for your next event or party and she will tailor her set of cover songs to suit your tastes.
Addicted to You All About That Bass All Night Long
Aint No Body - Cha Ka Khan
Alejandro - Ladygaga
All About That Bass - Meghan Trainor
Asereje - Las Kechup
Baby You're Mine - Basia
Beautful Dissaster- Kelly Clarkson
Because of You - Kelly Clarkson
Believe - Cheer
Besame Mucho
Big Big World - Emilia
Big Girls Don't Cry - Fergie
Bleeding Love - Leona Lewis
Blue Moon
Bonita - Maddona
Born This Way - Lady Gaga
Bout the Money - Meja
Breakaway - Kelly Clarkson
Breathless - the Corrs
Bring Me to Life - Evanescences
Bubbly - Colbie Cailat
Burn - Tina Arena
Button - Pussy Cat Dolls
California Girl - Katty Perry
Can You Love Me Again – John Newman
Can't Take My Eyes of You - Lauryn Hill
Can't Take My Eyes of off You = Frankie Valli & the Four Season
Cant Get You out of My Head - Kelly Minoque
Chasing Pavement - Adele
Chrush - Jennifer Paige
Complicated - Avril Lavigne
Cool - Gwen Stefanny
Crazy - Celo Green
Cry Me out -pixie Lott
Dancing Queen – Abba
Do You Really Wanna Hurt Me - Culture Club
Don't Know Why - Norah Jones
Don't Speak - No Doubt
Don't Stop the Music- Rihanna
Dont Call Me Baby - Madison Eve
Dont Cry for Me Argentina
Empire State of Mind - Alicia Keys
Fell in Love with a Boy - Joss Stone
Fernando - Abba
Firework - Katty Perry
First Cut is the Deepest - Sheryl Crow
Fly Me to the Moon - Frank Sinatra
Forget You - Celo Green
From This Moment -s Hania Twain
Game of Love - Michelle Branch
Get Lucky – Daft Punk
Give Me One Reason - Tracy Chapman
Golden Eyes – Tina Turner
Granade - Bruno Mars
Greatest Love of All - Whitney Houston
Grenade - Bruno Mars
Hands in My Pocket - Alanis Morrisette
Happy - Pharrel Williams
Heaven - Bruno Mar
Hello – Adele
Hero - Mariah Carey
Hips Don't Lie - Shakira
Hot and Cold - Katty Perry
How Could an Angel - Tony Braxton
How Do I Live - Trisha Yearwood
I Am Like a Bird - Nelly Fortado
I Am Yours -- Jason Mrz
I Kissed a Girl - Katty Perry
I Set Fire – Adele
I Wanna Be with You - Mandy Moore
I Wanna Dance with Somebody – Whitney Houston
I Will Survive – Gloria Gaynor
If I Ain't Got You - Alicia Keys
Irreplaceable - Beyonce
Its All Bout the Money  - Meja Isla
A Song for You - Whitney Houston
Karma Chamaleon - Culture Club
Killing Me Softly - Fugess
Lean on – Major Lazer
Lets Get Loud - Jlo
Locked out of Heaven - Bruno Mars
Love Story -- Taylor Swift
Material Girl - Madonna
Most Girl-- Pink
My Funny Valentine - Michael Bubble
My Heart Will Go on - Celine Dion
My Way-- Frank Sinatra
New Day Has Come-- Celine Dion
New York / Empire State of Mind = Alicia Key
New York New York -- Frank Sinatra
Objection - Shakira
One Way or Another - Blondie
Only Girl in the World- Rihanna
Only Love Can Hurt Like This - Paloma Faith
Poker Face - Lady Gaga
Price Tag - Jessy J
Rather Be – Jess Glynne
Rehab - Amy Winehouse
Rehab – Amy Winehouse
Rolling in the Deep -- Adele
Rolling in the Deep – Adele
Run to Me - Begees
Sex on Fire - King of Leon
Sex on Fire – Kings of Lion
Simply the Best - Tina Turner
Simply the Best – Tina Turner
Sin of the Preacher
Sky Fall – Adele
Smile - Michael Jackson
Smooth Operator - Michael Jackson
Smooth Operator - Shade
Some One Like You - Adele
Soulmate - Natasha Bedingfield
Stand by Your Man - Dolly Parton
Stop - Spice Girls
Strong Enough - Cheer
Sugar – Maroon 5
Sunday Morning- Maroon 5
Superduper Love - Joss Stone
Sway - Pussy Cat Doll
Sway - Pussycat Dolls
Sweet Child of Mine - Gun Ands Roses
Thats the Way It is  - Celine Dion
The One That Got Away -- Katty Perry
Time After Time - Cyndi Lauper
Titanium – Sia
To the Left - Beyonce
Umbrella - Rihanna
Underneath Hour Clothes-- Shakira
Underneath It All - No Doubt
Unfaithful - Rihanna
Unwritten - Natasha Bedingfield
Uptown Funk - Bruno Mars
Use Somebody - Kings of Leon
Use Somebody – Kings of Leon
Valerie - Amy Winehouse
Valerie – Amy Winehouse
Waka Waka - Shakira
We Found Love – Rihanna
We Will Rock You – Queen
When I Need You - Celine Dion
Whenever Wherever - Shakira
White Xmas - M.carey
Without You - Mariah Carey
Wonderwall - Oasis
Ymca
You Gotta Be -desree
You to Me Are Everything – the Real Thing
You'll See - Madonna
You've Got a Friend - Carol King
Your Lips Are Moving -meghan Trainor
Zombie - Cranberries
Just the Way You Are – Bruno Mars