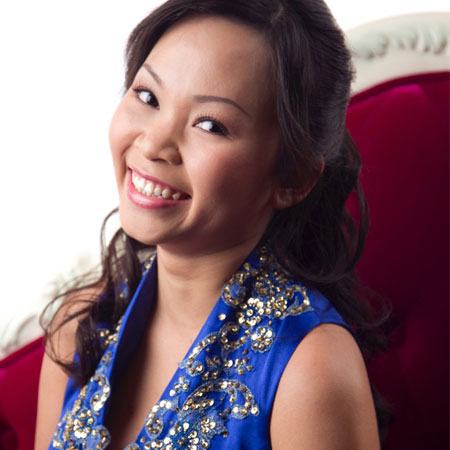 Singaporean Female Soprano
Beautiful vocals possess a warm depth & uplifting tone
Multi-talented soprano vocalist can also play alongside instrumentalists
Repertoire spans from Schubert right up to 20th Century composers
The perfect accompaniment to corporate dinners, weddings…
Based in Singapore & available to perform at events worldwide
This multi-talented musician found her calling as a singer in Monteverdi's opera Ballo Della performing as a violinist in the ensemble and singing the part of the Ingrate at the end of the opera.
Now a professional soprano singer and trainer, she has a wealth of experience performing in large-scale concerts and providing magical entertainment at corporate dinners, drinks receptions, weddings, special occasions and black tie events. Her beautiful vocals possess a unique depth and an uplifting tone, which lends itself perfectly to creating an elegant atmosphere in which guests can lose themselves.
She has captivated audiences large and small with her stunning renditions of classics by Barbara Strozzi, Schubert, Wolf, Handel, J.S. Bach and Purcell, as well as music by famous 20th Century composers such as Samuel Barber and Ned Rorem. Her most recent addition to her repertoire is Singaporean composer Jeremiah Li's song cycle "Innocently Schizophrenic" Alice in Wonderland, showcasing her versatility. She can tailor her extensive repertoire to create a bespoke set list that will perfectly suit your event and include many of your own classical favourites.
Having taken leading roles singing as Cleopatra, Rodelinda, Morgana, Juliet, in concert format, you can rest assured that her natural stage presence will enthral audiences and keep them engaged throughout her performance. She is a born performer and knows how to win over any audience!
Able to perform alone as a soloist or with the backing of live musicians she offers world-class musical entertainment that will really impress guests.