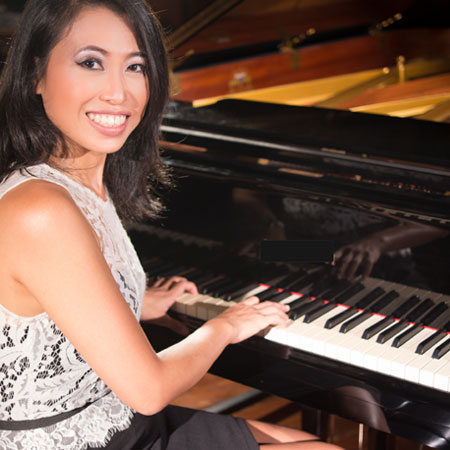 Singer Songwriter Singapore
Vocalist who is recognised as a rare individual who performs cross genres
Cleverly fuses everything from soul & jazz, to blues, party anthems & pop
Her warm energy & contagious charisma has charmed people around the world
Is available to perform as a soloist or alongside her first rate band
Based in Singapore and available to perform at events worldwide
Singer Songwriter Singapore PHOTOS
Based in Singapore our female singer, songwriter and pianist is a multi-talented individual who breathes new life into a variety of musical genres, creating her very own unique sound and style.
Merging a variety of musical genres, she cleverly fuses everything from soul and jazz, to blues, party anthems and pop hits with effortless improvisational skills and incredible showmanship.
Performing either as a soloist or alongside her first rate band, she has a charisma that has charmed people around the world and successfully turns events into outstanding shows.
Her diverse talents and exploration onto cross genres ensure that she stands out as a rare individual who literally can adapt to become the perfect entertainment option for a vast range of events and occasions.
Having gained extensive experience, she is not afraid to introduce unusual cover reinterpretations of favourite pop, rock, jazz and swing classics, which guarantee to take guests on a mesmerising musical journey.
Currently working on a new album for release, she is also available to hire as a singer, songwriter or pianist at a broad selection of events internationally, from private parties, to weddings, corporate events and more!
Contact us today to find out more.
" Michelle's brand of jazz is much more stripped down, refined and palatable than the jazz classics by Nat King Cole and Louis Armstrong. In one of Michelle's captivating songs "Free to Fall", there is a line that goes "I need your hand like a glove unto mine/feel security a reminder we're alive", depicting a lover yearning for another. Unafraid to show vulnerability in her skilful song-writing, Michelle sings with a heart-stirring pain that shines through. "

ROMP Magazine
" Michelle is one of those rare individuals whose sound reflects her personality. She breathes life into her melodies with the same radiance and joy she lives. Her deep understanding of the blues, soul music and jazz gives her an unlimited amount of diversity and creativity. "

Marcus Printup New York, USA, Recording Artist and Educator