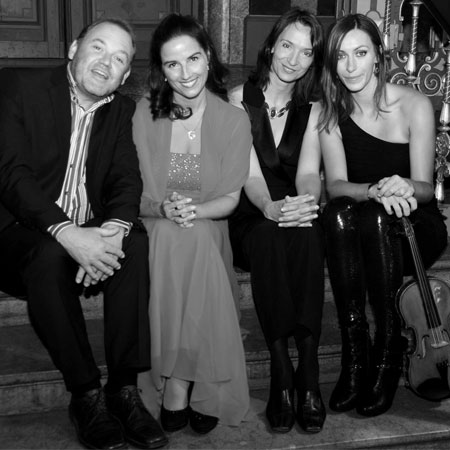 Singing & Instrumental Quartet
Our fantastic ensemble of classical singers and musicians performs an innovative mix of modern and traditional music
Featuring a soprano, baritone, violinist and pianist, this quartet showcases some of Europe's greatest musical talents
Playing a varied repertoire of opera, show tunes and contemporary covers, our opera singers perform everything from The Cats soundtrack to Mozart
Between them, our musical ensemble have performed at the Norfolk Chamber Music Festival, Holst Sinfonietta and German National Theatre
Hire Singing and Instrumental Quartet for events in Germany and internationally
Singing & Instrumental Quartet VIDEOS
If you are looking to find a musical act to complement your sophisticated event, why not opt for a classical crossover act? Bringing a contemporary flair to the traditional musical ensemble, our talented opera singers incorporate a choice of modern jazz and show tunes into their repertoire. Ever providing pitch perfect performances, our classical singers are guaranteed to create a classy environment at your event. Featuring a soprano, baritone, violinist and piano player, Singing & Instrumental Quartet is renowned for being one of the most diverse musical acts in the entertainment industry.
Not your average musical ensemble, this high end quartet fills every live show with energy and passion. Playing everything from opera classics from the likes of Don Pasquale and La Bohème to show tunes from My Fair Lady and Phantom of the Opera, our versatile classical singers enjoy performing a rich repertoire. Able to customise their setlist to suit the requirements of your event- even learning specific songs on request, this quartet are known for their flexibility. 
With a lineup of two opera singers and two instrumentalists, our music group create rich sounds when they perform. Each of the musicians in this group is an extremely talented professional in their own right and between them they have filled prestigious venues like Konzerthaus Berlin and  German National Theatre. Not to mention wowing audiences at festivals such as the Norfolk Chamber Music Festival and playing alongside high profile orchestras such as the Holst Sinfonietta.
Performing two shows of 45 minutes each, our soprano and baritone create stunning harmonies whilst the pianist and violin player add a touch of magic with their spellbinding instrumental accompaniment. The perfect after dinner performance for galas, weddings and corporate functions, this act is guaranteed to captivate young and old alike with their unique mix of traditional and contemporary music.
For more information about booking Singing & Instrumental Quartet for your special occasion, don't hesitate to get in touch with our team at Scarlett Entertainment today.
Don Pasquale (Norina)
Rigoletto (Gilda)
La Bohème (Mimi)
Carmen
Faust (Gounod)
Manon (Massenet)
Aria from the Mozart-Operas
Musical:
I Could Have Danced All Night (My Fair Lady)
Think of Me (Phantom of the Opera)
Memory (Cats)
Kann denn Liebe Sünde sein
My Way New York New York (Frank Sinatra)
Opera:
G. F. Handel
W. A. Mozart
F. Schubert
R. Schumann
J. Brahms
R. Strauss
F. Mendelssohn-Bartholdy
Classical: