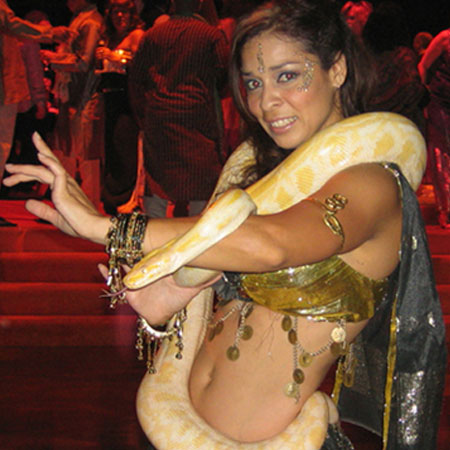 Snake Charmer: Katia
Can walk around at your event with a tamed Python on her shoulders
Her Energetic Exotic Egyptian Latin belly dance moves will mesmerize you
Magic Illusion show includes snakes appearing from different magical props
Previous clients inc Coca-Cola, Exxon/Mobil, General Motors, Tom Hanks...
Based in Los Angeles, California & available to perform worldwide
Snake Charmer: Katia PHOTOS
Snake Charmer and Belly Dancer Katia is a performer Located in Los Angeles, California that has taken her show world wide. Her Energetic Exotic Egyptian Latin belly dance moves will mesmerize you. Her belly dance moves resemble the sophistication of snake moves. Katia has performed in countless events, some of them being; Universal Studios (private party), grand opening of Indiana Jones (the ride), Coffee bean, The Vampire Bazaar, Manhattan Beach Hometown Fair and for corporate clients including Coca-Cola, Exxon/Mobil, General Motors.  She is extremely professional, punctual, reliable and one of the best in the performing world. 
Katia is also a Serpent Sorceress (Snake Charmer). She could walk around at your event with a beautiful tamed 5 1/2 ft. Ball Python or a 10 ft. Albino Burmese Python on her shoulders, and even do a 30 min. or 1 hour Magic Illusion show appearing snakes from different magical props. Different packages are available. Hire Katia and make your party worth speaking about.
Western Union
Bentley Prince Street
Hilton Hotel
Camacho's Corp.
Neptune Plumbing Inc.
The Coffee Bean
and many many more...
Venues
Hilton Hotel several cities
Johnathan Club Santa Monica & Downtown
Magic Castle Hollywood
Los Angeles Convention Center
Venetian Las Vegas
Wynn Las Vegas
Santa Anita Race Track Santa Anita
Hollywood Park Inglewood
Hermosa Beach Yacht Club Hermosa Beach
Tom Hanks
Muhammad Ali
Christina Aguilera
Owen Wilson
Kelly Osborne
Milla Jovavich
Nastassja Kinski
Bonnie McKee
Rob Zombie
Slash (Guns N Roses)
Danny Masterson ("That 70's")
and many many more...
Corporate
Exxon/Mobil
Coca-Cola
Pacifica Services
Grainer
Jetro Cash & Carry
Remax
The Shrine Auditorium
Marriot several cities
Knott's Berry Farm Orange County
DisneyLand Anaheim
Las Vegas Convention Center
Bellagio Las Vegas
Stratosphere Las Vegas
Commerce Casino City Of Commerce
Verdugo Hills Country Club Glendale
Manhattan Beach Hometown Fair
Celebrities
Jason Alexander
Shaquille O'neil
Paris Hilton
Leonardo DiCaprio
Andy Dick
Pauly Shore
Victoria Matson
Alyson Hannigan
Michael Bay
Trent Reznor (Nine Inch Nails)
Tori and Randy Spelling
General Motors