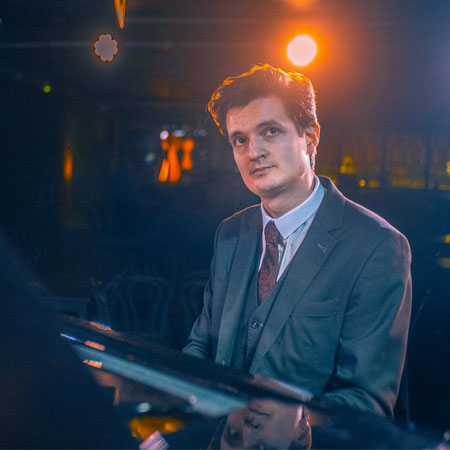 Solo Event Pianist John
Seasoned male piano player skilled in classical playing.
Fantastic live music show features a variety of songs to select.
Phenomenal pianist will captivate guests with ease.
Wonderful lounge pianist for private parties, receptions, weddings, etc.
Instrumentalist available for booking throughout the UK and worldwide.
Solo Event Pianist John PHOTOS
Book our amazing male piano player, and watch as your guests are instantly captivated by the skill set delivered by our talented pianist. Our live music show experience will enjoyed by everyone, as our lounge pianist performs a variety of different tracks that will keep your guests enlightened and entertained. Providing your guests with a fun filled "wow" factor experience. Our sensational instrumentalist is bound to have mass appeal at your upcoming special event or social gathering, as he provides a vast song selection that will compliment a number of different events.
Our classically trained lounge pianist has performed at a multitude of events, including performing for guests such as The Queen and other members of the Royal Family, and includes a variety of clients such as Pepsi Co, BP, Louis Vuitton, Christie's, and many more. A fantastic live music show experience that will provide your guests with an exceptional soundtrack that will keep guests invested from start to finish. A master of the keys, our male piano player will provide unique twists on each song, as our intricate pianist showcases himself as a natural performer that will leave behind lasting impressions.
A highly versatile instrumentalist, our exquisite lounge pianist has also performed at an assortment of different residences including, Oblix, The Kensington Hotel, and The Bloomsbury, to name just a few. Creating a full and immersive musical experience for your upcoming special occasion, our skilled pianist is the ideal live musical experience for private parties, corporate functions, gala dinners, drink receptions, weddings, live lounges, and much more.
Contact any of our amazing and fantastic Scarlett Entertainment team members if you are interested in booking our wonderful and talented male piano player for your upcoming special event or gathering, as our wonderful staff are ready to assist you with your booking needs. 
PepsiCo Inc.
Christie's
BP
Louis Vuitton
PricewaterhouseCoopers