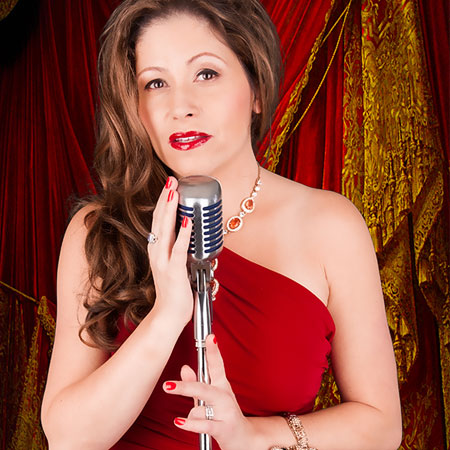 Solo Female Jazz Vocalist
Sensational vocal performances will add a special musical touch to your event
Repertoire inc. jazz greats such as Nat King Cole, Sinatra & Ella Fitzgerald
Can perform as a solo jazz singer or accompanied by a virtuoso pianist
Perfect for weddings, drinks receptions, corporate events & much more
Based in Las Vegas & available to book to perform at events worldwide
Solo Female Jazz Vocalist PHOTOS
Our sensational professional female jazz singer offers inspiring vocal performances that combine virtuosic technique and stylistic sensitivity to create an incredible musical experience that will stay long in the minds of listeners.
Having travelled the world embracing the cultural flavor of each country visited, our versatile female jazz singer has curated a musical style that takes influence from musical traditions such as Flamenco, Bossa Nova, Samba, Classical, Pop, Funk, Blues, Rock and Country and nuances of each can be found in her superb performances of jazz classics.
Able to create custom set lists to suit each individual event's style and tone, our Vegas jazz singer offers clients a wide choice of great jazz favorites from the likes of Frank Sinatra, Ella Fitzgerald, Nat King Cole, Etta James, Billy Holiday, Bing Crosby and Betty Lee.
Giving compelling vocal performances, with an intensity and quiet confidence that makes them completely mesmerising to watch and listen to, our jazz vocalist is the perfect choice for your next event.
Book our female jazz singer to create the perfect ambiance at a drinks reception or corporate dinner, or get guests on the dance floor at an evening soiree or private party.
Top Tip
Our talented solo jazz singer can also perform alongside a virtuoso jazz pianist or additional jazz musicians. Get in touch with our entertainment specialists for their expert recommendations.
A Nightingale - Frank Sinatra
A Sentimental Journey - Ella Fitzgerald
All Of Me - Ella Fitzgerald
All Or Nothing At All - Frank Sinatra
All The Way - Frank Sinatra
Almost Like Being In Love - Nat King Cole
As Time Goes - Billy Holiday
At Last - Etta James
Blue Moon - Frank Sinatra
Body And Soul - Sarah Vaughn
Boulevard Of Broken Dreams - Nat King Cole
But Not For Me - Sarah Vaugh
Come Fly With Me - Frank Sinatra
Cry Me A River - Dinah Washington
Darn That Dream - Tony Bennett
Days Of Wine And Roses - Perry Como
Do Nothing T'ill You Hear From Me - Tony Bennett
Don't Get Around Much Anymore - Ella Fitzgerald
Don't Know Why - Norah Jones
Don't Explain - Billy Holiday
Embraceable You - Billy Holiday
Everybody Loves Somebody - Dean Martin
Fever - Peggy Lee
Fly Me To The Moon - Frank Sinatra
For Once In My Life - Stevie Wonder
Gee Baby Ain't I Good To You - Nat King Cole
Gentle Rain - Tony Bennett
Georgia - Ray Charles
Girl From Ipanema - Antonio Carlos Jobim
Home - Michael Buble
I Don't Stand A Ghost Of A Chance - Bing Crosby
I Left My Heart In San Francisco - Tony Bennett
I Love You For Sentimental Reasons - Nat King Cole
I Miss You So - Peggy Lee
I Only Have Eyes For You - Peggy Lee
I've Got The World On A String - Frank Sinatra
If I Had You - Bing Crosby
If You Love Me Really Love Me - Edith Piaf
In The Wee Small Hours Of The Morning - Frank Sinatra
I Put A Spell On You - Nina Simone
Isn't It  Romantic - Ella Fitzgerald
It Could Happen To You - Frank Sinatra
It Had To Be You - Harry Connick
It's Only A Paper Moon - Ella Fitzgerald
L.o.v.e. - Nat King Cole
Lady Is A Tramp - Frank Sinatra
Mack The Knife     - Frank Sinatra
Me And Mrs Jones - Michael Buble
Misty - Johnny Mathis
Mona Lisa - Nat King Cole
Moonlight Serenade - Frank Serenade
Moonriver - Andy Williams
More - Perry Como
My Funny Valentine - Frank Sinatra
My Way - Frank Sinatra
Nature Boy - Nat King Cole
Night And Day - Frank Sinatra
On The Street Where You Live - Dean Martin
Only You - The Platters
Our Love Is Here To Stay - Billy Holiday
Peel Me A Grape - Peggy Lee
Route 66 - Nat King Cole
S'wonderful - Bing Crosby
Save The Last Dance For Me - Ben E. King
September Song - Ella Fitzgerald
Smile - Nat King Cole
Somewhere Over The Rainbow - Judy Garland
Stardust - Bing Crosby
Straighten Up And Fly Right - Nat King Cole
Strangers In The Night - Frank Sinatra
Summer Wind - Frank Sinatra
Summertime - Frank Sinatra
Tenderly - Sarah Vaughn
That's All - Mel Torme
That's Life - Frank Sinatra
The Best Is Yet To Come    - Frank Sinatra
The More I See You - Nat King Cole
The Nearness Of You - Etta James
The Very Thought Of You - Bing Crosby
The Way We Were    D- Barbara Streisand
The Way You Look Tonight - Billy Holiday
They Can't Take That Away From Me - Billy Holiday
This Masquerade    - George Benson
T'was A Garden In The Rain - Perry Como
Unforgettable - Nat King Cole
What A Difference A Day Makes - Dinah Washington
What A Wonderful World - Louis Armstrong
What Are You Doing With The Rest Of Your Life - Sarah Vaughn
When I Fall In Love - Nat King Cole
Why Don't You Do Right - Peggy Lee
Witchcraft - Frank Sinatra
You Call It Madness But  I Call It Love - Nat King Cole
You Don't Know What Love Is - George Benson
You're Nobody T'ill Somebody Loves You - Dean Martin
A Day In The Life Of A Fool - Frank Sinatra
Annie's Song - John Denver
Are You Lonesome Tonight - Elvis
Bad Day    - Fuel
Bittersweet Symphony - The Verve
Black Bird - Beatles
Bridge Over Troubled Water- Simon And Garfunkle
By Your Side - Sade
Can You Feel The Love Tonight - Elton John
Candle In The Wind - Elton John
Carolina In My Mind - James Taylor
Champagne Supernova - Oasis
Country Road - John Denver
Crash Into Me - Dave Matthiews
Crazy - Patsy Cline
Crazy Love - Van Morrison
Desperado - Eagles
Don't Look Back In Anger - Oasis
Don`t  Stop Believing - Journey
Don't Go Away - Oasis
Dust In The Wind - Kansas
Easy - Commodores
Every Breath You Take - The Police
Faithfully - Journey
Fields Of Gold - Sting
Find Me - Boyce Avenue
Fire And Rain - James Taylor
Fragile    - Sting
Free Falling - Tom Petty
Freebird - Lynard Skynard
Hallelujah - Leanord Cohen
Harvest Moon - Neil Young
Have A Little Faith - John Hiatt
Heaven - Bryan Adams
Hey Jude - Beatles
Hotel California - Eagles
House Of The Rising Sun    - The Animals
How Sweet It Is To Be Loved By You - James Taylor
I Can't Help Falling In Love - Elvis
I Can't Make You Love Me - Bonnie Raitt
I Get By With A Little Help From My Friends - Beatles
I'll Be - Gavin Macgraw
If You Could Read My Mind - Gordon Lightfoot
Imagine    - John Lennon
Isn't She Lovely - Stevie Wonder
Knocking On Heaven's Door - Guns And Roses
Lady In Red - Chris De Burgh
Layla - Eric Clapton
Leaving On A Jet Plane - John Denver
Let It Be - Beatles
Light My Fire - The Doors
Love Me Tender    - Elvis
Name - Goo Goo Dolls
New York State Of Mind - Billy Joel
November Rain - Guns And Roses
One - U2
Open Arms - Journey
Patience - Guns And Roses
Piano Man - Billy Joel
Please Release Me Let Me Go - Elvis Presley
Put Your Head On My Shoulders - Paul Anka
Rocket Man - Elton John
Sailing - Christopher Cross
She's Got A Way    - Billy Joel
She's Only A Woman To Me - Billy Joel
Sitting On The Dock Of The Bay    - Ottis Redding
Someone Save My Life Tonight - Elton John
Something About The Way You Look Tonight - Elton John
Something In The Way - Beatles
Sound Of Silence - Simon And Garfunkle
Stairway To Heaven - Led Zeppelin
Stormy Monday - Muddy Waters
Sun Going Down On Me - Elton John
Superstition - Stevie Wonder
Suspicious Minds - Elvis Presley
Sweet Child O Mine - Guns And Roses
Take It To The Limit - The Eagles
Tears In Heaven - Eric Clapton
That's Not The Shape Of My Heart - Sting
The First Cut Is The Deepest - Cat Stevens
The First Time I Ever Saw Your Face - Roberta Flack
The Long And Winding Road - Beatles
The Rose - Bette Midler
Three Times A Lady - Commodores
Tiny Dancer - Elton John
Wanted Dead Or Alive - Bon Jovi
We've Got Tonight - Bob Seger
What Did You Think (I Would Do)    - Billy Vera
When A Man Loves A Woman - Percy Sledge
While My Guitar Gently Weeps - Beatles
Why'd Ya Lie - Colin James
Wild Thing - The Troggs
Wonderwall - Oasis
Yesterday - Beatles
You And Me - Lifehouse
You Are The Sunshine Of My Life    - Stevie Wonder
You Look Wonderful Tonight - Eric Clapton
You Were Always On My Mind - Willie Nelson
You've Got A Friend - James Taylor
You've Lost That Loving Feeling    - Righteous Brothers
Your Song - Elton John
Aint No Sunshine - Bill Withers