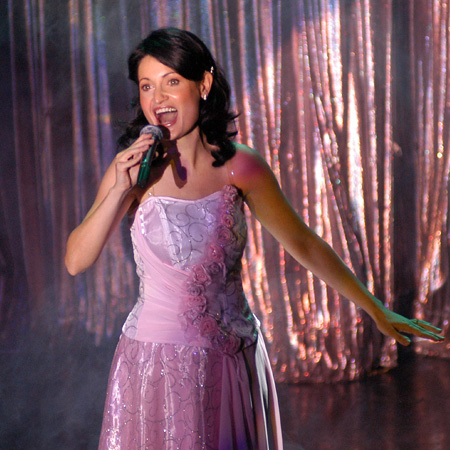 Soprano Katalin
Angelic, sensuous, powerful voice as beautiful as the soprano herself
An uplifting performance that gracefully leaves audiences desiring more
Sings in English, Italian, French, Spanish, German & Hungarian
A vast repertoire that is diverse, dynamic and captivating
Based in Hungary & available to perform at events worldwide
Katalin's angelic, sensuous, powerful voice is as beautiful and enticing as the soprano herself.  The petite soprano's mesmerizing performance and impressive vocal range visually contradict her diminutive, enchanting form.
Katy's charming demeanour consistently delights International audiences; her variations of classic operatic favourites are powerful, poignant and sincere repeatedly receiving rave reviews on-board the Costa Pacifica where she was staring in her own solo soprano show.
Classically trained in opera with an impressive vocal range from low G to high D, Katy debuted with the National Theatre of Gyor, Hungary in the opera "Aida". Over a period of four years Katy participated in more than 40 operatic performances within the National Philharmony of Marosvasarhely.
Her admirable performance experience attributes to a vast repertoire that is diverse, dynamic and captivating. Highlights include classic arias from Puccini's operas and "Vilja's Song" from the "Merry Widow." This particular piece became Katy's signature soloist spot at the National Theatre in Hungary and is a personal favourite.
Katy presents a rare, uplifting performance that gracefully leaves audiences desiring more. Alluring, beguiling and enchanting, Katy is a small package that's a force to be reckoned with in the most delightful, entertaining way.