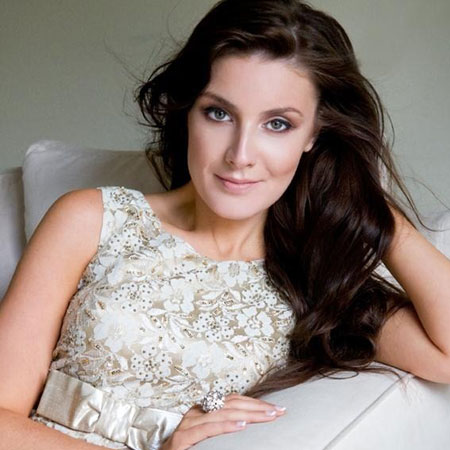 Soprano: Margaret
Beautiful young Irish Classical Crossover Soprano
Award winning Vocalist: BBC Fame Academy Award
Previous performances in NY, LA, New Zealand, Germany, UK and Ireland
Album released with Universal Records
As featured on TV in the USA, UK and Internationally
Margaret is an Internationally recognised Irish Classical Crossover soprano, who signed a record deal with Universal Records. She was a primary school teacher for four years in Ireland, before taking a career break and entering the music industry.  In 2008 Margaret entered the BBC talent show "How do you solve a problem like Maria." During this time she worked alongside Sir Andrew Lloyd Webber and top West End coaches. Out of 6,000 Margaret  made it down to the final cut and was awarded the "BBC Fame Academy Award."
That same year she was winner of the RTÉ Radio 1 "Search for a Musical Star" and performed the role of Carrie in the RTÉ Production of Carousel with the RTÉ Concert Orchestra. Following these performances  and competitive successes, Margaret was then awarded the "New York Artist Award." This allowed her to travel to Broadway, New York and train and work with the Broadway stars and with the Opera New York vocal coaches.
Margaret continued to work with the RTÉ Concert Orchestra and made her debut as the lead soloist in a "Celebration to Sondheim" in The National Concert Hall of Ireland.  In 2009 Margaret performed at the Lakeside Proms Concert in New Zealand in front of an audience of 35,000.  Following this performance she was approached by New Zealand's top selling magazine "Simply You" to model designer clothes and to feature in their magazine. She completed her second tour of New Zealand in May 2010.
With her beautiful Irish colleen looks and a  heavenly voice to match, she was soon being referred to as the newest international classical sensation.
Mozart and Handel arias
O Mio Babino Caro
Pie Jesu (Faure and Lloyd Weber)
Domine Deus (Vivaldi)
The Messiah( Handel)
John Rutter ( eg The Lord Bless you and Keep you)
Panis Angelicus
Ave Maria (schubert Gounod and Caccini)
O Holy Night
Nella Fantasia
Deborah's Theme (Ennio Morricone)
Tears in Heaven
In the Arms of an Angel
Cavatina (He was Beautiful)
Barcorolle (Night of Stars)
The Prayer
Time to say Goodbye
Ivor Novello classics
Caro Mio Ben
Gilbert and Sullivan medleys
Lehar songs (eg You are my hearts delight)
Light Classical/ Operetta/ Crossover/ Sacred:
My Fair Lady
Carousel
The Sound of Music
The Wizard of Oz
Phantom of the Opera
Les Miserables
Mary Poppins
Show Boat
Oklahoma
West Side Story
Beauty and the Beast
Cole Porter Medleys
Oliver
Cats
South Pacific
Sondheim Medleys
All disney songs and soundtracks
Irish Ballads and Songs:
Danny Boy
Isle of Innisfree
Carrickfergus
Uptempo Irish Medleys
The Water is Wide
I'll take you home again
Kathleen
When Irish Eyes are Smiling
The meeting of the waters
Galway Bay
If You're Irish come into the parlour
Wide Variety of Musical theatre songs from the following shows:
Spun Gold TV
ITV and UTV
TVNZ
RTE Concert Orchestra
Millenium Forum Theatre
Lakeside Proms New Zealand
Bruce Mason Centre New Zealand
San Francisco (Napa Valley Santa Rosa)
The Late Late Show RTE
The Breakfast Show TVNZ
Conway Productions (with the Three Irish Tenors)
And many more...
Universal Records
BBC Radio and Television
PBS American TV
RTE (Radio Telefis Eireann) - Irish TV and Radio
National Concert Hall Dublin
Helix Theatre Ireland
Liverpool Metropolitan Cathedral
Classical music series Ireland
Derek Mooney Show (RTE)
The Good Morning Show TVNZ
Phil Coulter
Blue Eagle Productions
Sony Records
" This singer has the greatest and most beautiful voice to come out of Ireland in years. New Zealand is looking forward to her return. "

Grahame B MBE
" The newest International singing sensation "

TVNZ
" She has the most amazing voice. So light and clear like a bell. "

Amazon.com review
" This young soprano simply wowed her audience. A huge talent! "

RTE: The Tubridy Show
" There was no denying she was the outstanding singer of the night, stunning and quite exceptional. First holding the audience spellbound with a "Sunset Boulevard" contribution eclipsed only by her contribution of the Ivor Novello Classic "Shine through my Dreams". Without a doubt, her's is the most wonderful voice it has been my privilege to hear. No matter how impressive the overall standard, Margaret remains in a class of her own. "

Robin Young- Sentinal and Belfast Telegraph
" Every once in a while an artist makes you feel truly humbled; this soprano is one of those artists. She has a voice of pure beauty and warmth that only true talent can express. I know the world willl fall in love with Margaret "

Universal Records Managing Director