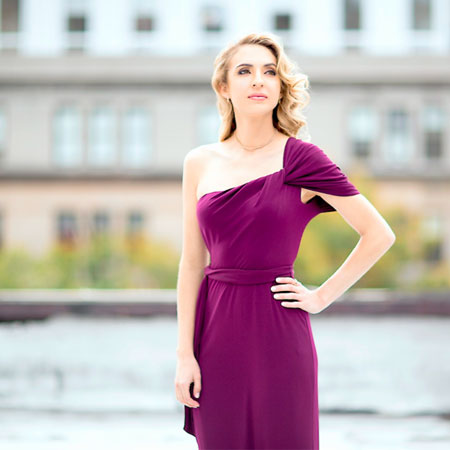 Soprano New York
An award winning, internationally acclaimed operatic soprano
Repertoire inc. grand opera, operetta, musical theatre & more
Renowned for her acclaimed portrayals of opera's favourite heroines
Has performed in elite opera venues & theatres around the globe
Based in New York & LA & available to book for events worldwide
Our award winning, internationally acclaimed operatic soprano has performed in elite opera houses and theatres around the globe including the Teatro Ángela Peralta in Mexico, Teatr Wielki in Warsaw, and Teatro Nacional in Costa Rica. A highly talented classical singer and actress, she is renowned for her passionate portrayals of opera's favourite heroines.
Splitting her time between New York and Los Angeles, and available to perform internationally, book our classical vocalist as after dinner entertainment to wow guests at a gala dinner or corporate celebration. Her spine-tingling vocals will be the highlight of evening. A versatile classical vocalist she would also be the perfect as a high-end wedding singer, adding exclusivity and sophistication to your special day.
She has years of experience performing at VIP private events, company events and in sold out venues. Having eclectic resume means that she has an extensive and varied repertoire that includes grand opera, operetta, musical theatre and popular songs encompassing several different genres. She is able to put together customized set lists to suit your specific event and create your desired ambiance.
Stylish, elegant and full of poise, our beautiful soprano singer is the perfect choice for your next event.  
Top Tip
Our classical vocalist and operatic soprano is happy to perform alongside live musical arrangements for added wow factor. We have a range of suitable accompaniments; get in touch with one of our entertainment specialists to find out more.
A full set list detailing all of her repertoire is available on request.
O Mio Babbino Caro
Quando M'en Vo
Un Bel Di
Donde Lieta
Chil Il Bel Sogno
Ebben Ne Andro Lontana
Io Son L'umile Ancella
E Strano . . . Sempre Libera
Addio Del Passato
Casta Diva
O Sole Mio
Sorrento
Ave Maria (schubert Bach/gounod Stolz Caccini)
Laudate Dominum
The Prayer
Amazing Grace
Time To Say Goodbye (con Te Partiro)
Ah Je Veux Vivre
Depuis Le Jour
La Vie En Rose
Ne Me Quitte Pas
Think Of Me
Wishing You Were Somehow Here Again
All I Ask Of You
If I Loved You
You'll Never Walk Alone
Edelweiss
Climb Every Mountain
Til There Was You
My White Knight
All The Things You Are
My Funny Valentine
One Kiss
Italian Street Song
Marietta's Lied
Vilja
Meine Lippen Sie Kussen So Heiss
The Star Spangled Banner
O Canada
Songs
Smile
Somebody Loves Me
Where Or When
All The Things You Are
Bewitched
I Love Paris
Come Rain Or Come Shine
Don't Get Around Much Anymore
Easy To Love
Fly Me To The Moon
It Don't Mean A Thing
It Might As Well Be Spring
It Never Entered My Mind
Just In Time
The Lady Is A Tramp
Little Girl Blue
Lover Come Back To Me
More Than You Know
My Funny Valentine
The Song Is You
This Can't Be Love
The Way You Look Tonight
When I Fall In Love
This Time The Dream's On Me
Popular Requests
Showboat - Bill
Showboat - Can't Help Lovin' Dat Man
Showboat - Make Believe
Showboat - You Are Love
Carousel - If I Loved You
Carousel - Mr. Snow
Carousel - You'll Never Walk Alone
Sound Of Music - Edelweiss
Sound Of Music - The Sound Of Music
Sound Of Music - Climb Every Mountain
Oklahoma - People Will Say We're In Love
Oklahoma - Out Of My Dreams
The Music Man - My White Knight
The Music Man - Goodnight My Someone
The Music Man - Til There Was You
Camelot - The Lusty Month Of May
Camelot - The Simple Joys Of Maidenhood
My Fair Lady - I Could've Danced All Night
My Fair Lady - Wouldn't It Be Loverly?
The Most Happy Fella - Warm All Over
The Most Happy Fella - Somebody Somewhere
She Loves Me - Vanilla Ice Cream
She Loves Me - Will He Like Me?
She Loves Me - Dear Friend
Phantom Of The Opera - Think Of Me
Phantom Of The Opera - Wishing You Were Somehow Here Again
Phantom Of The Opera - All I Ask Of You
Phantom Of The Opera - The Phantom Of The Opera
Les Miserables - On My Own
Les Miserables - I Dreamed A Dream
Les Miserables - In My Life
Cats - Memory
Jekyll And Hyde - In His Eyes
The Scarlet Pimpernel - When I Look At You
The Girl In 14g (song)
Love Is Where You Find It (movie)
Musical Theatre
Pfister Strategy Group
Annapolis Opera
Gulfshore Opera
Tri-Cities Opera
Austin Lyric Opera
North Shore Music Festival
Gabelli Funds
Career Bridges Foundation
Opera Naples
Cape Cod Opera
Little OPERA theater of NY
Bronx Opera
Hank Lane Music and Productions
Ducks Unlimited
" Violetta (our favorite opera heroine) was given an astonishing performance by soprano … whose brilliant soprano and thrilling embellishments were augmented by the most subtle and heart-rending acting. This was a Violetta any woman could understand and relate to. In Act I, her ambivalence about giving up her shallow life of pleasure for the richer but scarier life of love was made plain vocally and amplified by gesture, facial expression and body language. Her death scene moved us to the very core. "

Meche Kroop, Voce di Meche
" She] sang Tormentilla with a lovely lyric soprano that gave special resonance to the girl's reflective utterances, like the amusing song in which she fears that her poisonous qualities will preclude true love. "

Musical America