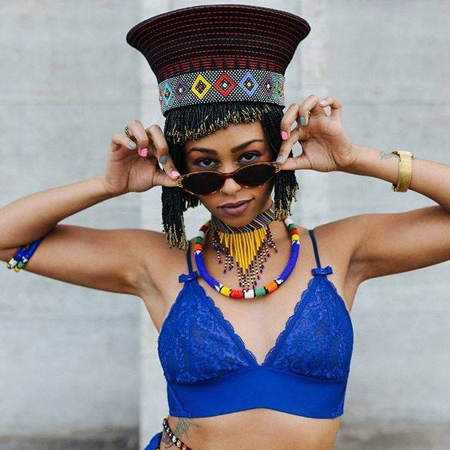 South African Female DJ
One of South Africa's hottest female DJs
Combines Hip Hop, Trap, South African House, Grime and Bass music
Club DJ is also a radio presenter and all-round conceptual artist
Booked for corporate events for Nike, Red Bull, G-Star as well as festivals and clubs worldwide
Based in Johannesburg and available internationally
South African Female DJ PHOTOS
If you're looking for party music and you don't want any old club DJ then consider booking our fantastic South African female DJ to whip up your crowd into a frenzy. You'll be guaranteed a party experience you guests will adore.
As one of South Africa's most successful female DJs she is accustomed to providing party music to a variety or audiences at all types of events. Focusing her performances on a contemporary mix of Hip Hop, Trap, South African House, Grime, all routed within Bass music, gives a professional club DJ experience that is as modern as it gets without alienating lovers of older style of music. Keeping crowds entertainment and filling up the dance floor is no challenge for this South African female DJ.
The half British half South African artist is fast becoming a top name in the underground club music scene and renowned for her continuously evolving fashion style that is influenced by the likes of FKA Twigs, Rihanna and Grace Jones. She also hosts an eclectic radio show on the leading youth radio station in South Africa YFM 99.2. with a heavy focus on bass music. The top notch female DJ is a London Academy of Sound Engineering graduate, ambassador for Nike SA and spend time DJing with female bass rapper and the duo have toured all over the world.
Our South African female DJ has performed at numerous prestigious events all over the world such as OppiKoppi, SUMO!'s famous house parties, Zone 6, Throwback ChillOut, Kitcheners, Inner City Outer Space, Tofo Ocean Festival, Berlin Female Focus Festival and one of the Berlin Fashion Week after parties hosted by Eve Without Adam. Our club DJ's previous clients include Nike, Ray-Ban, Woolworths SA, Legit, G-STAR RAW, Red Bull, MAC Cosmetics and Levis.
To book an unforgettable party with a brilliant club DJ playing bass music, contact us today.