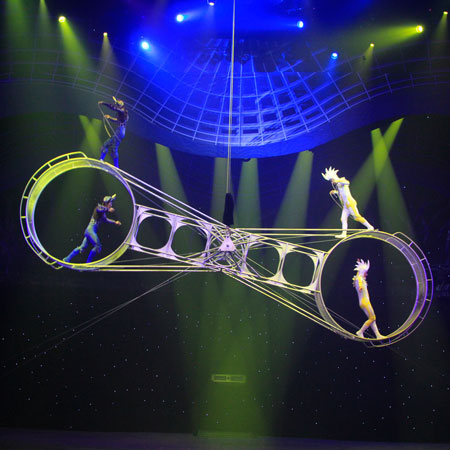 Space Wheel Act
Thrill audiences at your event with this extraordinary Wheel of Death act
Unforgettable circus entertainment that will amaze and astound your guests
Professional performers provide lasting memories with stomach churning balance act
Ideal for ceremonies, theatres, themed occasions, festivals, corporate functions, etc.
Space wheel available to hire for events in Zhengzhou and across China
Guaranteed to make your event stand out, our phenomenal space wheel act is not for the faint-hearted! Audiences will be left open-mouthed with shock and awe as our professional performers put on a thrilling show with their death-defying balance act. Performing in perfect synchronicity, these talented acrobats deliver exceptional circus entertainment that will not soon be forgotten, adding instant wow factor to all occasions with their incredible Wheel of Death stunt.
Highly experienced circus artists with impressive precision and expert control, these professional performers promise to make your event extraordinary as they astound audiences with a dare-devil show of epic proportions. A big attraction that will create an instant talking point and lasting memories, the Wheel of Death is a breathtaking visual spectacle that is rarely seen in circus these days, making it an exciting and unique choice for your special occasion.
An amazing balance act that takes the skill to a whole new level, the space wheel involves a large rotating apparatus with wheels at either end, in which our talented acrobats will perform their amazing routines. As they run around both inside and outside of the hoops, the momentum will cause the whole structure to turn faster and faster, making for a truly captivating sight that your guests will be unable to look away from. Performed initially with 2 circus artists, by the end of show 4 performers will be defying gravity inside the wheels, ensuring that audiences are fully engaged from start to finish.
Truly electrifying entertainment, our Wheel of Death act is ideal for ceremonies, promotional campaigns, festivals, theatres, corporate events, exhibitions, themed events and more, and is available to book for events in Zhengzhou and throughout China.
As the leading supplier of event entertainment around the world, at Scarlett Entertainment we have something for every occasion, providing outstanding acts and services for both private and corporate events of every theme, size, and budget. Global specialists when it comes to all forms of circus entertainment, contact our coordinators today to find out more about hiring acrobats and balance acts for your event.