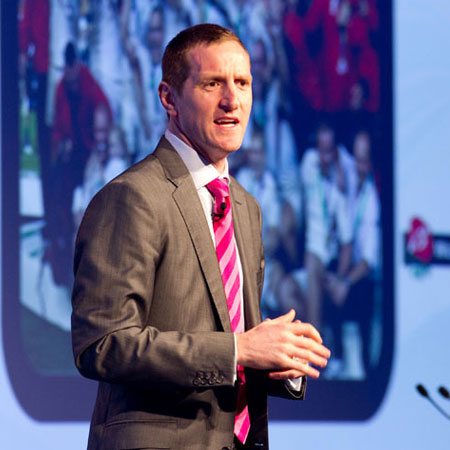 Speaker Will Greenwood
England Rugby World Cup winner & Sky Sports commentator
Sought-after motivational keynote and after-dinner speaker
One of sport's most engaging, intelligent and witty characters
Former Economics graduate and City trader at HSBC
Previous clients include Aviva, Microsoft, DHL, Deloitte, Sky...
Speaker Will Greenwood PHOTOS
Will Greenwood is the second highest try scorer in English rugby history and helped power England to victory at the Rugby World Cup in 2003. He is widely regarded as one of England's greatest ever rugby players, as well as one of the sport's most engaging, intelligent and witty characters. He is an ambassador for the World Cup 2015 in England.
An Economics graduate from Durham University, Will held down a career as a City trader, whilst playing for Harlequins alongside his day job. It wasn't until 1996 when it turned professional that he committed full time to rugby. Greenwood made his England international debut in 1997, and when he was selected for England's World Cup winning squad in 2003, Greenwood finished the tournament joint top try scorer with five to his name.
He then overcame a series of injury setbacks to join the British & Irish Lions tour of New Zealand in 2005 in the culmination of an outstanding career at the top of the international game.  With a reputation as a bright, articulate and entertaining personality, he was snapped up by Sky Sports as a regular match day presenter, and considered one of the most insightful and intelligent commentators in the game today, penning a weekly opinion column for the Saturday Telegraph.
He is also one of rugby's most sought-after keynote and after-dinner speakers. A brilliantly funny speaker and easy of delivery, Will can shed light on the more serious lessons learnt from a career in elite sport, whilst his previous career as a trader at HSBC allows him to draw parallels between the world of business and sport.
Speaker Topics:
Leadership: Vision, environment, removing obstructions
Trust/Teamship: Unity, standards, spirit, culture
Attitude/Confidence/Belief
Responsibility: TCUP (Think Correctly Under Pressure)
Change management: From Good to Great
Sustaining Peak Performance
Attention to Detail
Keywords:  England Rugby > Motivation > Change Management > Peak Performance > Leadership > Self-Belief
" I have had so much positive feedback from all the DHL managers saying how much they enjoyed Will's chat - one of the best they'd heard for a long time. Please pass on our deepest thanks ,it truly did make the evening. "

DHL
" Will Greenwood was absolutely brilliant & really captivated the audience. "

Microsoft
" Another blinding performance, superb. They loved you!! I've never experienced such positive feedback about a guest speaker before, from the entire audience, truly memorable. "

Aviva
" Will Greenwood was engaged as a speaker at a recent strategy conference we had and he delivered an excellent motivational message to our management team. He was a consummate professional and an absolute pleasure to work with. "

Clydesdale Bank
" The crowd loved it. You could have heard a pin drop. It was an amazing speech. Thank you so much Will. "

Deutsche Bank
" It was an absolute pleasure having Will at the Sky Leadership Group Meeting last Thursday evening. His speech was fantastic and very well received – in fact I'm still getting phone calls about it! "

Sky
" Will Greenwood was an excellent speaker and gave an insightful and entertaining perspective on teamwork and motivation. He tailored his presentation extremely well to relate to our values and people and showed what kind of strategies, beliefs and work is required to achieve excellence. "

Deloitte
" Will had top billing at an after work networking event and did not disappoint. The principles he highlighted easily translated into a work context. Will's style was engaging, entertaining and a good time was had by all in attendance. We would certainly welcome him back. "

HSBC
" Will was fantastic and in 20 years the first time a guest speaker has ever received a standing ovation! "

Appco
" Will's after dinner talk was very good and very well received by the audience with a fair amount of laughter! He was very co-operative throughout the evening, having photographs taken, networking and table-hopping between courses. We all found Will extremely personable and would not hesitate to book him again. "

BMI Healthcare