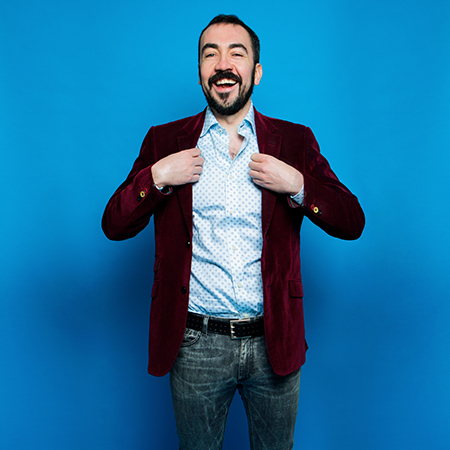 Stephen Carlin
A hilarious Scottish comedian who has received critical acclaim
Previous appearances include on Comedy Central, BBC Radio Four, and Edinburgh Fringe
Has supported Stewart Lee, Stephen Merchant and Tom Stade on national tours
He's an experienced writer, having written for BBC Radio Shows including the Now Show and Newsquiz
Based in the UK and available to book worldwide
Accomplished Comedian Who Leaves Audiences in Hysterics
Scottish comedian in London, Stephen Carlin is seen on Comedy Central's "The Alternative Comedy Experience" and heard on BBC Radio Four's "Andrew O'Neil: Pharmacist Baffler", Stephen Carlin has gained critical acclaim and a growing fan base with his original, insightful material and his accomplished delivery. Stephen is increasingly expanding his following on the international comedy scene performing this year across Asia, Europe and North America.
Chosen as one of Stewart Lee's "Ten Best Stand Up Comedians Ever"
Carlin has supported Stewart Lee, Stephen Merchant & Tom Stade on their national tours.
As always, Carlin's art lies in his ability to quarry wildly original material from the most conventional of starting points. By taking run-of-the-mill observations and then applying his relentless but warped logic. This married to his exceptional use of language and his brilliantly opinionated broadsides make for memorable routines. All skilfully delivered in his deadpan Scottish brogue.
Favourite at The Fringe
He has performed a number solo stand-up shows at the Edinburgh Fringe Festival, going up in 2017 with "Stephen Carlin: Rise of the Autistic" and 2018's 'The Opininator' during which he also wrote a hit blog for Fringepig for every day of the festival!
Stephen is an experienced writer and has written for many BBC Radio Shows including the Now Show and the Newsquiz. He is the author of a Comedy Blog, which hilariously exposes the many facets of a life lived in comedy.
If you're looking to book Stephen for your next event, click here or to see our other acts, follow this link 
" ...announcing the arrival of a new comedy original. "

Herald
" A cult favourite among fans of the sharper end of stand-up "

Guardian
" One of the most inventive stand-ups on the Fringe..... knowingly cynical and hilarious ... delightfully deadpan Scot "

Chortle
" If this man isn't a household name in five years time, the world is even more lacking in justice than we could have feared. "

Scotsman
" A cult favourite among fans of the sharper end of stand-up "

Guardian
" ...announcing the arrival of a new comedy original. "

Herald
" One of the most inventive stand-ups on the Fringe..... knowingly cynical and hilarious ... delightfully deadpan Scot "

Chortle
" If this man isn't a household name in five years time, the world is even more lacking in justice than we could have feared. "

Scotsman