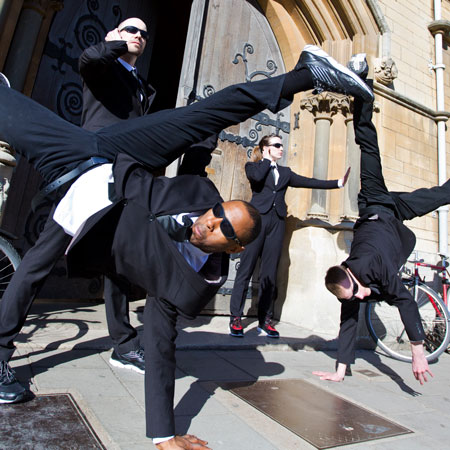 Surprise Bodyguards Act
Spreading smiles and laughter wherever they go our surprise bodyguards act will be the highlight of your event
Interactive street theatre performance is a hilarious mix of interacting with the public and clever dance sequences, adaptable to fit any space
Dancing surprise bodyguards will turn guests into VIPs, escorting them between shops, guarding them in lifts and helping with bags
Surprise bodyguards have performed at Dubai Shopping Festival, Birmingham Weekender, Dancin' Oxford and Virgin Care Awards
Laugh out loud interactive roaming act is perfect for shopping centres, sports events, award ceremonies, red carpet entertainment and more
Surprise Bodyguards Act PHOTOS
Our surprise bodyguards act is an interactive roaming act full of laughter and hilarious moments. 
Hilarious Interactive Roaming Act
This family-friendly street theatre performance is a hilarious combination of audience interaction and clever dance sequences, adaptable to fit virtually any event or space. Surprise Bodyguard's previous performances have taken place in shopping centres, busy high streets, shops, sports stadiums, stately homes, corporate parties, train stations and award ceremonies.
The team of professional dancing bodyguards will secure the area, making members of the public feel like true VIPs. Surprise bodyguards will provide close protection for guests upon arrival to your event, escorting them through the venue, guarding them as they travel between shops, protecting them in lifts, assisting them across the road, helping with bags and even protecting them on escalators!
Surprise Bodyguards Protect Guests at Events Worldwide
You can trust our surprise bodyguards to keep the order at your event, these experienced, security guard meet and greet performers, have protected guests at many events including Dubai Shopping Festival, Birmingham Weekender, Field Day Festival, Dancin' Oxford, Virgin Care Awards, Stoke on Trent City of Culture Bid and many more 
Laugh out loud interactive roaming act is perfect for shopping centres, sports events, corporate parties, red carpet entertainment, award ceremonies, festivals and more.  Spreading smiles and laughter wherever they go our surprise bodyguards act will be the highlight of your event.
To book this one of a kind, interactive roaming act for your event, get in touch with our specialist entertainment team who will be happy to help with your enquiry.
Dancin' Oxford
Imagine Slough
Stoke on Trent City of Culture Bid launch
The Donna Louise Trust Charity Ball
Warwick Arts Centre Field Day Festival
Back to Our's Hull Launch Event
Dubai Shopping Festival
Imagine Watford
Stoke on Trent Council European City of Games Launch
Virgin Care Annual Awards Ceremony
...and many more!
Birmingham Weekender
" The bodyguards were one of the walkabout acts that received the most praise from both stakeholders, funders and the public - I had emails wanting to know where they could be seen again! "

Caroline Davis, Producer - Birmingham Weekender