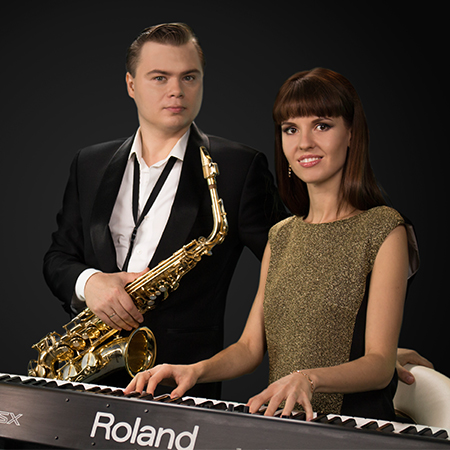 Swing Sax & Piano
An extraordinary swing covers duo who delivers stunning and beautiful swing melodies
Can be joined by other musicians on stage for performances in large venues
Wide repertoire includes songs by The Beatles, Joe Cocker and Nirvana, among others
Offer background music and also concerts for both small and large audiences
Based in Ukraine and available for performances all around the world
Looking for some live music entertainment for your hotel, cruise ship nights or dinner? Then look no further! This Swing Sax & Piano is the musical duo perfect for it. A talented male saxophonist and an exquisite female pianist will perform beautiful swing melodies that will captivate all sorts of listeners and that are guaranteed to make any event or special celebration an occasion to be remembered.
This duo of musicians consists of a talented male saxophonist and an exquisite female pianist who perform with great passion and deep feeling. They have a powerful stage presence and a have a great chemistry, which makes of their live performances a something delightful to witness.
Our wonderful live musicians can perform beautiful swing melodies that always leave audiences mesmersied. Ideal as background music for dinners and parties, these elegant performers can create a pleasant atmosphere in which people can have a relaxed conversation, enjoy a nice meal or share some laughs with family or friends.
With a comprehensive list of songs exhaustively designed to satisfy different audiences, our Swing Sax & Piano players can adapt their repertoire depending on the occasion. They can perform famous tunes by The Beatles, Joe Cocker and even Nirvana, to name a few. On top of that, Elvis Presley fans will be thrilled with their version of 'Fever'; reggae listeners will be delighted when they play 'No Woman No Cry' by Bob Marley, and ABBA followers will love their cover of classics such as 'Dancing Queen'.
With years of experience playing as a swing covers duo, this pair of musicians have performed at numerous venues, luxury hotels and cruise ships such as Shilla Hotel in South Korea or Oceania Cruises.
Scarlett Entertainment offers a wide variety of Covers Singers & Duos for events and parties all around the world.
Don't hesitate to contact us today if you'd like to make and enquiry to book this fantastic Swing Sax & Piano duo.
A Foggy Day
All the Things You Are
As Times Goes by
Beautiful Love
Blue Moon
Can't Help Falling in Love - Elvis Presley
Cheek to Cheek
Cry Me a River
Dindi
Everything I Do It for You - Brian Adams
Fields of Gold - Sting
Georgia - Ray Charles
Harlem Nocturne
Hot Fudge - Robbie Williams
I Don't Wont a Miss a Thing - Aerosmith
Imagination
It Don't Mean a Thing
Jercey Bounce
Lady
Love Me Tender - Elvis Presley
Mercey Mercey - Joe Zavinul
Moon Glove
My Father Song - Joe Cocker
My Way
On Green Dolphin Street
One Note Samba
Play in Love
Saving All My Love
Smoke Gets in You Eyes
Some Day My Prince Will Come
Still Loving You - Scorpionce
Sunshine Reggie - Bob Marley
Tenderly
Titanium - David Guetta
What a Wonderful World
You Are Not Alone - M. Jackson
Killer Joe
All of Me
April in Paris
Be Witched
Blue Bossa
Brazil - Jobim
Carelles Whisper
Crazy - Aerosmith
Desafinado
Every Breath - Sting
Fever - Elvis Presley
Fragile - Sting
Happy - Pharell Williams
Honeysuckle Rose
I Just Called
I Wish
Isn't She Lovely
Its Only Paper Moon
Killing Me Softly
Lets Face the Music and Dance
Meditation
Misty
My Father Song - Joe Cocker
My One and Only Love
No Woman No Cry - Bob Marley
One Note Samba
Perdido
Satin Dall
Smile
So Danco Samba
Stella by Starlight
Sunny - Boney M
Tears in Heaven - Eric Clapton
They Will Never Be Another You
We Are the Champions - Queen
Yesterday - Beatles
You Better Stop - Sam Brown
All for Love - Brian Adams
Angel Eyes
Basin Street Blues
Billie Jean - M.jackson
Brand New Day - Sting
Caravan
Corcovado
Danny's Blues
English Man in New York - Sting
Feel Good - James Brown
Four Brothers
Girl from Epanema
Hit the Road Jack - Ray Charles
Howe in Sensitive
I Should Care
In a Sentimental Mood
Its My Life - Bon Jovie
A Child Was Born
Let It Be - Beatles
Make the Knife
Mishel - Beatles
Moonlight Serenade
My Love - Elvis Presley
New York New York - Frank Sinatra
Once I Loved
Oye Como Va
Rock Around the Clock - Elvis Presley
Smells Like Teen Spirit - Nirvana
Smooth Operator - Shade
Stars Fell on Alabama
Summertime
Take the a Train
The Shadow of Your Smile
Wave - Jobim
Wind of Change - Scorpions
You Beautiful - James Blunt
After the Love Has Gone
And I Love Her - Beatles
Autumn Leaves
Bessame Mucho
Body and Soul
Can't by Me Love - Beatles
Come to Gather - Beatles
Dancing Queen
Don't Speck - No Doubt
Feel - Robbie Williams
Fly Me to the Moon
Get Lucky - Daft Punk
Here I Am - Brian Adams
Hotel California
I Love You Baby
In a Melow Tone
It Must Have Being Love
Just Friends
Lady Madonna - Beatles
Lullaby Birdland
Mersey - Duffy
Moon River
My Favorite Things
Nature Boy
On the Sunny Side of the Street
Only You - Elvis Presley
Quite Nights
Shape of My Heart - Sting
Smoke on the Water - Deep Purple
St.thomas
Strangers in the Night
Supper Trupper - Abba
The Gentle Rain
Venus
Watch What Happened
You Are So Beautiful - Joe Cocker
Oceania Cruises
Intercontinental Hotels
Premier Palace Hotels
Fairmont Hotels
Shilla Hotel - South Korea