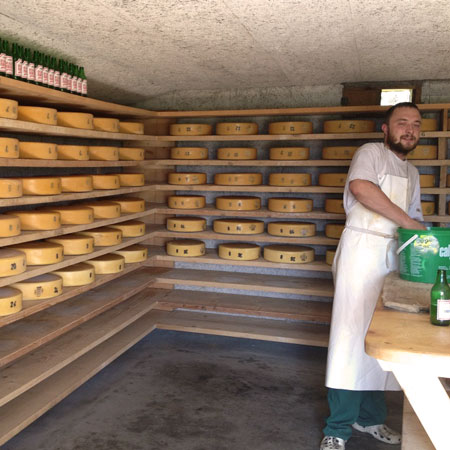 Swiss Cheese & Chocolate Tour
Picturesque swiss sightseeing and food tour
Full day touristic activity with outdoor activities
Bookable for groups or private tours
Transport, guides, entrance fees and lunch included
Visit the French part of Switzerland
Swiss Cheese & Chocolate Tour PHOTOS
Our fantastic swiss cheese & chocolate tour takes guests on an all day tourist adventure through picturesque countryside, green valleys, mountains, to cheese and chocolate makers and to a world heritage site. 
Cheese lovers and chocolate lovers will love this food tour whilch includes fantastic Swiss sightseeing. The private tour travels to the iconic Gruyeres where a famous cheese comes from and to the Maison Cailler for some authentic Swiss chocolates.
The Swiss sightseeing food tour starts at 8.30am and aims to finish at around 6.30pm. The schedule and itinerary can be adapted to the clients personal desire or requirements
The tourist adventure begins in Interlaken and drives through green valleys, cow paddocks and chalets to the Simmental and up to Jaunpass where guests can enjoy a great view over the Bernes Oberland and the alps from the top of the pass. 
From there you move onto the Gruyère cheese factory where you discover the famous Swiss cheese and how its made. Followed by a trip to the medieval town of Gruyère where you can stroll around the charming town, visiting the impressive castle or have a coffee at HR Giger's bar (the Hollywood Alien designer).
The Swiss sightseeing continues into the afternoon with tasting of Swiss sweets at the Maison Cailler, as you learn the secrets and history whilst sampling some of the best pralines.
On the way back the swiss cheese & chocolate tour stops at the capital Berne. This is a Unesco World Heritage city and a great medieval town with a charming ambiance. You'll visit the parliaments house, clock tower and bear park.
Booking tips:
All day adventure and food tour
Available for private bookings
Visit several different locations
Sample local foods 
Contact our destination specialists to see and tastse some of Switzerland's best bits