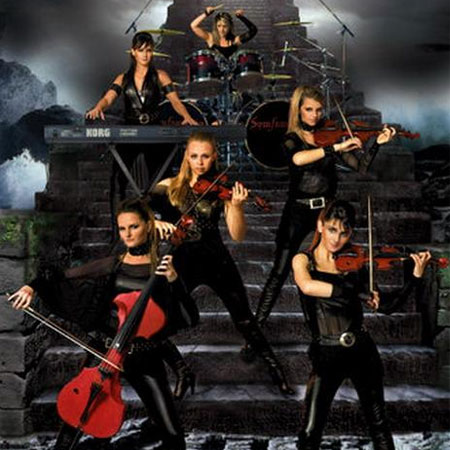 Symfomania
Creates beautiful music with elements of symphonic & neo-classical rock
Consists of violinist, viola-player, cellist, bass, pianist, drummer
Professionally educated & winners of nationwide/international competitions
Performed at Marrakech F2 Grand Prix 2010 grand opening
Based in Ukraine & available to perform at events worldwide
Symfomania are a unique Ukrainian all-girl band which creates beautiful music with the elements of symphonic and neo-classical rock. The band consists of a professional violinist, viola-player, cellist, bass player, pianist, and a drummer.  Being professionally educated and winners of nationwide and international competitions, the musicians find new approaches to performing famous pieces of music and compositions of their own.
Symfomania's music inspires with its energy, dynamics and expressiveness. The compositions are notable for their spry melodies, harmonic diversity, and classical simplicity of the forms.
Since its foundation, the band has been successfully performing at numerous musical festivals and concerts, auto shows and moto shows. Moreover, Symfomania performed at Marrakech F2 Grand Prix 2010 grand opening.