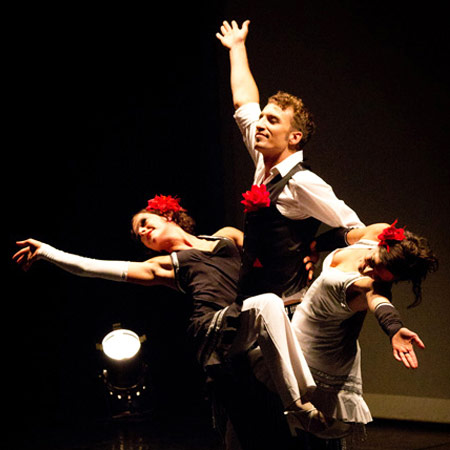 Tango Show Berlin
A special kind of Tango, full of passion, finesse and unexpected turns
This unique performance has caused a stir in the juggling world
The show was premiered at the European Juggling Convention gala show
Has left international audiences electrified and truly entertained
Based in Berlin and available to perform at events worldwide
Tango as we know it is earthy and dramatic in nature, a partner dance that has become extremely popular within dancing circles today.
The Tango Show Berlin is a dramatic dance show with a difference, choreographed down to the last step and bristles with passion, finesse and loads of unexpected turns.
Ms. Black and Ms. White are competing for the favours of a man than won't be shared. Or are they only playing with him?
Try and guess who's dancing with whom and which of the twin sisters the dapper young man will get to leave the stage with...
The performance has caused quite stir in the juggling world with its unique and passionate Tango performance. Their poi show, which premiered at the European Juggling Convention gala show at the Circus Krone in Munich, electrified the international specialist audience.
A great perfromance act for those looking for something a little bit different to entertain their guests.
Gay Games 2010 RheinEnergieStadion Köln
GreenTec Awards Telekom Hauptstadtrepraesentanz Berlin
Samsung e-plus BASEcamp Berlin
Aviareps Tangoloft Berlin
Berlin Chemie Hotel InterContinental Berlin
Optovision Frankfurt
Music Events:
Ritter Butzke Berlin
Fusion Festival Lärz
S.O.M.A. Festival Köln
Festivals For Fiery Acts:
Burning Bizarre Convention Dresden
Southern Lights Kimmeridge Vereinigtes Königreich
Kiev Fire Fest Ukraine
WAFEst Nizhny Novgorod Russland
Flame Master Fest Playa del Carmen Mexiko
Overseas:
Resort World Sentosa Singapur
Big Events:
Nitrolympics 2011 Hockenheimring
Corporate Events:
Siemens Le Manège Potsdam
Storck U3 Tunnel Berlin
Groupon Kosmos Berlin
Sanofi Schloss Diedersdorf Berlin
YAAM Berlin
Kater Holzig Berlin
Antaris Project Stölln
Feuerkunst Berlin
Feuerwelt Mühlheim am Main
Motion Festival Clonakilty Ireland
Frog Festival Gdynia Polen
FireDrums Kalifornien Vereinigte Staaten
Spark! Circus Project Mae Sot Thailand
Amman Summer Festival Jordanien
Street Parade 2009 Zürich