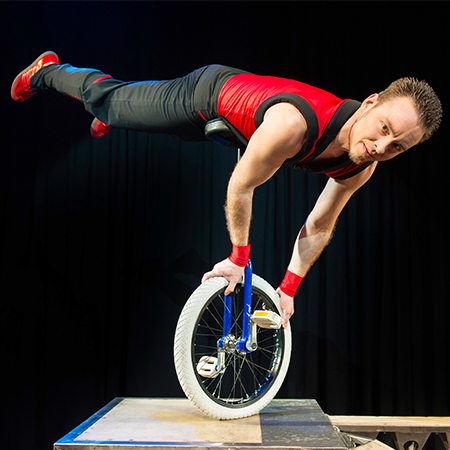 Unicycle Stage Show
An amazing unicycle performance executed by an unicycle world champion
Can perform alongside a live orchestra or live musicians if required
Previous clients include renowned brands like Toyota or Samsung and famous European circuses
Especially popular for gala dinners and ceremonies, also ideal for events such as festivals and exhibitions
This Unicycle Stage Show can be booked for performances in Germany and worldwide
Unicycle Stage Show PHOTOS
An incredible Unicycle Stage Show that will amaze audiences regardless of age, this mind-blowing performance is widely applauded by both, circus lovers and cycling fans.
This skilled artist is an unicycle world champion who combines classic cycling tricks with jumps over large distances and astonishing BMX freestyle tricks. His thrilling Unicycle Stage Show is the perfect mix of amazing unicycling skills, body balance and strength.
Our amazing unicycle artist is guaranteed to leave spectators speechless with his agility and talent. He will become the topic of conversation for weeks, and he is sure to inspire future generations of performers and impress any type of viewer. Providing your event or special occasion with the wow factor, out skilled unicyclist can perform as a soloist or accompanied by an orchestra or live musicians.
Our skilled unicyclist has been part of many circuses. Famous ones such as Circus Arnardo in Norway, Cirque de Noel Geneve in Switzerland and Budapest Capital City Circus have trusted him in the past to perform his Unicycle Stage Show for their audiences. This unicycle world champion has also performed at numerous festivals around Europe and famous theatres such as Le Plus Grand Cabaret Du Monde in Paris or the Schmidt Theatre in Hamburg.
His Unicycle Stage Show is also a very in-demand entertainment option for gala dinners and ceremonies. He has showcased his amazing unicycle skills at gala shows like the CTP Awards in London, and he can proudly say that Samsung and Toyota are in his list of previous clients.
As global entertainment experts, Scarlett Entertainment can offer a wide variety of stunt acts.
To book this mind-blowing Unicycle Stage Show, contact our team of coordinators today and request further details on this act. Our amazing team of experts will answer all the questions you may have and will be happy to guide you through the booking process.