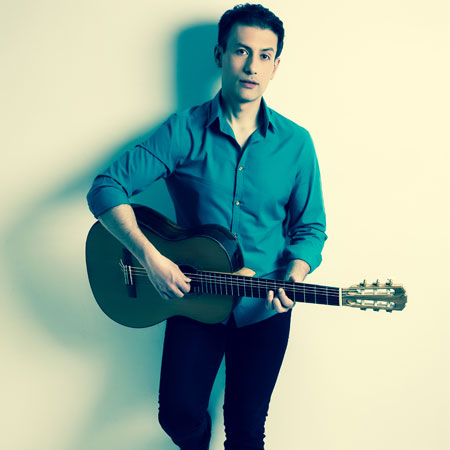 Versatile Guitarist
A skilled and charismatic guitarist who has won multiple international competitions
Has been performing professionally since the young age of 16 and has mastered a wide range of performance styles
Extensive repertoire spans across classical, Spanish, Latin and contemporary pop music pieces
Holds four titles in guitar performance from major European universities and has won several international competitions
Based in the UK and available to book for performances worldwide
Versatile Guitarist VIDEOS
Offering beautiful instrumental guitar music, this Greek-born versatile guitarist and arranger can appear at your event as a Spanish guitarist, Latin guitarist, classical guitarist or contemporary guitarist such is the breadth of his skill and the range of his repertoire. 
This contemporary and classical guitarist has been performing professionally since the young age of 16, having studied classical guitar at the Municipal Conservatoire of Thessaloniki, the Ionian University of Greece and the Mozarteum in Salzburg. Holding four titles in guitar performance at major European universities and having won several international prizes at festivals including the International Guitar Festival of Corfu and the Naxos International Guitar Festival - he has a wealth of accolades to his name that are a testament to the high-quality of his performances. 
One of his career highlights has been performing as a soloist with Athens Camerata for HRH Princess Irene of Spain. 
Giving spine-tingling instrumental recitals, his love for the guitar as an instrument shows through in his captivating performances. Whether he is playing passionate Spanish ballads, sexy Latin covers, enchanting classical pieces or guitar arrangements of contemporary pop hits his performances are utterly breath taking and perfect as background music for dinners, drinks receptions and special occasions. He can also perform full recitals of up to 1 hour or appear as a session guitarist - depending on your needs! 
With many years experience performing as both a solo guitarist and in groups, our Bristol-based guitarist he has a huge amount of experience and is incredibly flexible in terms of his performance style and set list. He can even perform with additional musicians without rehearsals prior to the event. 
To find out more about booking this guitarist for your event, get in contact with our experienced entertainment specialists. 
Lagrima - Tarrega
Gnossienne No.1 - Satie
Romance – Mamangakis
Adelita - Tarrega
Greensleeves - Folk
Suite No.4 for Lute BWV 1006a – Bach
Prelude BWV 988 – Bach
The Frog Galliard – Dowland
Fantasia in A minor – Kellner
Fantasia in D minor – Kellner
Koyunbaba suite – Domeniconi
Prelude from Cello Suite No.1 – Bach
Air on G string – Bach
Prelude No.3 – Villa-Lobos
Wedding March – Mendelssohn
Spanish & Latin
Asturias - Albeniz
Sevilla - Albeniz
Mallorca – Albeniz
En los Trigales – Rodrigo
Sevillana Fantasia – Turina
Sonata op.61 – Turina
Malaguena - Tarrega
El Testament d'Amelia - Llobet
Milonga del Angel - Piazzolla
Libertango - Piazzolla
Sons de Carilhoes – Pernambuco
Felicidade – Jobim
Guantanamera - Folk
Tico Tico – Abreu
Natalia – Lauro
Andreina - Lauro
Milonga – Cardoso
La Muerte del Angel - Piazzolla
Café 1930 - Piazzolla
Classical
Yesterday - Beatles
And I love her - Beatles
Fool on the Hill - Beatles
Fragile - Sting
Song from a secret garden – Secret Garden
Schindler's list – Williams
When a man loves a woman – Preisner
Can you feel the love tonight – Elton John
Beauty and the Beast – Menken
Lament – Kristianto
Lullaby – Kristianto
Melati dari Jayagiri – Abdulrachman
Once upon a rainy day – Kristianto
Indonesia Pusaka – Marzuki
Scarborough fair – folk
Cavatina - Myers
Valsa sem nome - Powell
Manha de Carneval - Bonfa
Farewell – Assad
Valseana – Assad
Tango en Skai - Dyens
Un Dia de Noviembre - Brouwer
Spanish Romance
Cancion Triste - Farinas
Waiting for Dawn - York
Reflections - York
Andecy – York
In the Candlelight - York
Preludio de Adios - Montes
Love theme – Mamangakis
Agua y Vino - Gismonti
Pop & Easy Listening
Princess Irene of Spain
St Martin-in-the-Fields London
" Although many fine players have honed their skills within these walls, guitar recitals on RNCM premises have never been frequent. Nor do they tend to be vigorously published. Not for the first time, it was an email from the performer rather than the venue that alerted me to tonight's proceedings.I'm glad he took the trouble, for it was clear within the first few bars of Songe Capricorne by Roland Dyens that [he], born in Greece but currently resident in Bristol, has much to offer. Equally engaging was Elogio de la Danza and yes, [he] made a decent fist of realizing the golpe against a bass note that we all struggled with when this piece first took off a decade or so after its creation in 1964.Most successful were the settings of two songs by Theodorakis. If Maria Farandouri appeared on stage as a surprise guest, my evening would be complete. Following a tidy and rhythmic Sevilla by Albeniz, the nose-to-tail pairing of Farewell by Sergio Assad and Un Dia de Noviembre by Leo Brouwer proved surprising effective and generated some of [his]' most classy playing. Even the ensuing Libertango by Piazzolla felt more inspiring than is customary.A warmly received Mancunian offering from a guitarist whose migration to these shores is to be welcomed. "

Royal Northern College of Music, Manchester, 2014
" [He] expressed clearly the melodic lines and the rhythmic features of the concerto. The very talented musician from Thessaloniki played masterfully with the colours and created a unique atmosphere. The concert was attended by the HRH Princess Irene of Spain, President of the Foundation "World in Harmony" and ardent supporter of new musicians. "

Athens Concert Hall
" The concert covered a wide range of musical forms and styles, all of which [he] accomplished fluently and effortlessly. The classical guitar when played with [his] professionalism is well suited to our hall, so perhaps we should repeat the success of this recital before too long "

Tim Brunton, Iffley Music Society, 2016