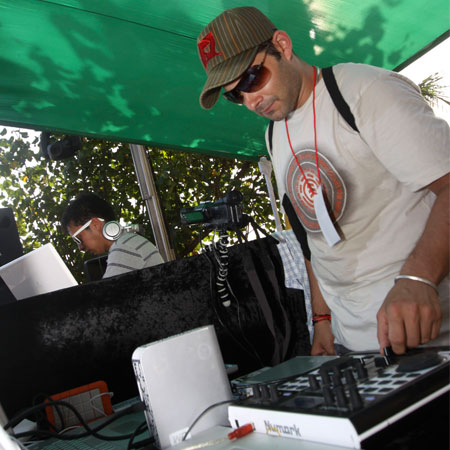 Video DJ Marc
Adds his flavour of visual imagery to clubs & corporate events worldwide
Customise sets incorporating your video, graphics, logos & live cameras
Performed at the Scissor Sisters After Party & for The BBC & Mazda
Available to perform with charismatic and innovative DJ Tad
DJ Tad played at the launch party of the Malaysia formula 1 race
A VJ for the last 10 years Marc has been adding his own flavour of visual imagery to club nights, private parties and corporate events all over the world. 
He can customise his sets to suit your needs incorporating your video, graphics, logos and live cameras into the performance.
Marc can and has run multiple rooms from one room and can mix between 2 VJ systems giving his sets a unique level of mixing that you will rarely see.
A selection of events Marc has worked at include:
Mulletover (Party Promoter)
The Egg (London Club)
Size Doesn't Matter (London)
The Lodge (London Club)
Circo Loco (Party Promoter)
East Village (London Club)
Layo and Bushwacka
Sancho Panza (Notting Hill Carnival)
Scissor Sisters After Party
Rouge (London Club)
Velvet Revolver After Party
Alexander O'Neil (Singer)
Moondance (London)
Studio Valbonne/Ok Magazine (Ibiza)
The Junction 3 day party (Bali)
DJ Aid (Charity)
Stop the Hiding (Charity)
DJ Rubber Ron (Ibiza)
Dark Moon (Jakarta)
Aphrodisiacs (London/Ibiza)
VJ Marc is available to perform with charismatic and innovative DJ Tad.  DJ Tad has played at all of the major festivals including V Festival & Glastonbury were he was personally asked to DJ and mc at Stevie wonder's after show party. 
An experienced DJ, he has travelled the world dj'ing, mc'ing and doing session work with several artistes.  Most recently DJ Tad played at the launch party of the Malaysia formula 1 race.
The Carphone Warehouse
Mazda
VO5 (Alberto Culver)
Reverb
Reuters
Doc Martins
Stop the Hiding
Shabda
The BBC
The Phone House
Duracell
K Knight(Choreographer)
MMC
My Best Job (UK and Ireland)
Unsung Heroes
Orchards of London
And many more.......
Top Gear