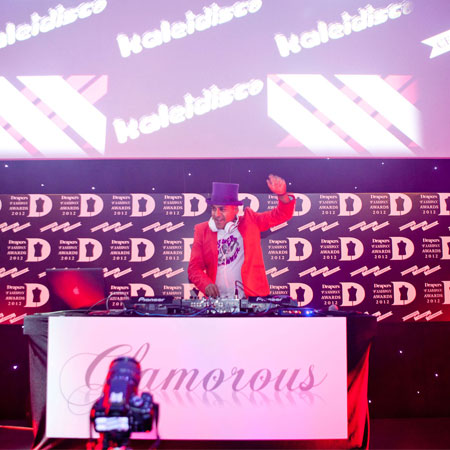 Video DJ Sam
DJ'ing & VJ'ing simultaneously mixing songs & high definition visuals
Stunning audiovisual show perfect for product launches & corporate events
Video DJ at the launch of the new Bentley Continental Car in London
Previous clients - Gucci, Vodafone, Formula 1, Ferrari, Sony Records, MTV
Performed at high profile weddings including Uma Thurman, Rod Stewart...
Sam is a special events DJ to the most stylish and exclusive events worldwide.  A professional DJ for the last 15 years he has extensive experience in creating a soundtrack that will suit virtually any crowd. Due to his unique musical adaptability and sheer love of good music he has been continually in demand and this in turn has led to him playing to some of the most prolific and beautiful people in the world!
Sam has also spent much time learning the art of VJ'ing to be able to bring the music he plays to life with colourful motion graphics.  A VJ using the latest high definition technology will make your corporate event, product lunch, film premiere or private party visually stunning and memorable!
He has now created a Video DJ show where he is DJ'ing and VJ'ing simultaneously mixing songs and high definition visuals (company logo's and video addition also possible) to create a stunning audiovisual show!
'Characteristics of VJing are the creation or manipulation of imagery in realtime through a midi mixer to entertain an audience, in synchronization to music'
The show, when launched at the beginning of 2012 was snapped up immediately by Bentley for the launch party of their new Continental V8 supercar in conjunction with Bouji nightclub.
On the night Sam mixed up-tempo dance music with colourful motion graphic visuals; the promo video of the car driving along the French Riviera and the Bentley Logo to amazing effect.
- Dark Knight Rises European Premiere (Christian Bale Anne Hathaway Tom Hardy)
- ARK 2007-2012 (performing alongside Prince The Killers Kings of Leon)
-  Monaco Grand Prix 'Sairam' Super Yacht Parties 2011 & 2012 (Prince Albert and Princess Charlene)
-  Party on the Pitch- alongside Cover Drive Alexandra Burke & The Saturdays
-  Wedding on Lake Geneva with Andrea Bocelli
-  Private party at The Opera House Paris performing alongside 'Timbaland'
-  Wedding of Paypal founder Elon Musk Skibo Castle Scotland
-  Private party in Provence France with Diana Ross
-  Playboy 50th Anniversary Party- Cape Town South Africa
-  Sherlock Holmes World Premiere after party (Guy Richie Robert Downey Jnr Jude Law)
-  Rod Stewart and Penny Lancaster Wedding in Portofino Italy
-  Ibiza- Ocean Beach Club Blue Marlin Space Privilege Pacha Ibiza Supperclub
-  Charlies Angels Film premiere after party (Cameron Diaz Lucy Liu and Drew Barrymore)
-  Uma Thurman and Arki Busson engagement party Chelsea London
-  Sex And The City European Premiere at Kensington Palace (SJP and full cast)
-  Private Party for Ken Griffin (CEO Citadel Corp) at the Institute of Modern Art -Chicago
-  Private Party at Rose Theatre Park Lane (performing alongside Kylie Minogue)
-  F1 Jenson Buttons birthday party London.
-  Pirates of the Caribbean film European premiere with Johnny Depp
-  Marc Jacobs 'Daisy' party at Sketch London
-  Rimmel 'London' Party with Kate Moss
-  James Bond 'Die Another a Day' World Premiere party
-  James Bond 40th Anniversary Party- Royal Albert Hall London
-  Birthday party of Princess Zara 'Aga' Khan
-  Tom Magnier Wedding at Sandy Lane Barbados
-  Charlie and the Chocolate Factory World Premiere party with Johnny Depp
-  Private Party at Sir James Goldsmiths 25000 acre tropical retreat 'Cuixmala' Mexico
-  Goodwood Festival of Speed and Goodwood Revival
-  An evening with Quentin Tarantino party Mayfair London
-  Launch of Bentley Continental with Bouji Nightclub Mayfair London
- Harry Potter World Premiere 'resident DJ' for Warner Bros 2001-2011
" How can I thank you enough for doing such a grand job at the Charlies Angels premiere. The whole night was phenomenal and the music was absolutely spot on. The girls (Lucy, Cameron and Drew) were the last to leave which was great for us as they said they had so much fun. I will recommend you for all our parties in future. Once again, many thanks "

J.Robertson - Head of Colombia / Tri Star Films
" Thanks for playing for me at my birthday party, you made the ocassion for me. Everyone had such a good time and the music was just one absolute winner after another creating a perfect journey. "

Jenson Button -Formula 1 Driver
" Best of the best DJ "

Vogue UK magazine