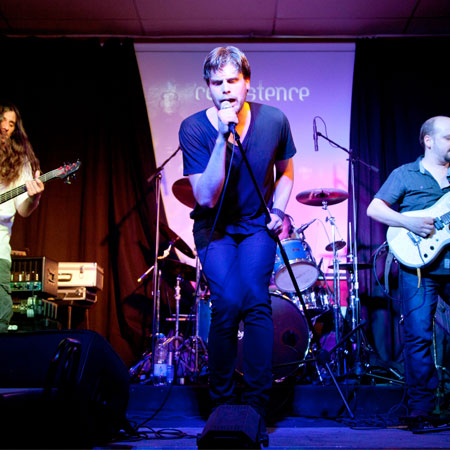 Vocalist Carl
Versatile male vocalist able to perform songs from a wide range of genres including pop, rock, standards and R&B
Available to book as a solo acoustic singer, as a duo, trio or band
Extensive experience performing in leading roles in acclaimed musicals
Perfect for cocktail hours, corporate dinners & awards ceremonies
Based in London & available to book to perform at events worldwide
Our multi-talented male vocalist and covers singer, was born and raised in Stockholm in the midst of a creative musical environment provided by his family. While growing up, his influences started with David Bowie and Bryan Ferry, and grew to include diverse styles such as Dave Grohl and Tommy Körberg all of which can be seen in his versatile performance style today. Performing as a solo vocalist, duo or large combo, Carl provides the ultimate live music entertainment for events worldwide. 
Very fond of guitar and piano, and also player of those instruments, Carl is a singer, first and foremost with a broad versatility of styles. As a songwriter, his lyrics are always deep and meaningful for his listeners. He is involved in several musical projects, including his own record releases of original songs, as well as performing with a French/Swedish band who's recent debut album was very well received. He was also the lead singer in a YouTube video that has received over 650,000 views.
Now signed to one of the biggest performing rights organisations in the US, which has also signed artists like Bob Dylan, Neil Diamond, Rush and Mariah Carey, Carl also works as a published songwriter, writing songs both for his own career and for other artists. He is also available to book to perform at both corporate and private events as an acoustic guitarist, solo vocalist and live band.
A highly versatile male vocalist able to sing everything from ballads, to rock anthems, to show tune, as well as play the guitar and piano, Carl can tailor his performance to suit any event, venue and audience! Whether you're looking for ambient background music in an acoustic style for guest to enjoy during a drinks reception, a full-blown rock show to get guests on the dance floor after dinner, or a musical show packed full of all your favourite songs, our solo singer can cater to your needs.
An experienced Broadway Singer too, Carl can adapt his style to suit your events requirements. Contact our entertainment specialists today to find out more about booking this live music entertainment option for your next event today. 
Man in Here's To Life (NPG Gallery West End London)
Doctor in Time Management (White Bear Theatre London)
Aldolpho in The Drowsy Chaperone Juror 4 in The Twelve Angry Jurors (Pleasance Theatre London)
Masseur in IHG Rewards Club (Ladoja & Sons/David Schneider)
Musician in TCO (It's Showtime Sweden)
Theatre
Ensemble in Godspell - In Concert (UK Tour/Hackney Empire London)
Ensemble in Godspell - In Concert (Lyric Theatre West End London)
Brian in Elegies for Angels Punks and Raging Queens (AMTA London)
Commercial
Sven in Listerine (J. Walter Thompson London/Toon Aerts)
Fred Gaily in Miracle on 34th Street (UK Tour)
" Carl's voice is unbelievable… "

Heavynation.com
" Carl behind the microphone does wonders, he instills a lot of energy and he sounds amazing live. "

Metalchroniques.fr
" The band's biggest access is still the Swedish vocalist, Carl who sounds great in all levels. He has an amazing tone. "

Sweden Rock Magazine