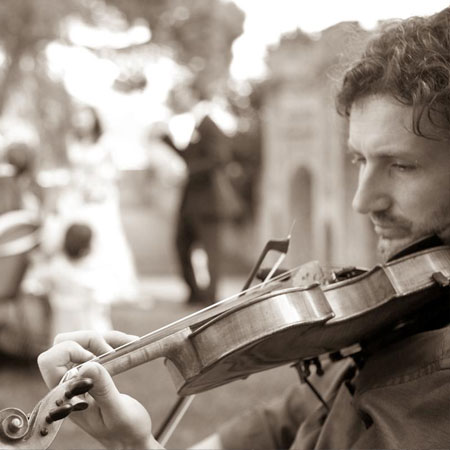 Wedding Duo Italy
Consists of a guitarist & vocalist performing alongside a violinist
Will provide the musical accompaniment for the entire wedding
Huge repertoire that includes classical, pop, jazz, soul, disco, swing...
Offers a customized playlist taking into account your musical preferences
Based in Pescara, Italy & available to perform at events worldwide
This wedding duo consists of a guitarist & vocalist performing alongside a violinist.  With a wealth of experience performing live they are dedicated professionals who will offer you a customized music playlist taking into account your musical preferences.  The two musicians can also collaborate with other artists depending on the type of event.
The duo will provide the musical accompaniment for the entire wedding, offering both a stylish background and exciting and engaging entertainment.  The two musicians will provide a show that will be performed live during the course of the reception, moving with ease through different repertoires to fit the successive phases that characterize the event.  The entertainment can cover the entire duration of the banquet, from cocktail reception until the end of the festivities.
The duo can perform different musical genres including classical, film music, swing, Irish, jazz, soul, Italian songs, pop, rock, and disco.
Wedding March Felix Mendelssohn
wedding march richard wagner
Pachelbell fee
Spring vivaldi - the four seasons allegro
Sweet feel of ritz gardeners - soundtrack
Air on a G string by Johann sebastian bach
Ave maria by franz schubert
Ave maria by charles gounod
Adage tommaso albinoni
The pianist on the ocean of ennio morricone - soundtrack
There was a time in the west of ennio morricone - soundtrack
Gabriel's oboe ennio morricone - soundtrack
Life is beautiful by nicola piovani - soundtrack
Song number 147 of johann sebastian bach
What a wanderful world of louis armstrong - also sang
Ave verum of amadeus mozart
Hallelujah jeff buckley - also sang
March edward elgar - pomp and circumstance
Of the world wide four seasons antonio vivaldi
Traumerei by robert schumann
Off federich haendel
Wonderful tonight eric clapton
Of amadeus mozart alleluia
Famous serenade enrico toselli
Church Songs
If you do not know me by now - harold melvin & the blue notes
Sexual healing - marvin gaye
What's goin 'on - marvin gaye
Supersticius - stevie wonder
Sitting on the dock of the bay - otis redding
When a man loves a woman - lewis calvin and andrew wright
Soul man blues brothers
Georgia on my mind - ray charles
I've got a woman - ray charles
Heart attack and vine - tom waits
Blue valentine - tom waits
Moondance - van morrison
Fly me to the moon - Bart Howard - synatra
Garota de ipanema antonio carlos jobim
Blue moon - ricard rodgers
Rock around the clock - bill haley
Unchain my heart - joe cocker
Tico - tic - zeduinha abreu
Strangers in the Night - Bert Kaempfert
La vita e bella - nicola piovani
Missis saint louis - jj cale
Dirty old town - The Dubliners - Irish traditional
Galway girl - steve earle - Traditional Irish
That's love-harry warren - dean martin
Let's call the whole thing off - louis armstrong
Good evening Miss - Fred Hammond
What is - gino paoli
The sky of Ireland - Fiorella Mannoia
Viva la vida - colplay
Diamond - ben harper
Suspicius mind - elvis
One - u2
Stars - simply red
Once the paper - Fabrizio De Andrè
Mouth pink - fabrizio de andrè
Don Raffaè - Fabrizio De Andrè
The fisherman - Fabrizio De Andrè
Andrea - Fabrizio De Andrè
Come away with me - paolo Count
What is love - vinicio capossela
Like a rose - Vinicio Capossela
A song for you - vasco rossi
A sense - vasco rossi
Boy do not cry - the cure
Love letter - nick cave
chocolate jesus - tom waits
Guantanamera - joseito fernandez
Celito lindo
Cha cha cha secretary - luis ardiente
La bamba - ritchie valens
Gianna - rino gaetano
The sky is always blue - rino gaetano
Do not let me be misunderstood - santa esmeralda
Walk of life - dire straits
Brawn and girl - van morrison
The Neverland - edoardo wellborn
Mexico and clouds - giuliano palma
Be bop a lula - elvis presley
Rock araund the clock - max.c.freedman
Blouses suede shows - elvis presley
Karma kamaleont - culture club
Only one - yellowcard
Lucky guy - lorenzo cherubim
Charles wispers - george michael
Wake me up before you go go - wham
Enjoy de silence - depeche mode
One - U2
The hu man sold the word - nirvana
I cant help folling in love - elvis presley
Amye - damien rice
Michelle - beatles
A lucky guy - jovanotti
Imagine - john lennon
Falling slowly - Glen Hansard
Your kiss is like the rock - adriano celentano
My way - frank synatra
Me and the dance of love - leonard Choen
Stand by me - ben e. king
Viva la vida - colplay
Do not let me down - Beatles
Riding on a load of hay - Irish traditional
Funiculì funiculà - traditional Neapolitan
Swirdfishtrombones - tom waits
When when when - Tony Renis
Diana - paul anka
Blue valentines - tom waits
Viva la mamma - edoardo wellborn
Stranwberry swing - colplay
The postman - Bacalov - soundtrack
Gabriel'oboe - ennio morricone - soundtrack
Once Upon a Time in the West - Ennio morricone - soundtrack
Other Songs