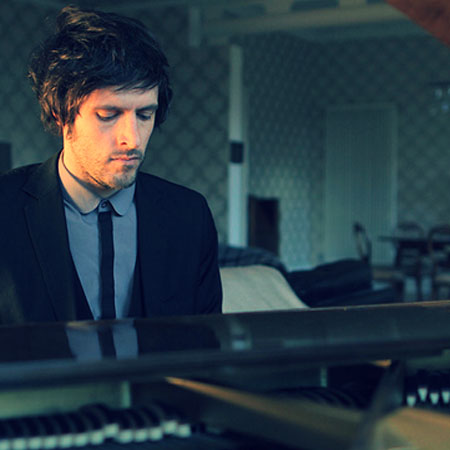 Wedding Pianist Scotland
Over 10 years of experience performing on stages across the UK & Europe
Has performed for: Sir Steve Redgrave, Ross Kemp, Frank Bruno & more
Extensive repertoire featuring pop reinterpretations from the 50's to now
Can also play with his band featuring piano, bass & drums
Based on Scotland & available for events across the UK
Wedding Pianist Scotland VIDEOS
Wedding Pianist Scotland PHOTOS
A professional musician for over ten years, this pianist has spent years honing his skills in piano bars, restaurants and stages across the UK and Europe. His session work has included appearances on live TV and radio, supporting some of the UK's biggest names: Sir Tom Jones, Sir Paul McCartney's son James, Amy Macdonald, Beverley Knight and The Proclaimers as well as a host of others.
His unique and popular style has entertained countless celebrities and dignitaries such as Ross Kemp, Sir Steve Redgrave, Celtic football Club and The Republic of Ireland Squad. Performing a range of pop and rock songs from the 50's through to the present, on piano, his extensive repertoire features something for every music taste. He can even learn new songs at the client's request to give their event an even more personal touch.
Perfect for wedding ceremonies and receptions, dinner entertainment and gigs, this versatile pianist can also perform with a band featuring a trio of piano, bass and drums. Whatever the line-up, this pianist is guaranteed to blow guests away with his beautiful performances and charming personality.
Have I told You Lately - Van Morrison
Crazy Love - Van Morrison
Moondance - Van Morrison
Bright Side of the Road - Van Morrison
She -  Elvis Costello
Kiss From a Rose -  Seal
You Do Something To Me - Paul Weller
Make You Feel my Love - Adele
Someone Like You - Adele
You Are So Beautiful -  Joe Cocker
Wonderful World - Sam Cooke
The Heart Asks the Pleasure First -  Film  "The Piano"
Glasgow Love Theme
Theme from Love Actually
The Feather Theme -  Forrest Gump
Theme from Midnight in Paris
Theme from Amelie
50's-60's
Mess Around – Ray Charles
Hit The Road – Ray Charles
I Got A Woman – Ray Charles
Johnny Be Goode – Chuck Berry
Good Golly Miss Molly – Chuck Berry
Hound Dog – Elvis
Blue Suede Shoes – Elvis
I cant help falling in love - Elvis
Great Balls of Fire – Jerry Lee Lewis
Whole Lotta Shakin – Jerry Lee Lewis
Wonderful World – Louise Armstrong
We Have All the time in the world – Louise Armstrong
Drown in My Own Tears – Ray Charles
Suspicious Minds - Elvis
Simon Smith – Randy Newman
Amazing Dancing Bear – Randy Newman
Hi Ho Silver Lining – Jeff Beck
Alabama Song – The Doors
People are Strange – The Doors
Light My Fire – The Doors
Like a Rolling Stone – Bob Dylan
Mr Tambourine Man – Bob Dylan
Rainy Day Women – Bob Dylan
Rock and Roll – Led Zep
All Along the Watchtower - Hendrix
70's
She – Elvis Costello
Olivers Army – Elvis Costello
Have I Told You Lately – Van Morrison
The Gambler – Kenny Rogers
Just Dropped in – Kenny Rogers
When Youre in Love with a Beautiful Woman – Dr Hook
Annie's Song – John Denver
Never Let Her Slip Away – Andrew Gold
Thank You for being a friend – Andrew Gold
Isnt She Lovely – Stevie Wonder
You Are the Sunshine – Stevie Wonder
Lately – Stevie Wonder
My Cherie Amour – Stevie Wonder
I Wish – Stevie Wonder
Rainy Night in Georgia – Ray Charles
Daydream Believer – The Monkees
Leaving on a Jet Plane
Country Roads
Maybe Tomorrow (Littlest Hobo Theme)
Cheers Theme
Where do you Go To My Lovely
Oh You Pretty Things/
Space Oddity  David Bowie
Starman - David Bowie
Changes - David Bowie
Life on Mars – David Bowie
Hotel California - Eagles
Take it Easy - Eagles
Desperado - Eagles
Heart of Gold – Neil Young
Old Man – Neil Young
The Weight – The Band
Forever in Blue Jeans – Neil Diamond
Love on the Rocks – Neil Diamond
Sweet Caroline – Neil Diamond
Rhinestone Cowboy – Neil Diamond
Proud Mary - Creedence
Have you Ever Seen the Rain - Creedence
Summer of 69 – Brian Adams
Father and Son – Cat Stevens
The First Cut is the Deepest – Rod Stewart
Maggie May – Rod Stewart
I Dont Want to talk about it – Rod Stewart
Wild Horses – The Stones
Paint it Black – The Stones
Honky Tonk Women – The Stones
Sympathy for the Devil – The Stones
Jealous Guy – John Lennon
Imagine – John Lennon
Breakfast in America - Supertramp
Come on Feel the Noise - Slade
Highway to Hell - ACDC
Shook me All Night Long - ACDC
Perfect Day – Lou Reed
Walk on the Wild Side – Lou Reed
We Have all the Time in the World – Louis Armstrong
Wonderful World – Louis Armstrong
You're so Vain – Carly Simon
Nobody Does it Better – Carly Simon
You Got a Friend – James Taylor
How Sweet it is – James Taylor
Fire and Rain – James Taylor
Son of a preacher man
Sloop John B
This Guys In Love - Burt
What The World Needs Now - Burt
Close to you - Burt
Say a little prayer - Burt
Walk on By - Burt
Dreadlock Holiday- 10cc
You can Go Your Own Way – Fleetwood Mac
Dreams
80's
Squeeze –Up The Junction
Cool for Cats –Up The Junction
Just Cant Get Enough - Depeche Mode
Dont You Want Me Baby - Human League
Still Havent Found... - U2
One - U2
With or Without You - U2
Is She Really Going out with him - Joe Jackson
Little Bird - Annie Lenox
Sweet Dreams - Annie Lenox
Olivers Army - Elvis Costello
I Dont Like Mondays - Boomtown Rats
Teenage Kicks - Undertones
Town Called Malice - The Jam
Going Underground - The Jam
Thats Entertainment - The Jam
Roxanne - The Police
Walking on the Moon - The Police
Here I Go Again on My Own - Whitesnake
Beat It - Micael Jackson
The Way You Make Me Feel Beat It - MJ
New Order – True Faith
How Long - Ace
Maneater – Hall and Oates
There is a Light- The Smiths
Friday I'm in Love - The Cure
InBetween Days - The Cure
Just Like Heaven - The Cure
Video Killed the Radio Star - The Buggles
The Way It Is - Bruce Hornsby and the Range
Dancing in the Dark - Bruce Springsteen
Secret Garden -The Boss
Streets of Philadelphia - The Boss
Dignity - Deacon Blue
Mistify - INXS
Walkin in Memphis - Mark Cohn
Baker Street - Gerry Rafferty
Fast Car- Tracy Chapman
Dont Let the Sun Go Down on Me - Elton
Your Song- Elton
Daniel - Elton
Rocket Man - Elton
Tiny Dancer - Elton
Bennie and the Jets - Elton
Sweet Child O Mine - GNR
Paradise City - GNR
Purple Rain - Prince
I Want To Break Free - Queen
Don't Stop Me Now - Queen
Crazy Little Thing called love - Queen
Piano and piano vocal
Common People - Pulp
Disco 2000 - Pulp
Wonderwall - Oasis
Shes Electric - Oasis
Half the World Away - Oasis
Dont Look Back in Anger - Oasis
Champagne Supanova - Oasis
Wicked Game - Chris Isaak
Alright - Supergrass
Day we Caught the Train - OCS
Waterfall Sally Cinnamon - Stone Roses
Boys and Girls Coffee and TV - Blur
Nothing Else Matters - Metallica
Set You Free – N-Trance
Rotterdam- Beatiful South
A Million Love Songs-  Take That
Back For Good - Take That
Babylon - David Gray
This Years Love - David Gray
Sail Away - David Gray
Please Forgive Me - David Gray
Time of Your Life - Green Day
Basket Case - Green Day
Creep - Radiohead
High and Dry Karma Police- Radiohead
You Do Something to me - Paul Weller
Broken Stones - Paul Weller
Wild Wood - Paul Weller
Sit Down - James
Weather With You - Crowded House
Fall At Your Feet - Crowded House
Under The Bridge - Chilli Peppers
The Drugs Dont Work - The Verve
Bittersweet Symphony - The Verve
Book of Love – Peter Gabriel
Kissing You - Des'ree
00's
One Day Like This - Elbow
Cannonball - Damian Rice
Acceptable in the 80's - Calvin Harris
Umbrella - Rhianna
Ryan Adams New York/La Cienga
Back to Black - Amy Winehouse
Valerie - Amy Winehouse/The Zutons
Make You Feel my Love - Adele
Mr Brightside - The Killers
Somebody Told Me - The Killers
Use Somebody - Kings of Leon
Times Like These - The Foo Fighters
Everlong - The Foo Fighters
Best of You - The Foo Fighters
Hit Me Baby one more time - Britney Spears
Black and Gold - Sam Sparrow
Crazy – Gnarls Barkley
Candy - Paolo Nutini
Last Request - Paolo Nutini
You Give Me Something - James Morrison
Dream Catch Me - Newton Faulkner
The Strokes -Last Nite
Beautiful Day - U2
Better Together - Jack Johnson
Sitting Waiting Wishing - Jack Johnson
Golden Touch - Razorlight
America - Razorlight
Trouble - Ray LaMontagne
Home/Everything - Michael Buble
naïve – Kooks
Hey Ya – Outcast
The Scientist - Coldplay
Trouble - Coldplay
Clocks - Coldplay
Yellow - Coldplay
Kids – MGMT
Bon Iver – Skinny Love
Ordinary People - John Legend
Get Lucky - Daft Punk
Other
Into My Arms - Nick Cave
Ol'55 Martha and others...Tom Waits
You Got a Friend in Me - Randy Newman
Feels Like Home - Randy Newman
Short People - Randy Newman
Louisiana 1927 - Randy Newman
Simon Smith - Randy Newman
Werewolves of London - Warren Zevon
Mister Bojangles
Fly me to the Moon
Lady is A Tramp
All of Me
My Funny Valentine
As Time Goes By
Misty
Beyond the Sea
The Way You Look Tonight
Under My Skin
Come Fly With Me
Aint That a Kick...
My Way
New Yory New York
Makin Whoopee
Thats Life
Moondance
My Baby Just Cares for me
Route 66
Let There be Love
Sunny
Girl From Ipanema
90's
" Just to say thank you so much for playing at our wedding. It was absolutely perfect and you got a lot of compliments! So again just to say thanks especially as you had to learn new songs. Please let us know if you ever need recommendations from us. "

Daniella and Mark, Wedding Pollok House
" Thank you so much for the fantastic music you provided for our wedding at The Cruin, in November 2012. From taking the time to meet us and chat through our musical tastes before the wedding, to the personalised song choice, and super versions of classics - all were loved by our guests during our service and champagne reception! We will be recommending you!! Big thanks again. "

Sandy and Graham McDougall
" My wife , Frances and I, wanted to thank you for your part in helping to make Allie (our daughter) and Andy's wedding so special on Saturday. We thoroughly enjoyed your music, both during the ceremony and the meal, and many other guests commented on how good it had been. I know the choice of music during the ceremony was Allie and Andy's, but 'Your Song' has very special place in the hearts of Frances and I and it made a very special (and emotional) moment even more personal for us. Thank you once again. "

John