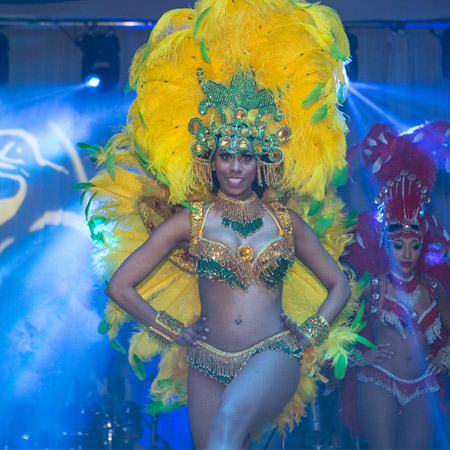 Brazilian Show Band
International Brazilian floor show with dancers, singers and musicians
Popular with Latin themed events and Salsa parties
Also available with Samba drummers, dancers and Capoeira show
Latin jazz band also available, perfect for corporate summer events
Previous clients include Gazprom, British Gas, Emirates, Starbucks, Cisco Live
Brazilian Show Band VIDEOS
Brazilian Show Band PHOTOS
...Indulge yourself and your guests with dazzling and classy entertainment!
The Brazilian Show Band is a London based Multi-Award-Winning and a well-established group wholly run by professional and experienced artists and widely recognised as one of the best Latin, Brazilian entertainment ensembles in the UK and Internationally
They have flawlessly entertained audiences throughout the UK, Europe, Middle-East, Brazil and Africa creating seamless and memorable outstanding performance at every show to impress audiences of all ages.
Since 2003 they are the only ensemble in the UK providing the Best and Most unique Latin Brazilian Show Entertainment including live music, singing and dance with up to 20 or more Musicians, Singers, Dancers and Performers available to entertain you. Thanks to their accuracy in preparation, enthusiasm on stage and quality of entertainment, their reputation has grown significantly over the years. At present they are the Capital's leading show business dedicated to this kind of Entertainment supplying top class agencies, blue chip companies as well as promoters throughout the UK and abroad.
This is the ONLY Multi Award Winning Latin Ensemble in the UK. They have been awarded with 6 LUKAS (The first and only recognised Award by public vote for Latino Culture in the UK) for:
Three times "Brazilian Dance Performers of the Year"
Three times "Brazilian Act of the Year" 
Recently the group were awarded their 6th LUKAS, making them the most prestigious Latin group to grace the streets of London - and the UK!
Their awarded show features an established exceptional live Band, a female Brazilian vocalist/dancer singing comfortably in Portuguese, Spanish and English, fascinating and dynamic Dancers performing traditional Latin and Brazilian dance choreography with a contemporary flare brought on stage with elegance and professionalism.
A visual astonishing show presentation celebrating Latin American music and dance to such mesmerizing effect that the audience are given a taste of what the Rio de Janeiro Carnival or Havana de Cuba club scene has to offer.
This spectacular Show will definitely bring the WOW factor at your event featuring a display of beautiful original carnival costumes and colourful feathers as well as shiny Latin sequined outfits throughout.
As all of their shows this performance also includes an element of audience participation. The band can please any musical taste and audience with a repertoire which includes not only Latin and Brazilian songs but also well-known Latin pop and contemporary charts to dance the night away!
Depending on your specific requirements they can create custom made Latin entertainment by offering varied performances to suit differing taste, event and budget:
Latin Brazilian Show
Brazilian Carnival Dancers
Latin Brazilian Party Band
"Rio de Janeiro" Carnival – Samba Drummers & Dancers
Latin Jazz & Bossa Nova Band
Latin Salsa Dancers
Latin Dance Workshop
Capoeira Show
Entertainment Services
They can cater for: Corporate, Galas, Weddings, Bar Mitzvah, Cocktails Reception, Product Launch, TV Commercials, Casinos, Theatre Production, Award Ceremony, Themed Events, Office Party, Fundraisers, Festivals and Venues.
To find out more contact our team of Entertainment Experts.
ADULT SOCIAL SERVICE
ASIANA MAGAZINE
BIG MOUTH MEDIA
BRITISH GAS
CHANNEL 4
CITY WEALTH
DIRECTV
FOSTERING RAINBOW
EMIRATES AIRLINES
KINMONT FINANCIAL CORPORATE
LBi – Lost Boys International
MACQUAIRE UNIVERSITY
MOMENTUM
NHS TRUST
PHARMACLINICS
RALLIESANDEVENTS
ROYAL BANK OF SCOTLAND
SOS LE GRAND BLEU
TONY ADLEY GOLF CLASSIC 2013
BEAUMONT House - Windsor
HAYMARKET - London
KORINEUM GOLF CLUB - Cyprus
PALACE HOTEL – Buxton
SOFITEL GRAND DUCAL – Luxemburg
BT CONFERENCE CENTRE - Liverpool
CELTIC MANOR - Newport
MERE GOLF CLUB – Manchester
COMMUNITY ARENA – WORKSOP
OXFORD CASTLE
SNETTERTON RACE CIRCUIT
TRUMAN BREWERY - London
WULFRUN HALL – Wolverhampton
GRAN BAZAAR – LONDON
50 ST. JAMES – London
CROCKFORDS CLUB – London
Association Publishing Agency AWARDS 2008
AURUM INVESTMENTS
BRAND PILOT MARKETING
BRUNEL UNIVERSITY
CHRISTMAS CORPORATION
COMTEC-PRESENTATIONS
ENGLAND NETBALL TEAM
GAZPROM
THE EVENT SHOW
IDM – INSTITUTE DIRECT MARKETING
LOCAL GOVERNMENT ASSOCIATION
MAERSK OIL CORPORATE
MOO Prints Ltd
ONE WORLD SCOUT CAMP
POWER GENERATION
RIVER ISLAND
SCOTTISH COUNCIL
STARBUCKS
TRAVELEX MONEY WORLDWIDE
ASHFORD INTERNATIONAL
GROSVENOR HOUSE - London
INTERCONTINENTAL – London
MINA SEYAHI - Dubai
SHERATON – London
THE GROVE - Watford
BARBICAN - London
CORBET PLACE - London
NATIONAL MOTORCYCLE MUSEUM - Midlands
OLYMPIA-London
B.I.C. PAVILLION - Bournemouth
SELSDON GOLF CLUB
THE BREWERY - London
KENSINGTON ROOF GARDENS - London
CARNIVAL TWIST – LONDON
LATIDOS FESTIVAL
BROADWAY CASINO - Birmingham
ACTION MEDICAL RESEARCH
ASABELL LTD
Australian Graduate School of Management
BRIT AWARDS 2016 AFTER PARTY
BUPA INTERNATIONAL
CISCO LIVE
COPRA – Cosmetic & Perfumery Retailers Association
EVERTON FOOTBALL CLUB
GRAVESHAM BOROUGH COUNCIL
EXECUTION NOBLE
INSURANCE ISTITUTE OF LONDON
LONDON PADDINGTON DISTRICT
MASTER PHARMACEUTICALS
NATIONAL LUXURY AND LIFESTYLE AWARDS
OUTOFTOWN
QMDI - QATAR
ROCHE PHARMACEUTICAL
SDC - QATAR
TESCO
4 SEASONS - London
DORCHESTER - London
HILTON - London
MARRIOTT - Peterborough
PLAZA ON THE RIVER - London
THE PALACE HOTEL – Torquay
BISHAM ABBEY
DONCASTER RACECOURSE
NATURAL HISTORY MUSEUM – London
OLYMPIC THEATRE – ROME
B.I.C. WINDSOR HALL
THAME SHOWGROUND
THE CASTLE – Wellingborough
BLACKPOOL FESTIVAL
COALVILLE FESTIVAL
GALA CASINOS NATIONWIDE
CORPORATE
ASOS FASHION STORE
BBC
BRENT COUNCIL
CANCER RESEARCH WALES
CITYPINK
CREDIT SUISSE
EXCELCARE HOLDINGS
EAST SUSSEX COUNTY COUNCIL
HMV
LEICESTERSHIRE DISTRICT COUNCIL
LYRECO
MEDIAVEST
NEXEN OIL CORPORATE
OAK –ACORN CLUB
RAINBOW FOSTERING
ROYAL AUTOMOBILE CLUB
SEFTON CHAMBER of COMMERCE
TEENAGE CANCER TRUST
HOTELS
BRITANNIA - Liverpool
HEMPEL - London
LANDMARK – London
PARK PLAZA WESTMINSTER - London
THE DOME - Brighton
VENUES
CAFÉ DE PARIS – London
INSTITUTE OF DIRECTORS – London
NEWMARKET RACECOURSE
ONE MAYFAIR -London
QUENDON HALL
THORNBURY CASTLE
THE DOME - Brighton
FESTIVALS
OLDHAM FESTIVAL
CASINOS
PALM BEACH CLUB - London
" Thank you so much for yesterday, so much energy and flair. Everyone loved it, it was perfect! "

Emma – 18th Birthday Party
" WOWZER! They arrived in plenty of time, they were so laid back and they seemed happy with everything. They delivered exactly what we wanted and looked so professional when they started and went with the flow. They took it all in the stride and it was an emotional part for me as me and Colin we saw over 3000 young people being lead to the entertainments tent and onto the stage where they carried on for another 10 minutes – In fact I don't think they wanted to get off the stage! From the feedback we got from the young people and the leaders they thought it was a great start to the weekend and also a memorable one! "

Sam  – One World Camp 2013
" The best Carnival dancers that we have ever had! They were absolutely stunning and got the party started. You have been a real pleasure to work with. I will definitely think of you for future events "

K. Hill - Brit awards 2016 After Party
" It is with great pleasure I write this testimonial for the Latin Brazilian Show. We contacted various agencies for a Brazilian Band and dance troupe to perform in Doha, Qatar. After careful analysis we had chosen this group purely for their past credentials and testimonials. I personally found Leo, and the whole Production Team very easy to work with, creative, extremely helpful and always going out of the their way to further enhance the production. The event in Qatar was extremely unique, with Royal family as guests, ministers and other dignitaries, attending the evening programme, all for SDC 8th Charity Gala Dinner. They were able to choreograph a specially produced dance to adhere to cultural sensitivities within the Middle East region, which I found outstanding and very accommodating. I would very much recommend The Latin Brazilian Show as an entertainment highlight for any event. "

S. Reynolds - QMDI Event Manager – Qatar
" A huge thank you for the unforgettable night. A Magnificent Show! "

C. McDonalds - Emirates Airlines
" Latin Brazilian Show was the main act to represent Brazil in my book launch "The book Moving Abroad, one step at a time". They were AMAZING! If there is a word that goes beyond AMAZING is what I would write! The energy, the dance, the quality of her voice... Just incredible! It's simply the most fantastic Brazilian show you could ever have! Highly recommend. They are super professionals! "

R. Dos Santos – Book Launch
" We had booked the show for a corporate event and everyone loved it. Leo and the girls are highly professional, beautiful, charming and very lovely to deal with. I hope we can book them again in the future! Thanks again for the great show and lovely presence. "

Daniela – Bupa International
" Thanks again for all your help and your input to the night. "

J. Martin - Scottish Council for Development & Industry
" We just wanted to say a huge thank you for your work for the Rio event on Saturday night. We managed to raise vital funds for charity and you helped to create an incredible event which guests thoroughly enjoyed. May we also take this opportunity to pass on the thanks of Denise Welch &Tim Healey. Thank you once again and we look forward to working with you again soon! "

E. Jennings – Ents Today
" I organise the Tony Hadley Golf Classic in support of Action Medical Research and every year we have a theme - this year it was Flying Down to Rio and needed a Brazilian Band. They were just fantastic from the way the girls were dressed greeting our guests, the background soft music during the Champagne reception to the evening show that was unbelievably good. The costumes were amazing. I would not hesitate to recommend them for any event and will certainly be looking to use them again in the future should we require a Brazilian show again. The band was a pleasure to deal with and Leo was exceptional in his details prior to the event. "

A. Hyde
" The feedback we have so far about Sunday has been extremely positive and your performance ended the event just as we had hoped. Your whole performance from beginning to end was full of colour, energy and show stopping sparkle. The audience, whether young or old, were engaged throughout and the way everyone moved forward was testament to the fantastic costumes and wonderful music. I was up at the top end of the event for some of your performance and the stage looked fabulous, with light starting to fade, the colours on stage really stood out and made the whole thing look spectacular. Your professionalism in setting up quickly was also greatly appreciated. Thank you for all your help and support. "

Sarah C. – Brent Council – Golden Summer Celebration
" We always recommend The Latin Brazilian Show to clients who wish to create a party atmosphere. The Latin sound transports you to images of long hot summer nights and is guaranteed to get everyone on the dance floor. They are extremely professional and reliable and their ability to work as a small band to a full production show with dancers makes them the perfect choice for all types of events or residencies. "

M. Efstathioli - Maverick MGT
" Very proactive, positive, individuals who did a great job working with our promotion team to raise awareness of the activity and help to create an excellent and memorable live brand experience. Very realistic, helpful and flexible. Definitely we will use them again. "

N. Burton - Travelex Money Worldwide
" Thank you for being such a great band to work with – the workshops and the evening were very successful and there was a great party spirit. Look forward to working with you in the future. "

D. Clifford - Director Eclipse Total Event Success - Starbucks
" With the 2016 Olympics being hosted by Brazil Gravesham Borough Council contracted The Latin Brazilian Show to perform their Show as a prelude to its live screen broadcasting the closing ceremony of London 2012. Over 1,500 people came to watch the show which was full of colour, music and dance. Leading up to the event contact was maintained through their management, who dealt with any issue (large or small) in an outstanding professional manner. I would strongly recommend this show to any organisation wishing to capture the electric atmosphere of Brazil and its Olympic venue - Rio de Janeiro "

B. Tourle – Gravesham Borough Council
" The Dancers really provided great enthusiasm, energy and created a fantastic spectacle. As they were used to open the party, with a procession from the Boulevard up to the main stage, this was an important kick off to the event and they really delivered "

Cisco Live!
" It was the highlight of the night! The Band and dance troop were brilliant, they lit up the evening. Very high energy and got the audience involved, dancing and laughing. They were very flexible with timings, performance and location. Highly recommended! "

H. Neale – Glaxo Smith Kline
" Bright, colourful, energetic, moving, powerful and emotional. Our wedding day wouldn't have been complete without the pure passion and love we felt from The Latin Brazilian Show. As a team they truly make the experience unique and comparable to no other. Tailoring a specific routine and performance based on what we wanted, whilst including songs of our choice and even learning a completely new song to accommodate. I couldn't have wished for a better team, from beginning to end it has been wonderful and I am ever so sad it's over. I would highly recommend them to anyone looking for a alternative to a typical wedding or event. You cannot go wrong with them. they are a team who make colourful dreams come true! "

A. Aylin – Wedding Reception
IDEA ARTICLES RELATED TO Brazilian Show Band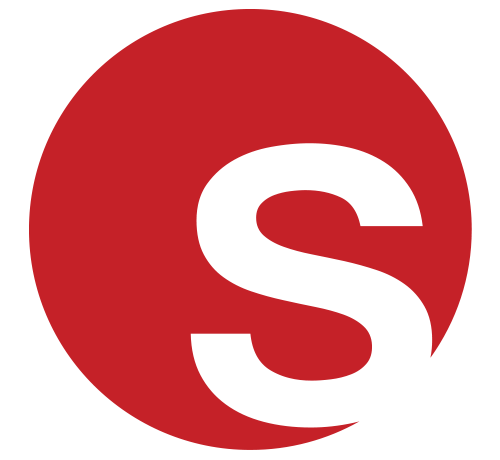 Culture Marketing: How Brands Use Cultural Entertainment to Add PR Value
Culture Marketing: How Brands Use Cultural Entertainment to Add PR Value
Juliana Rodriguez
|
12/07/2019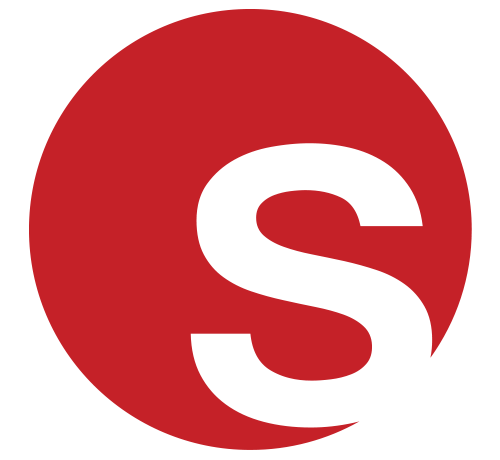 What is Cultural Entertainment (and why you should book this for your event)
What is Cultural Entertainment (and why you should book this for your event)
Grace Henley
|
09/07/2019