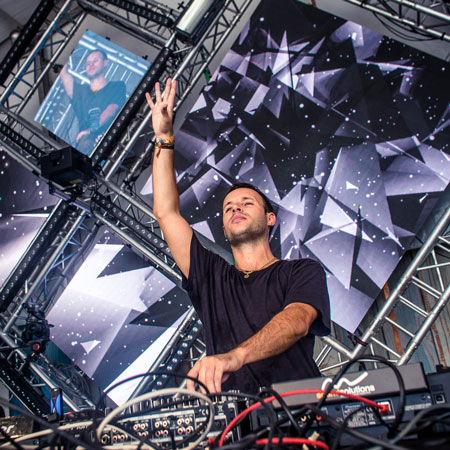 British Club DJ Dubai
High energy club DJ provides off the chart dance floor filling entertainment
Delivers high quality sets with house, trance, progressive and funky house
Has had music featured on big dance labels including Ministry Of Sound
Performed at festivals and huge events all over the world
Based in Dubai and available for events internationally
British Club DJ Dubai PHOTOS
Nothing will whip up a crowd more than a highly experienced party DJ who knows how to read the reactions of his audience. Luckily Scarlett Entertainment is proud to offer the incredible talents of the Ministry Of Sound approved club DJ currently based in Dubai. Specialising in funky house music, and with experience performing to thousands of people, this party DJ is the perfect event entertainment to get your guests moving and a dance floor bursting with energy.
For an unbelievable party atmosphere with pumping beats and a vibrant versatile setlist, Our club DJ is the perfect choice. Pleasing the audience is his main objective and he does so with really passion and enthusiasm. The Dubai DJ delivers a high quality set with house, trance, progressive and funky house music that is bound to get even the most reluctant dancer up and moving.
Our Club DJ has over 12 years experience providing event entertainment and pleasing crowds at festivals and well renowned venues across the world. The Dubai DJ has even been seen performing alongside iconic DJs like David Guetta, Calvin Harris, Armin van Buuren and Hardwell.
The fantastic Funky house music party DJ plays regularly at Dubai's Zero Gravityand he has performed at One Big Friday, Velocity the highly talked about talked about ladies nights Lost Angels, Nasimi Beach, Madinat, Puro Beach, Chameleon Club and boat parties for Pukka Up and Sin Sundays as well as numerous corporate events and the F1 in Bahrain and Abu Dhabi as well as Summerburst Festival in both Stockholm and Gothenburg to over 15000 people.
If you are interested in having the Dubai DJ for crowd pleasing event entertainment, contact our team of specialists who will be more than happy to assist you in booking him.