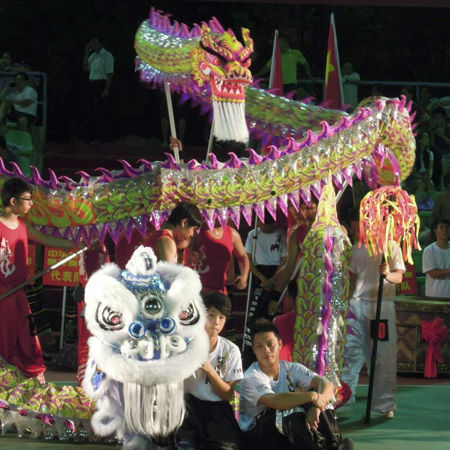 Chinese Performers Hong Kong
Troupe of professional Chinese Circus performers established in 1984
Acts include Chinese Dragon Dance, Chinese Drummers, Lion Dance...
Their luminous LED dragon dance is a twist on the conventional Chinese dragon
Winners of the Hong Kong Open Dragon Lion Dance Championship
Based in Hong Kong & available to perform at events worldwide
Chinese Performers Hong Kong PHOTOS
Established in 1984, this troupe of professional Chinese Circus performers based in Hong Kong specialize in all traditional Chinese acts including Dragon Dance, Lion Dance, Chinese Drummers and Martial Arts.
Mui Fa Jong Lion Dance
During the Lunar New Year, birthdays and private ceremonies, Mui Fa Jong is one of the most popular lion dance performances. The lion dances alongside drummers to liven up the atmosphere at special occasions and is usually used as the opening or closing form of entertainment. Also suitable for corporate events the Lion jump onto the Mui Fa Jong and perform a series of dazzled but dangerous moves. After that, lions would greet and wish everyone good luck.
Traditional Lion Dance
In addition to performing on Mui Fa Jong or bamboo pole, performing on the ground is also important to traditional lion dance. Performing in amongst crowds the interactive element of this entertainment is designed to evoke emotions of happiness, anger and suspicion in order to bring the Lions to life. 
Dragon Dance
The Chinese dragon is believed to be the most auspicious creature representing power, dignity and auspiciousness. Therefore the Chinese dragon dance is as often seen as a highlight of festive celebrations parade in folk culture. The movements of dragon are ever changing, making the dragon look vivid and dignified. The dance performance brings good luck to people and scares away the evil spirits in traditional Chinese culture. 
Martial Arts Performance
In addition to enjoying the traditional Lion and Dragon dances additional performers can put on a martial arts display for a high-impact show that will leave a lasting and culturally memorable impression with your guests. 
Chinese Drums Performance
Lastly Chinese Drummers can provide the musical element to this entertainment. This ensures an upbeat and lively atmosphere and is also a way of ensuring momentum and power to the entire show. 
Please note this show can be sold with individual elements depending on the specific requirements of your event. Enquire today to find out more about tailoring our exceptional Chinese performers for your next event. 
IDEA ARTICLES RELATED TO Chinese Performers Hong Kong