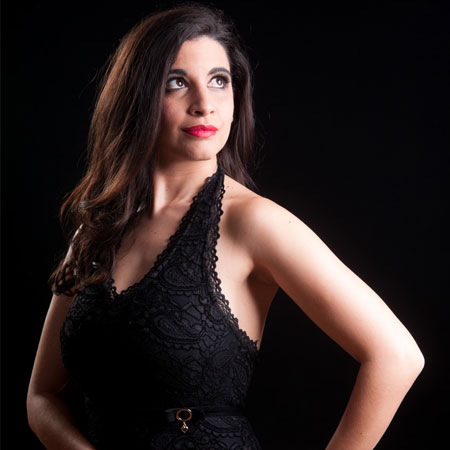 Classical Crossover Rotterdam
Our multitalented classical singer, pianist, ballerina and actress will captivate your guests with her theatrical performances
Performing classical vocals or more contemporary covers, this operatic beauty leaves audiences breathless when she performs
Able to perform in Greek, English, French, Italian and Dutch, there is no song our cover singer cannot master
This female vocalist has been booked by high profile clients including Hilton, Cafe 24 and the National Theatre of Peiraius
Hire Classical Crossover Rotterdam for events in the Netherlands and worldwide
Classical Crossover Rotterdam VIDEOS
Classical Crossover Rotterdam PHOTOS
Bring a classical yet contemporary touch to your event with stunning Classical Crossover Rotterdam. Performing crystal clear classical vocals, cover singer Amalia offers a varied repertoire of beautiful tunes for clients to choose from. Varying from operatic masterpieces like 'Nessun Dorma' and 'La vie en Rose' to Christmas classics such as 'Silent night' and even 'Frosty the Snowman', our exceptional female vocalist can tailor her performances to suit your event specifications or theme. Regularly performing at private and corporate functions across the globe, this glamorous classical singer looks the part at even the most dazzling VIP occasions. Available to book from Scarlett Entertainment for your event, expect a sensational performance brimming with drama and emotion.
Originally from Greece, female vocalist Amalia followed her passion for all things theatrical from an early age, pursuing studies in ballet, acting, music theory, piano, and singing. It is this background in acting that gives our classical singer's vocal performances the melodramatic edge that has captivated audiences at events around the world. Studying Classical Singing and Music in Italy and England, Amalia's spectacular classical vocals have created a reputation that precedes her performances. Also an official member of 3 associations of Singers and Vocal Pedagogists in England, Holland and Greece, there is no doubting Amalia's creative and technical prowess.
Able to sing in a number of different languages including English, Greek, Dutch, French and Italian, cover singer Amalia is the perfect choice for international events. Dedicated to continually developing her performances and learning new techniques, this professional crossover singer provides outstanding entertainment, adding a deeply sophisticated ambiance to events.
Having performed at numerous private and corporate events, not to mention venues like The National Theatre of Peiraius, Cafe 24 and Hilton Hotels, our world-class vocalist is guaranteed to be the highlight of your event. For more information about booking Classical Crossover Rotterdam for your special occasion, please contact our team at Scarlett Entertainment today.
Quando m en vo
Porgi Amor
Ebben- Catalani
Caro mio ben
Habanera
Mein herr Marquis
An Sylvia
La vie en Rose
Over the rainbow
O Sole Mio
Time to Say Goodbye
Youkali
Min ton rotas ton ourano
Amsterdamse grachten
In der fremde
Music of the night
Hallelujah
Nessun Dorma
Il mondo
el dia que me quieras
Think of me phantom
Ave Maria
Nella fantasia
Hallelujah
Un amore cosi grande
Come what may
Sei tu m'ami
Romanze
Vedrai Carino
You Raise me up
I will always love you
Ebben nandro lontana
Over the Rainbow
mon coeur souvre a ta voix
Angel
O Mio Babbino Caro
Silent night
White Christmas
Come what may
This is Christmas
Santa baby
This is Christmas
JIngle bells
All i want for Christmas is you
I wish you a merry christmas
Last christmas
Santa Claus is coming to town
Rudolf the red nose reindeer
Christmas
Have yourself a merry little Christmas
Jingle bells rock
the little drummer boy
Frosty the snowman
Rocky around the Christmas tree
Feliz Navidad
PLease come home fro christmas
I saw mommy kissing santa claus
Baby it;s cold outside
Let it snow
It's beginning to look a lot like christmas
I wish it would be a christmas everyday
Happy new Year
Driving home for Christmas
Christmas:
Cafe 24
Apollon Hotels
Municipality of Amsterdam
Municipality Den Haag
National Theatre of Peiraius
Eet cafe Jofel
Dinxperlo Cafe
Hilton
Municipality of Rotterdam (different events)
" [Classical Crossover Rotterdam] presented a beautiful concert for the union of doctors in Athens Greece in the National Theatre of Peiraius. She is an amzing soprano...Such a beautiful voice and so warm personality. I am very happy that I chose her to sing for our event "

Nikos Zirs- Doctor at Tzanio Hopsital
" She presented her Christams show in our bar in 2009 and 2010. We were completely happy with this Artist. She is very friendly person, our clients loved her performance and that's why we had her for two years working with us. Amazing voice. unique performance, friendly personality, a singer with love and passion for her job. She is a true professional. I wish we could work with her again. "

John Miltos- Manager at Cafe 24
" We loved her! She is so beautiful and happy and a singer full of passion! We danced and celebrated for 3 hours! What I loved is her energy and her smile! All the teachers loved the show and we had an amazing time. "

Kiki Papavasileiou- General Director of Public school Athens