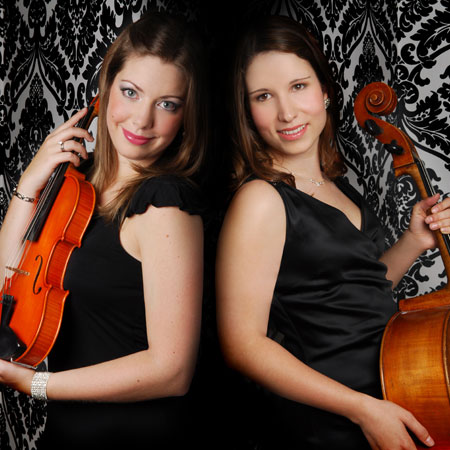 Classical String Duo
Glamorous Violin & Cello duo available for Weddings & Corporate Functions
Specialising in original arrangements of pop, light jazz & latin american
Corporate clients include BMW, BT, American Express & the Waldorf Hotel
Previous performances in Japan, Europe, USA and the Caribbean
Based in the UK and available to perform Worldwide
Classical String Duo PHOTOS
This Classical String Act are a glamorous, classical violin and 'cello duo that specialises in original arrangements of famous classics, light jazz, latin american, fiddle and pop music.
Formed whilst studying at the Guildhall School of Music and Drama, the Duo, which are supported by the 'Concordia Foundation', have performed recitals at many venues throughout the U.K. Recent venues include The Wigmore Hall, St. James Piccadilly, The National Portrait Gallery and the launch concert for the 'Little Venice Music Festival'.
As chamber and solo artists they have performed in over fifty countries worldwide including tours of the Middle East, Japan, Far East, Central America and the Caribbean.
As a 'light' music ensemble The Classical String Duo perform for Corporate Events, Weddings, Private Parties and Cruises. Venues include The Bloomsbury Theatre, RAC Members Club, Blenheim Palace, St. Paul's Cathedral, RIBA, Tower Bridge, Kensington Palace and The Waldorf Hotel. Their client list includes BMW, B.T., B.P. & American Express.
Telemann - Three Canonic Sonatas
Bach - Two Part Inventions
Breval - Six Duo's op.19
Mozart - Two Duo's K.423 &424
Wagner - Wedding March
Bach - Air
Gounod - Ave Maria
Tartini - Cantabile
Schmann - Trumerei
Mendelssohn - Wedding March
Schubert - Ave Maria
Handel - Largo
Albinoni - Adagio
Strauss - Two Waltzes from Gold and Silver
Strauss - Emperor Waltz
Monti - Czardas
Brahms - Hungarian Dance
Pachelbel - Canon
Ravel - Sonata
Mozart - Twelve Duets
Perhaps Perhaps Perhaps
Cielito Lindo
La Cucaracha
La Bamba
El Condor Pasa
Estes Indiferente
Vamos Pastorcitos
Summertime (arr. L. Wren)
Smoke Gets in Your Eyes
Frankie and Johnny
The Entertainer
The Wind that shakes the Barley
The Bridal
Danny Boy
The Peeler's away with my Daughter
Red-Haired Boy
Mrs Jamieson's Favourite
Harvest Home
The Wedding of William and Mairie
Fiddling Around
The Derryair
Kemps Gig
Fix You - Coldplay
Dancing Queen - Abba
Light Classical
Blenheim Palace
RIBA
Kensington Palace
BMW
B.P.
And many more...
The Bloomsbury Theatre
St. Paul's Cathedral
Tower Bridge
The Waldorf Hotel
B.T.
American Express
RAC Members Club
" I wanted to thank you most sincerely for your part in making David and Sarah's wedding absolutely perfect...you were all I had expected and more. Your playing was superb, contained lots of variety but was sensitive and set the scene beautifully both musically and visually. Well done! "

Gill Chapman
" I just wanted to thank you again for such a wonderful performance. You were so professional, played beautifully and looked absolutely gorgeous. I really hope to use you again, you were fantastic. "

Arts and Business Ltd
" We had an absolutely amazing day and the Classical String Duo contributed enormously. They set the perfect ambience for our reception drinks on arrival at the venue, they were friendly and very talented and exactly what I wanted. "

Janice McIntosh (Wedding in Richmond Park)
" Once again thank you for taking so much trouble with the music for Joanna's wedding. The whole feel of the service was ethereal thanks to your wonderful music. We have received so many compliments and just wanted to pass this on to you. The reception music was great too and added to the ambience of the palm court. It was a day we will remember for the rest of our lives. "

Rita Rose