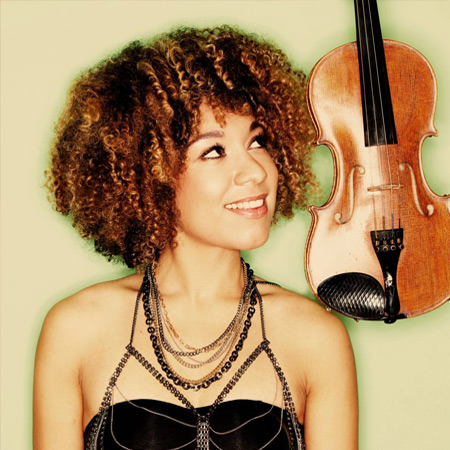 Club Violinist
A versatile, talented and effusive Club and House violinist
Won "The Most Natural Sounding Classical Recording" award
Her professional musical talents and tenacity are far reaching
Previous clients include Mercedes Benz, Ford, ITV, the BBC and many more
Based in London and available to perform at events wordwide
Club Violinist Roxana is a versatile, talented and effusive performer and musician; her cute looks complement her flashy yet subtle musical style. From solo violin performances and improvisation on stage and leading full orchestras to the recording, production and engineering of her own material, Roxana's professional musical talents are far reaching.
Born into a musical family, Roxana started Piano lessons at the tender age of three, with Violin lessons following shortly after. At 18 she gained a place on the prestigious Tonmeister course where she trained as a sound engineer and violinist. Throughout her time at university she specialised and honed her performance skills and was dutifully rewarded by being chosen to perform for the Duke of Kent and subsequently to lead the university orchestra.
She came first in the annual Chamber music competition two years running, was awarded a strings scholarship and won "The Most Natural Sounding Classical Recording" award for her location recording of Schubert's Symphony as part of her final year's portfolio.
Roxana's performance credits include: Television work with pop musicians such as Labrinth. Kimberley Walsh, and Cher Lloyd on X Factor, This Morning, Alan Titchmarsh Show, and Blue peter; recording sessions with BBC and Beetroot Studios; numerous high - end corporate clients such as Ford, and Mercedes Benz; performances with Hed Kandi in Thailand, Malta and Frankfurt, and additional solo club gigs across the globe.
Roxana's talents span huge parts of the music industry making her future exciting. Her driven, focused nature and intoxicating spirit combined with her professionalism, skill and tenacity are a sure recipe for success.
X Factor with Matt Cardle
Friday Download with Cher Lloyd
One Chance - Film
Hed Kandi at Seduction Q Bar and Solo Bar Thailand
Hed Kandi at Club Numero Uno Malta
Casa Bonita- Dominican Republic
Dom Im Berg- Austria
Home House- Soho London
McQueen - Shoreditch
Sakura- Reading
Ford
This Morning with Labrinth
Blue Peter with Cher Lloyd
Alan Titchmarsh Show for War Of The Worlds Promo
National TV Awards with Kimberley Walsh
Hed Kandi at Cocoon Club Frankfurt
Aura- Mayfair London
Cuckoo Club- Mayfair London
DSTRKT- Soho London
Kitts – Chelsea
Raffles- Chelsea London
Vuvu- Essex
Mercedes Benz
This Morning with Cher Lloyd