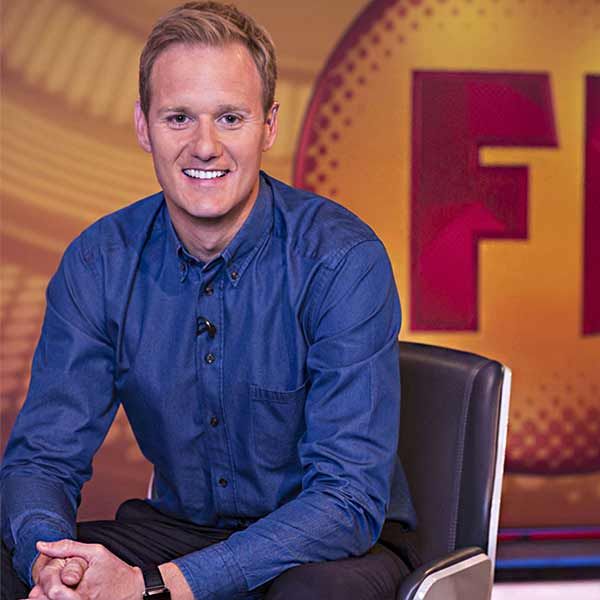 Dan Walker
Having turned down the opportunity to play youth team football, Dan studied journalism and worked on Sheffield student radio
Since working for the BBC Dan has gone on to cover Wimbledon, The Grand National, Royal Ascot, The Derby, and the 6 Nations
Dan has co-hosted the broadcaster's Open golf coverage for the last 10 years and was an integral part of the BBC's Olympic covering
Dan also presents a football show on BBC World which goes into over 400 million homes each weekend
He is also the author of Dan Walker's Thronkersaurus: Football's Finest Tales' and his second book is titled 'Magic, Mud & Maradona'
Dan Walker has starred in one of the UK's most popular morning TV shows - BBC Breakfast since 2016 and currently hosts the awards winning Football Focus shown on BBC One and makes a regular appearance on Match of the Day. He
 has presented many major sporting events such as The Grand National, Royal Ascot, Wimbledon and The 6 nations. He co-hosted the broadcasters open golf coverage and was a large contributor to the BBC's Olympic coverage for London 2021 and Rio 2016. 
In 2018 Dan hosted the game show Chase the Case for BBC and in 2019 was asked by comic relief to help raise money by climbing Kilimanjaro which resulted in the BBC One documentary Return to Kili.
A highlight of Dans Career was when he was asked to present A Royal Team Talk: Tackling Mental Health for BBC1 with HRH The Duke of Cambridge and has also recently appeared on shows such as The Chase, Countdown, has hosted Songs of Praise and been on A Question of Sport.