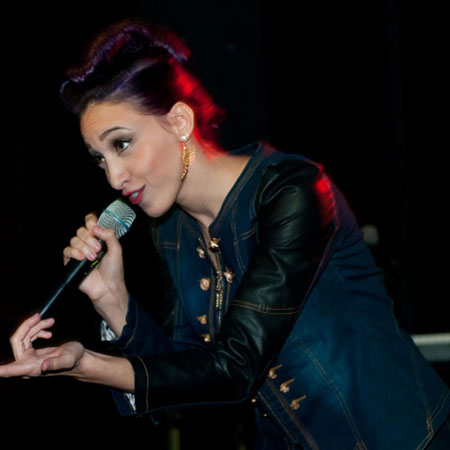 Dubai Singer & Recording Artist
Renowned female singer songwriter and recording artist
Her music is a mixture of Pop, Dance, R&B, Rap and Funk with a Middle Eastern flavour
Ranked number three in the Urban & Pop genre of the Top 20 Best Selling Albums in the United Arab Emirates
Book live music perfect for concerts, festivals, private parties, after dinner shows and club nights
Based in the United Arab Emirates and available for International bookings
Dubai Singer & Recording Artist PHOTOS
Our multi-talented Lebanese artist is based out of Dubai and is quickly becoming a household name across the United Arab Emirates. She started singing at an early age developing her craft by listening to TV commercials and jingles and watching music videos, singing along and mimicking what she heard. As a female singer songwriter and recording artist, she has an undeniable gift of music that appeals to the youth and young adults, with her original songs incorporating a mixture of Pop, Dance, R&B, Rap and Funk with a Middle Eastern flavour.
With her debut EP "Had To Be Me" released through Virgin Megastores, she was ranked number three in the Urban & Pop genre of the Top 20 Best Selling Albums. She is also a verified recording artist on Apple Music and iTunes where you can purchase her original songs. This Dubai singer is passionate about leading the way to inspire more women from the Middle East to follow in her footsteps, embracing her cultural heritage and becoming the first female artist from the United Arab Emirates to hit the North American market. 
Based in the United Arab Emirates and available for international bookings, our Dubai Singer delivers exceptional live entertainment for concerts, festivals, private parties, VIP openings, award ceremonies, after dinner shows and club nights. Previous events include being one of four Dubai artists to showcase for Quincy Jones, Will.i.am and Timbaland as part of the Dubai Music Week.
Top Tip
This talented female singer songwriter is also a professional Emcee, to find out more information head to Bilingual Emcee Dubai
If you are looking to book live music and are interested in our talented recording artist for your event, please get in touch with our Entertainment Experts today. Our team at Scarlett Entertainment will be more than happy to answer all your questions and guide you through the booking process.