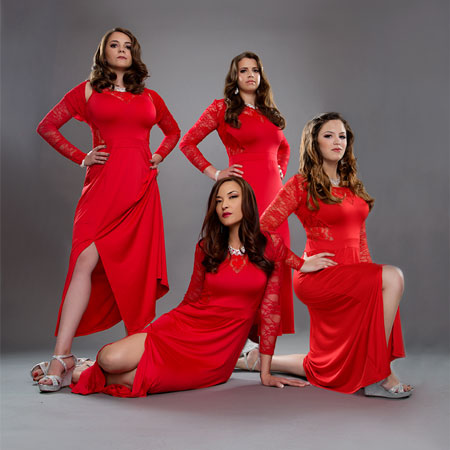 Female Brass Band
A female brass band that combines electronic effects with outstanding musicianship
Breaking the traditional classical model of brass music this Las Vegas brass band perform customised arrangements of popular songs
A brass band that can be booked as a quartet or trio
Boast tailor made sets that complement your event effortlessly
Based in Las Vegas, Nevada and available for worldwide bookings
A Las Vegas female brass band that has taken a traditional classical model of brass music and redefined it into a modern and contemporary form, combining electronic effects with outstanding musicianship. 
With a set list that consists of customised arrangements of rock, pop and funk tunes they perform songs from a range of different genres to appeal to all audiences and tastes. Our band can also arrange any song you wish to hear with custom arrangements created to suit your needs and event. 
This brass band quartet excite audiences and blow minds by performing songs as you've never heard them before with completely new sounds and visual experiences. 
Consisting of hand picked classically trained instrumentalists, this quartet boasts some of the best female brass musicians in the US. Our musicians all have Masters Degrees and have spent many years perfecting their instruments with every member being highly trained in the art of improvisation and soloing. 
With a brass sound that is navigated through a microphone into electric sound processors which emulate electric guitars, synthesised keyboards, choir harmonies and more!
Boasting a performance that is unlike anything you have ever heard before, our stunning musicians look glamorous, sound magnificent and are incredibly unique. 
Top Tip!
Our brass band is also available as a trio, duo and soloists. 
A band that pushes the boundaries of the classical era with a dazzling new look and sound that strikes a chord with all audiences. 
To book our Las Vegas female brass band or for more information, contact our Entertainment Specialists today.