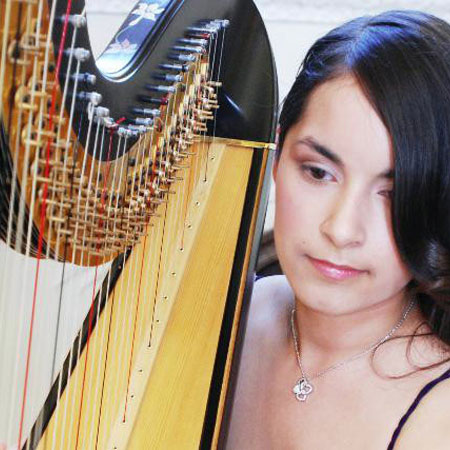 Female Harpist London
World-class female harpist will amaze guests with her exquisite music and elegant performances
Fabulous harpist perfect for weddings, high end events and product launches
Bollywood harpist performs a range of traditional Asian music for weddings and events alongside classical, contemporary and film music
Has performed for royalty at Buckingham Palace and at prestigious events for Dolce & Gabbana, The National Gallery and many more
Sensational London harpist available for performances around the UK
Female Harpist London PHOTOS
Book our magnificent London harpist for an elegant and heavenly performance from one of the world's most exceptional musicians. Our harpist will captivate any audience with her gorgeous harp music and her spellbinding performances. This female harpist is perfect for creating a graceful and serene mood at events, weddings and performances around the UK, and our sensationally talented performer has played at some of the biggest events and venues in the country. Our incredible harp player has performed at Buckingham Palace for the Queen's Coronation Celebration and at hotels, venues and events around the UK. Our versatile musician is also a superb Bollywood harpist for beautiful performances at traditional Asian weddings and events. Book our amazing harpist for a magical performance that will be the highlight on any event.
Our London harpist is one of the most acclaimed harpists in the UK, having worked with world-renowned harp players like Marisa Robles, Isabelle Perrin and Karen Vaughan, and has performed with the RCM Symphony Orchestra, the King's College London Symphony Orchestra and the London Firebird Orchestra. As well as working as a freelance orchestra player this female harpist is constantly in demand for weddings, events, fashion shows, product launches and any kind of event where her unparalleled musical skill is required. 
Our Bollywood harpist is also a go-to name for Asian events and weddings around the country and her vast repertoire of classical, Bollywood, film and contemporary music means she has something to offer any situation and event. Her talents have been put to good use and her staggering resume includes performances for St James' Palace, Kensington Palace, The Victoria & Albert Museum and at a glamorous fashion show for Dolce & Gabanna.
Scarlett entertainment offers you a great selection of harpists and classical musicians for events around the world.
Contact our team to arrange booking.
Skyfall
All 4 One – I Swear
Backstreet Boys - Quit Playing Games
Beatles
Breakfast at Tiffany's
Bruno Mars
Bryan Adams
Christina Perri My Heart will go on from 'Titanic'
Moon River from 'Breakfast at Tiffanys'
Over the Rainbow from 'The Wizard of Oz'
Claudia's  Theme
The Lion King
Adele - Someone Like You
Arioso
Prelude in C
Flower Duet from 'Lackme'
Dance of the Blessed Spirits
Water Music Kal Ho Naa Ho
Piju Bole from 'Parineeta'
Chhukar Mere Manko from 'Yarana'
Hai Apna Dil from 'Solva saal'
Tu Je Deka To Ye Jaana Sanam from 'Dilwale dulhania le jayenge'
Pyar Deewana Hota Hai from 'Kati patang'
Air on the G string
" Thank you again for support on our wedding day. You are a wonderful harpist and your music has greatly contributed to making our ceremony truly magical. "

We wish you all the best, Pierre & Gemma
" Everyone loved you! And thought you were such an amazing touch of elegance at the wedding. Some are even talking of hiring you. I will pass on your details with pleasure to them. Thanks again for playing so wonderfully and making our event so memorable. "

Kishan and Thivya
" She was an excellent choice for the launch of our summer pop up garden celebration designed by Matthew Williamson and Rebecca Louise Law. She was very professional and a pleasure to work with. The wide musical repertoire made her an instant hit with all the guests. I would highly recommend her. "

Sacha Rinnooy Kan PR & Special Events Manager, Blakes Hotel