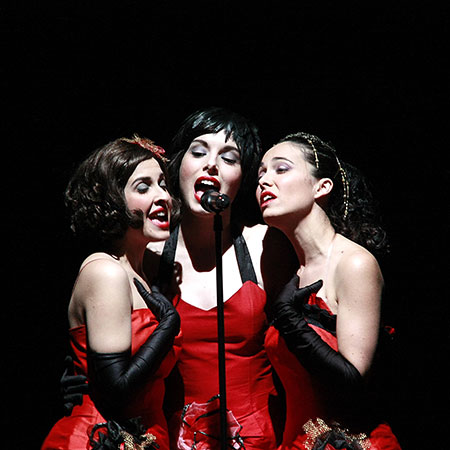 Female Vocal Trio Barcelona
Stunning performers will wow guests at your event
Classically trained in song and dance & backed by talented musicians
Perform shows inspired by first half of 20th century
Award-winning trio have performed over 200 shows around the world
Based in Barcelona and available to perform at events worldwide
Female Vocal Trio Barcelona VIDEOS
Our fantastic female vocal trio from Barcelona is comprised of Carla the soprano, Irene the mezzo soprano, and Marta the contralto. Each is skilled in multiple artistic disciplines, including music, singing, dance, and tap, allowing them to deliver a dynamic and exciting performance every time.
Inspired by The Andrew Sisters, this trio invite the audience on a musical journey to a world of glamour, femininity and entertainment.
The group have 3 different shows on offer:
Singing Sensations - a theatrical concert with live music from the early 20th century, with the girls playing classic divas. Full of humour and fabulous dancing, this show is backed by 7 excellent musicians, and features retro image projection to take the audience back to the golden age of swing. Also features songs from rock 'n' roll, boogie woogie, and latin genres.
Bittersweet - inspired by the 1930s, a time when female vocal trios filled the radios and the stages of nightclubs and cabarets, mixing music, dancing and singing. The girls begin performing in the most sordid club on 43rd Street, but rise to become the stars of Hollywood.
Enchanted Cafe - Celebrating the European music of the early 20th century, at the time of WWII. A burlesque cabaret full of absurd humour, the show takes place in Paris as it is just about to be invaded by German troops, and centres around a little cafe which is the meeting place of artists, bohemians, intellectuals and members of the French Resistance.