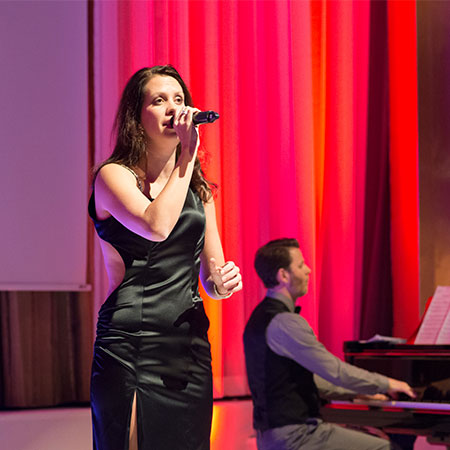 German Event Singer
Experienced and talented live solo artist can sing in German and English
Varied repertoire includes covers of hits by Whitney Houston, Elvis Presley or Adele
Happy to adapt her performances to suit your requirements and perform along with live bands, orchestras, dancers, etc.
Ideal live music entertainment for weddings, galas, ceremonies, corporate events, concerts, festivals, etc.
This German Event Singer is available for bookings across Germany and worldwide
German Event Singer VIDEOS
German Event Singer PHOTOS
This German Event Singer will ensure your upcoming special occasion is memorable by delighting your guests with her captivating voice and powerful stage presence.
An academically trained solo female singer and actor, this accomplished artist took singing, ballet and jazz lessons when she was a child. She discovered her passion for music after seeing 'The Phantom of the Opera'.
Also a skilled gymnast and dancer, this multitalented artist always welcomes the opportunity to be creative by incorporating visual elements and asking other performers to join her on stage. As you can see in the videos above, she regularly performs along with live bands, orchestras, dancers and other singers. Our solo female singer can also perform with LED poi spinners, among others.
Our live solo artist's extensive repertoire includes songs in German and English. If hired as a wedding singer, she can perform a beautiful version of 'Ave Maria' at the ceremony and also delight guests at your drinks reception with covers of hits by Whitney Houston, Elvis Presley or Adele.
In the past, our live solo artist has entertained guests at numerous corporate events, galas and ceremonies held by renowned brands. For instance, she performed at the opening ceremony of the Bob and Skeleton World Championship and at the Turngala of the Swabian Gymnastics League, where she delivered a stunning performance along with three dancers.
The ideal live music entertainment for a variety of occasions, our solo female singer is especially suitable for corporate events, galas, ceremonies, festivals and concerts, to name a few. As a wedding singer, she has been the live music entertainment choice of many brides and grooms for the their special day.
Scarlett Entertainment offers a wide range of live music entertainment for events and occasions in Germany and all over the world.
If you would like to book this talented German Event Singer, then don't hesitate to get in touch with us today and ask to speak to one of our Entertainment Coordinators. They will be more than happy to provide further details on this live solo artist and assist you in the booking process.
A Moment Like This (Leona Lewis)
A Mother's Prayer - Celine Dion
A Thousand Years (Christina Perri)
All I Ask Of You (From The Musical Phantom Of The Opera)
All Of Me (John Legend)
Amazing Grace
Aquarius / Let The Sunshine In (From the Musical Hair)
Ave Maria (Bach / Gounod)
Ave Maria (Beyoncé)
Ave Maria (Helene Fischer)
Ave Maria (Schubert)
Born For You (David Pomeranz) - only with pianist
Bound To You - Christina Aguilera
Come What May ( from Moulin Rouge - only with Duettpartner )
Endless Love (Lionel Richie)
Everything I Do (Brian Adams)
Favorite people (Namika)
Feels Like Home (Chantal Kreviazuk)
For You (Yvonne Catterfeld)
From This Moment On (Shania Twain)
Get Here (Oleta Adams)
Hallelujah (Leonard Cohen)
Hell Like The Lightlight On The Water (Disney's Elliot The Schmunzelmonster)
How Beautiful You Are - Sarah Connor
How Do I Live (Leann Rimes)
How Long Will I Love You (Ellie Golding)
I Feel Like You (Peter Maffay - from Tabaluga and Lili)
I Love You (Whitney Houston)
I Say A Little Prayer (Aretha Franklin)
I Say Yes (You Raise Me Up - German version Lena Park)
I Swear - All 4 One (Guitar Version)
I n All your colors (Vanessa Mai - Cloud-free)
Il Mio Cuore Va (Sarah Brightman)
In The Arms Of An Angel - Sarah McLachlan
Into Water Falls A Stone
It Must Have Been Love - Roxette
Just Say Yeah (Tim Bendzko)
Kiss Me Halt Me Love Me (Ella Endlich)
Kissing You (Desreé)
Lord Your Love Is Like Grass And Shore
Love (from the musical Romeo and Juliet)
Love Is All Around (Wet Wet Wet)
Love Is Everything (Rosenstolz)
Love Me Like You Do - Ellie Golding
Love Never Dies - Katherine Jenkins
A Beautiful Day ( Amazing Grace German )
Make You Feel My Love (Adele)
Marry You (Bruno Mars - Pianoversion slow )
More I Do not Want You From The Musical Phantom Of The Opera)
My Heart Will Go On (Celine Dion)
Oh Happy Day (Elvis Presley)
One Hand One Heart ( from the musical West Side Story)
One Moment In Time (Whitney Houston)
Only Hope (Mandy Moore)
Only You ( from the Musical Starlight Express)
Our Day (Helene Fischer)
Over The Rainbow (Israel Kamakawiwo'ole)
Page To Page - Christina Stürmer
Pie Jesu (Sarah Brightman)
Saving All My Love For You - Whitney Houston
Say It Loud (Xavier Naidoo)
Someone Like You (Adele)
Something Remains (Silver Moon)
Somewhere ( from the musical West Side Story)
Somewhere Out There (Linda Ronstadt)
Somewhere Over The Rainbow (Judy Garland)
The Best (Silver Moon)
The Greatest Love Of All (Whitney Houston)
The Love Tonight (Elton John)
The Power Of Love (Jennifer Rush / Celine Dion)
The Prayer (Celine Dion)
The Rose (Bette Midler)
Through The Eyes Of Love (Melissa Manchester)
Unexpected Song ( from the Musical Song And Dance)
Up Where We Belong (Jennifer Warnes)
Use Somebody (Laura Jansen)
What A Wonderful World (Louis Armstrong)
Yes (Silver Moon)
You Heard My Heart (Phil Collins - Musical Tarzan )
You Heard My Heart (wedding version)
You Let Me Be Like I Am - Helene Fischer
You Light Up My Life - Whitney Houston
You Raise Me Up (Westlife / Lena Park)
You alone ( from the Musical Starlight Express)
You'll Be In My Heart (Phil Collins)
You've Got A Friend (Carole King)
Your Song (Elton John)
And many more...