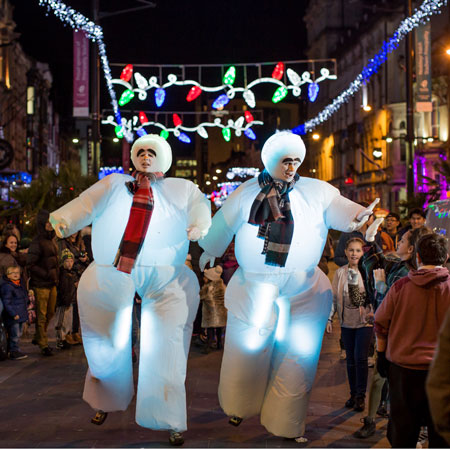 Giant Roaming Snowmen
Giant inflatable snowmen on stilts roam your event
Lighting in costumes makes snowmen glow in the dark
Loved by children and adults alike
Perfect booking for Christmas lights ceremonies, shopping malls and large parties
Bristol-based act available for international bookings
Giant Roaming Snowmen PHOTOS
These roaming snowmen are a larger-than-life Christmas act that win the hearts of everyone they encounter. Christmas entertainment seldom comes bigger than this, as this snowman act promenades your event hugging people and putting smiles on everyone's faces.
Standing at a towering eight-foot tall, the snowmen - clad in tartan scarves - rove your event, meeting and greeting your audience. On bouncy stilts, they will be seen bobbing up and down above the heads of guests. Given that they also light up, they are an eye-catching festive act that no one can miss.
These two snowmen are intriguing characters that kids can't help but be enthralled by. Soft, cuddly and glowing, these gentle giants bring the festive spirit to every Christmas event and offer a lot of banter between them. The snowman act can stop for a big, cold hug or bounce along as part of a parade. 
This fun act is ideally suited to shopping streets, Christmas lights ceremonies, winter parades, festive expos and large-scale events of a yuletide nature. Having worked with an array of noteworthy clients, including Microsoft, IBM, Bloomberg, Harley Davidson and the Australian Grand Prix, this act are highly experienced and know how to ensure the best possible results.
Any audience of any age or any language will be able to appreciate this fun, bouncing festive act, making them a sure fire success in any country. Able to perform over three thirty-minute sets, audiences have ample chance to get to know these friendly, chilly characters. They can be used at brand activations and product launches around the festive season, as well as just a buoyant presence for Christmas entertainment.
To book this amazing Christmas act, contact our dedicated entertainment specialists today. 
Nokia
Coca Cola
Kraft
Qantas
Foxtel
Optus
Australian Open Tennis VIC
Australian Grand Prix VIC
V Festival UK 2002 '03 '04 '05 '10
Golden Week Festival Fukuoka Japan 2005
Capetown Comedy festival 2006
V8 Supercar Race Bahrain 2006 '07 '08
Shanghai Expo China 2010
Singapore Grand Prix 2010 '11 '12 '13
London Olympics Torch Parades 2012
And many more...
Microsoft
Sony
Disney
Mastercard
Harley Davidson
Bloombergs
Melbourne Commonwealth Games VIC
FINA World Swimming Championships VIC
Glastonbury Festival 2002 '03 '04 '07 '08 '10 '11
Powerboat Races Dubai 2005
Galway Festival Ireland 2006 '07
Dubai Summer Surprises Festival 2007
Kimpton Clown Festival Shanghai China 2007
Beijing Chinese New Year Festival Chaoyang Park 2013
Bangkok Childrens Festival 2013
IBM
IDEA ARTICLES RELATED TO Giant Roaming Snowmen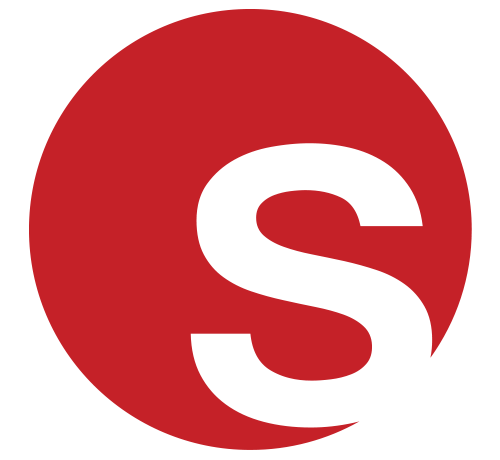 Christmas Crooners - Putting The Swing Into Christmas
Christmas Crooners - Putting The Swing Into Christmas
Grace Henley
|
02/12/2019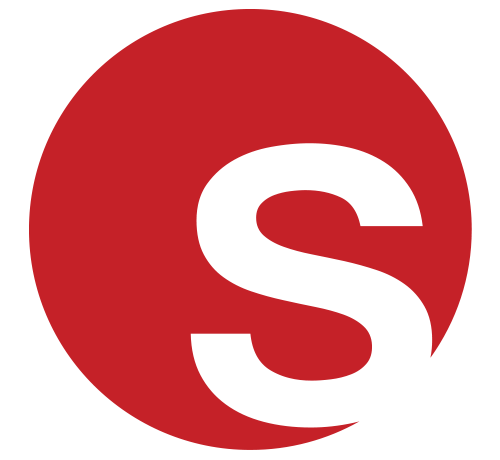 1940s Wartime Entertainment with a Sophisticated Christmas Twist
1940s Wartime Entertainment with a Sophisticated Christmas Twist
Grace Henley
|
01/11/2019