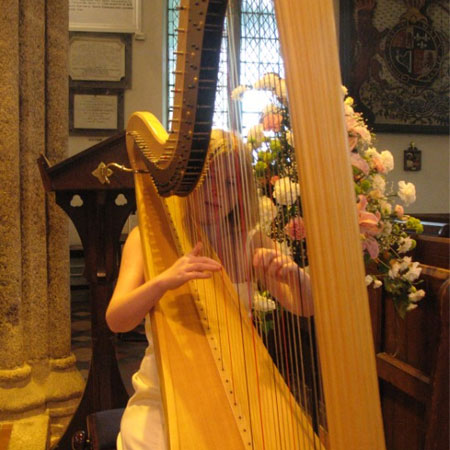 Harp & Trumpet Player
Professional harpist and trumpet player with a wealth of experience
Popular with weddings, corporate events, private parties, funerals...
Provides a smooth, professional performance to match your requirements
Performed the harp and trumpet music at events for the last six years
Based in Cornwall & available throughout the South of England
Harp & Trumpet Player PHOTOS
Professional harpist and trumpet player Katie is based in Cornwall and works across the south of England.  Katie offers a friendly, professional service providing instrumental music for a wide range of private and corporate events.
Katie has been playing the harp and the trumpet for over sixteen years, during which time she has amassed a wealth of experience and gained an extensive repertoire of solo, chamber and orchestral works.
As a harpist she is able to provide a suitable ambiance for any event.  Whether you are planning a flamboyant party, a prestigious reception or a sombre occasion the music of a harp can compliment the atmosphere.  The harp's majestic appearance and beautiful sound combine to give an impression of opulence, prestige and success.
Katie has experience playing at corporate and private functions, charity events and funerals.  No matter what the nature of the event you can be assured that she will provide a smooth, professional performance to match your requirements.
Anon: Greensleeves
Anon: Londonderry Air
Anon: Scarborough Fair
Bach: Prelude in C
Debussy: La Fille aux Cheveux de Lin
Mancini: Moon River
Pachelbel: Canon in D
Page/Plant: Stairway to Heaven
Satie: Gymnopedie no. 1
Schumann: Träumerei
And many more...
Harp
Bach: Jesu Joy of Man's Desiring
Charpentier: Prelude to the Te Deum
Clarke: The Prince of Denmark's March
Purcell: Trumpet Tune
Stanley: Trumpet Voluntary
And many more...
Trumpet or harp